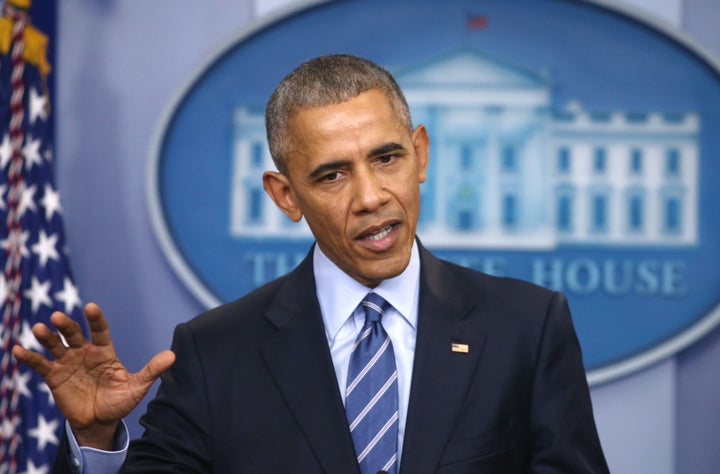 Even if President Barack Obama's deportation relief policies remain blocked, up to 87 percent of unauthorized immigrants in the U.S. likely will not be targeted by immigration authorities, according to a new report released Thursday.
The nonpartisan think tank Migration Policy Institute, or MPI, found that Obama's November 2014 executive actions on immigration, if followed as written, could have a dramatic effect on the number of deportations carried out by his administration.
The two largest pieces of those executive actions are currently blocked in courts, and the administration could be blocked for months or more from implementing deferred action policies for parents of U.S. citizens and legal permanent residents, or from expanding relief to more people who came to the U.S. as children. These programs would have granted a work permit and protected status to eligible persons.
But other executive action policies are being implemented. One is a new policy guidance for Immigration and Customs Enforcement about which unauthorized immigrants are priorities for deportation, and another is a program called Priority Enforcement Program, or PEP, meant to improve relationships with local law enforcement.
MPI estimates in its report that if ICE follows its new policy guidelines strictly, 87 percent of undocumented immigrants will not be the focus of deportation efforts -- far more than would have been protected by the expansion of Deferred Action for Childhood Arrivals and the creation Deferred Action for Parents of Americans and Lawful Permanent Residents.
"If [the DACA expansion and DAPA] hadn't been stopped by the courts, it would have protected about ... 4.5 to 5 million people, assuming that everybody eligible came forward to apply for the programs," Doris Meissner, director of MPI's U.S. immigration policy program, told The Huffington Post.
Under the new guidelines, enforcement authorities will have three target communities. The first and highest-priority targets are felons. Second-priority targets are "serious misdemeanants" and those attempting to illegally enter the United States after Jan. 1, 2014. Those with a removal orders issued after Jan. 1, 2014, are third-priority targets. Only about 2 million of the estimated 11 million undocumented immigrants would fall under these guidelines.
Previously, there were also three priority targets, but the categories cast a wider net. All convicted criminals fell under the first priority. Entrants from the past three years were second-priority targets. "Immigrants obstructionists" were third-priority targets.
The new categories target a much smaller percentage -- less than half -- of immigrants than did the 2010-11 enforcement priorities, as seen in the table below.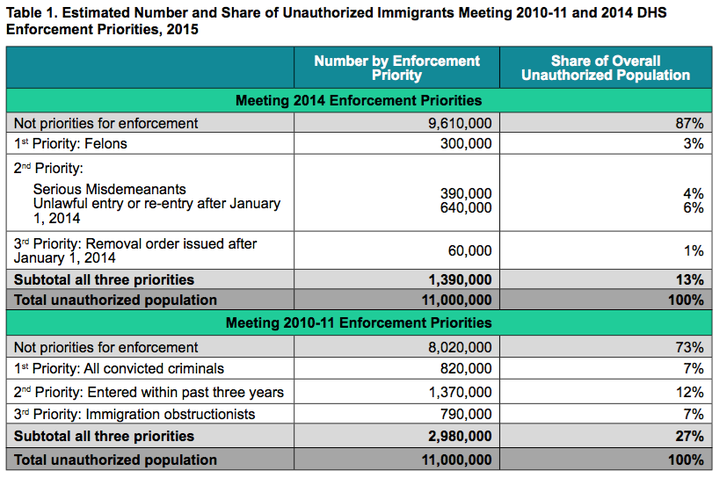 MPI's report further estimates that if the new policy guidance is "strictly adhered to," it will reduce interior deportations by about 25,000 annually. This may bring interior deportations "below the 100,000 mark" -- in stark contrast to the record 188,000 deportations in fiscal year 2011 that earned Obama the nickname "deporter in chief."
And it may actually reduce them by 25,000 -- Meissner said immigration authorities actually have a good track record of following their target guidelines. Since the implementation of the 2010-2011 guidelines, about 99 percent of "[deportations] were done so consistent with the guidelines," according to Meissner.
With PEP, meanwhile, the administration is hoping that cities will be more compliant in aiding authorities to detain and deport high-priority unauthorized immigrants. Previously, some jurisdictions had limited law enforcement cooperation with ICE, in part because the agency wanted to take into custody any person they deemed potentially deportable regardless of whether these persons had been convicted of a crime. Officials say PEP will limit the use of ICE detainers to undocumented immigrants who have been convicted of a serious crime or considered a risk to public safety.
Cities, counties and states that limit cooperation with ICE are under scrutiny after the July 1 murder of Kathryn Steinle in San Francisco. The man charged with her murder, Juan Francisco Lopez-Sanchez, had been deported five times and was imprisoned until March for re-entering the U.S. again. Once he served his federal prison time, he was transferred to the San Francisco Sheriff's Department on a 20-year-old drug charge, and when that was dropped, he was released. The sheriff's department did not hold him at ICE's request or notify the agency about his release.
Republicans are currently pushing multiple bills to cut federal grants for police from cities and counties if they are not in full compliance with immigration enforcement. One such bill passed a House vote Wednesday 241 to 179 and is headed to the Senate. Obama said he will veto the legislation if it makes it to his desk.
Under PEP, ICE officials have said, Lopez-Sanchez would have been picked up by immigration agents before he could be released by the sheriff's department.
Homeland Security Secretary Jeh Johnson released a statement Thursday saying the MPI report was correct in its analysis of the policies, and urged Congress not to pass legislation that would harm his department's efforts to expand PEP.
"I caution against any effort in Congress, in reaction to the tragic event in San Francisco, to federally mandate by legislation the conduct of state and local law enforcement, just as our efforts to re-generate cooperation are getting off the ground," he said. "Rather, I urge members of Congress to encourage state and local law enforcement in the states and districts they represent to join in the new PEP program."
Popular in the Community