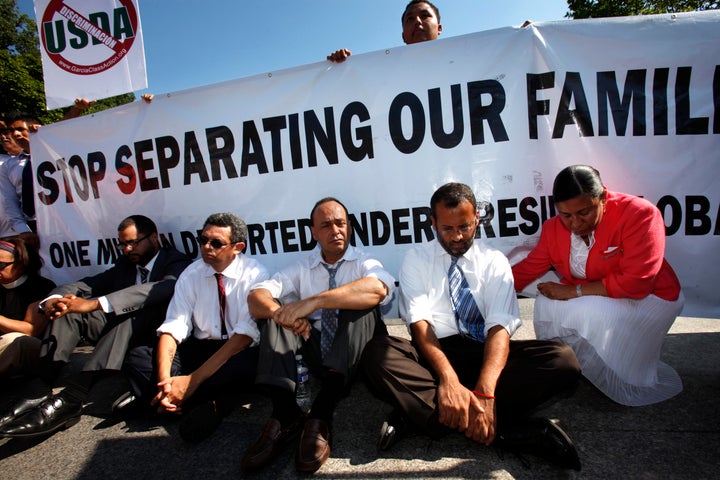 WASHINGTON -- Rep. Luis Gutierrez (D-Ill.), one of President Barack Obama's most vocal critics on immigration, was sitting at dinner with his family a couple of weeks ago when his youngest daughter began talking about the president's "terrible" deportation record.
"If they invite us to the White House, I won't go," the 24-year-old said, according to Gutierrez.
His wife, though, summed up the family's mixed feelings on the president and immigration. "Yes -- but you should clarify that notwithstanding that, we're all voting for him," his wife said, according to the congressman. "We can be angry, but we cannot vote for" Mitt Romney, the presumptive Republican nominee.
To many supporters of immigration reform, Obama has been a major disappointment. As a presidential candidate for his first term, Obama said he would enact immigration reform his first year in office and prevent parents from being separated from their children by deportation. Immigration reform hasn't happened. And deportation hasn't stopped. Obama is set to deport more people in one term than Republican predecessor George W. Bush did in two.
Still, for Gutierrez and most others pushing to provide a path to legal status for undocumented immigrants, Obama is the only choice in this year's election. That leaves the 10-term congressman from Chicago trying to blend his support for the president with continuing calls for reform that Obama hasn't delivered.
Gutierrez threw his support to Obama in 2008, when many Democrats in Congress backed Hillary Clinton in the Democratic primary. Four years later, Gutierrez said he wants Obama to win a second term and will help campaign for him. But he said he won't muzzle his criticism, no matter how much the campaign pushes.
"You just can't, otherwise it's you're the bullshitter again," Gutierrez said. "Like, 'Oh, don't you worry about all of those hundreds of thousands of children who don't have moms and dads, that isn't anything.' No, you have to. It is significant and important that a lot of people understand that we grasp that."
The Obama campaign has asked Gutierrez to tone down speeches calling out the president for deportations and immigration enforcement programs, a source with knowledge of the conversations told HuffPost. The Obama campaign declined to comment.
Obama's Democratic critics acknowledge his immigration accomplishments -- or attempts -- and blame Republicans for blocking reform. The Dream Act, a bill that would give legal status to some undocumented young people who were brought to the U.S. by their parents, passed the House in 2010 and came within five votes of passage in the Senate. Obama was instrumental in that push, but it failed, largely along party lines.
The Obama administration announced in August 2011 that it would refocus immigration enforcement to find and deport more immigrants with criminal records. That process is still being worked out -- many non-criminals are still detained and deported -- but it's viewed as a step in the right direction and has granted reprieves to some undocumented immigrants. Obama also proposed allowing some undocumented immigrants to stay in the U.S. while applying for hardship waivers.
Beyond problems with deportation priorities, Obama expanded programs that immigrant rights groups -- and the president's critics in the House -- say cause damage to the undocumented and to the broader safety of the community. Secure Communities, one of the main pillars of the administration's enforcement strategy, is set for nationwide implementation by 2013 despite opposition from some local and state governments.
Opponents' objections include the program's euphemistic name and its record of catching non-criminals and low-level violators in the deportation net. The Department of Homeland Security also bungled the rollout of the program, telling local officials it was optional before secretly changing the rules five times and declaring participation mandatory.
Rep. Zoe Lofgren (D-Calif.) requested an investigation earlier this year into whether DHS intentionally misled the public on Secure Communities. That report by the DHS inspector general found that the public was misled, but not on purpose. Critics of the program, including Lofgren, were unimpressed.
"I think it's a major missed opportunity for the administration," Lofgren said.
Still, Lofgren said her doubts about Obama's immigration enforcement policies aren't enough to keep her from supporting him.
"When I don't agree with the president, whether it's on housing or immigration, I'm not afraid to say so," Lofgren said. "But it's very clear that he is a much better bet for immigrants than the Republican Party."
The Republican Party is taking up the message that Obama has failed on immigration reform. Bettina Inclan, the Republican National Committee director of Hispanic outreach, told reporters Tuesday that her team will point out to Latino voters that Obama failed to pass immigration reform and increased deportations.
"You think, here's another politician who promised us the world as a candidate and now he becomes president and doesn't feel the need to make the issues he promised the Hispanic community a priority," Inclan said. "That's the record this president has to run on."
Of course, that strategy sidesteps the position of most Republicans, including Romney, that Obama has been too soft on unauthorized immigration.
Gutierrez said Romney is unquestionably worse than Obama on immigration, pointing to the GOP candidate's statements about "self-deportation" -- making life difficult for undocumented immigrants until they decide to leave -- and his vow to veto the Dream Act.
Gutierrez said he will continue to point out Obama's record on reproductive rights, Pell education grants and the economy -- and that Obama is more likely to win passage of immigration legislation in a second term. But in the end, Gutierrez said he will continue to criticize deportations and push for the long game of passing reform.
"I see myself as a promoter of civil and human rights first and foremost," Gutierrez said. "I see myself as those students who said, I'm going to eat at the counter," he said. "And I'm sure that caused much distress to President Kennedy and the Democratic Party and whether they were going to keep the Senate and the House."
Popular in the Community