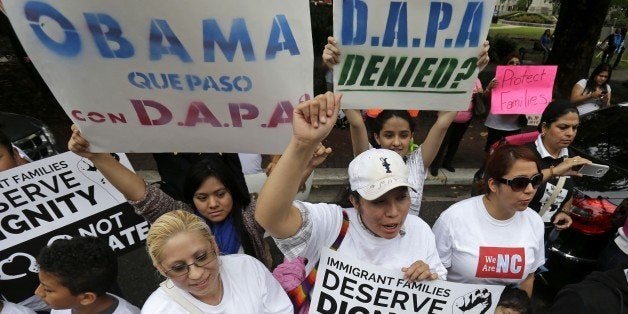 Maria Trujillo, 22, is set to graduate on May 16 from Prairie View A&M University in Texas with a degree in architecture, and she's been getting her resume and portfolio ready.
Whether she'll be able to work, though, hinges in part on a three-judge panel that heard oral arguments Friday about whether the president's deportation relief policies should be allowed to move forward.
Trujillo is undocumented. The Colombian-born student would benefit from President Barack Obama's executive actions on immigration, which would allow more undocumented immigrants with long-standing ties to the U.S. to stay and receive work authorization. She and her family members are ready to apply -- they skipped Christmas presents last year to save the money for the application fee -- but the programs are currently blocked in the courts.
On Friday, they went with other members of the advocacy group Texas Organizing Project to New Orleans to watch as Justice Department lawyers argued before the 5th U.S. Circuit Court of Appeals that the injunction issued in February should be lifted.
Trujillo, her mother and her two sisters were joined by hundreds of other immigrants and activists, some of whom crowded into the courtroom. Many more rallied outside.
"We want them to listen to us and to know our stories and all of the different families that are going to be affected by this," she said in a phone interview. "That's why I wanted to come. I wanted to be part of this group of people that are just showing what we're capable of and what we really want."
Inside the hearing, Texas Solicitor General Scott Keller made the case for why Obama's immigration executive actions are unconstitutional and should be prevented from moving forward. Texas was joined by 25 other states in suing the federal government over the deportation relief policies, and has argued they would impose undue costs on the states, such as for issuing driver's licenses.
The Justice Department has argued Obama was well within his authority and the programs are part of prosecutorial discretion, allowing immigration agents to focus their efforts on deporting criminals, recent border-crossers and those posing a risk to national security.
National Immigration Law Center executive director Marielena Hincapié, who was in the room, said she knows better than to make predictions on the outcome based on the questioning.
"The other piece is that this is a small step in a long legal battle," she said in a phone interview. "Whoever loses out of today is going to appeal. So either way, we've got a long legal marathon ahead of us."
Judge Andrew Hanen, the district court judge who initially halted the programs, is still set to consider the broader case over their constitutionality. The entire process could go to the Supreme Court.
The appeals court judges did not indicate when they will rule.
That means plans are on hold for Trujillo, her family and others like them. Obama announced in November he would expand deferred action to as many as 5 million undocumented immigrants. Under that plan, the existing Deferred Action for Childhood Arrivals program, or DACA, would be expanded to include more people who came to the U.S. as children, including Trujillo and her 21-year-old sister, Camila, who is studying to be a social worker.
The Obama administration also created a new program called the Deferred Action for Parents of Americans and Lawful Permanent Residents, or DAPA, that allows parents of U.S. citizens and green card holders to stay and work. Maria and Camila Trujillo said their mother and stepfather would be eligible for DAPA because their younger sister is a U.S. citizen.
"My mom has a degree in psychology and she works cleaning houses, and my dad has a major in business and he works in two fast food restaurants as a dishwasher," Camila Trujillo said. "There's so much more they can do for the economy and for the United States."
Beyond work, though, the sisters want to be sure their family can remain in the U.S. with their American-born 6-year-old sister, who has Down syndrome.
"She needs her parents to be here," Camila Trujillo said. "She needs her sisters."
Calling all HuffPost superfans!
Sign up for membership to become a founding member and help shape HuffPost's next chapter
BEFORE YOU GO
PHOTO GALLERY
11 Ways Immigration Reform Helps The Economy