WASHINGTON -- Two categories of numbers define President Barack Obama's handling of immigration policy -- and the challenge he faces on this incendiary issue in his second term.
As of Monday, Obama will have four more years to reshape his immigration legacy. And there's every indication that he wants it to be different. He doesn't want the dubious distinction of being "deporter-in-chief" -- especially since he was elected and reelected as the avatar of an ever more diverse America. Nor does he merely want to be the author of a patchwork, watered-down reprieve for young undocumented immigrants -- a program that could be ended any time by a successor.
Obama and his aides insist that he is determined in the second term to find a permanent legislative solution for a much bigger category and a much bigger number: the 11 million undocumented immigrants in America today who, if Obama can convince Congress to go along, could gain a path to citizenship.
Obama has repeatedly said he will push hard for immigration reform in his second term, and administration officials have said that other contentious legislative initiatives -- including gun control and the debt ceiling -- won't be allowed to get in the way. At least at first glance, he seems to have politics on his side. GOP lawmakers are entering -- or, in some cases, re-entering -- the immigration debate in the wake of disastrous results for their party's presidential nominee with Latino voters, who support reform by large measures. Based on those new political realities, "it would be a suicidal impulse for Republicans in Congress to continue to block [reform]," David Axelrod, a longtime adviser to the president, told The Huffington Post.
Now there's the question of how Obama gets there. While confrontation might work with Republicans on other issues -- the debt ceiling, for example -- the consensus is that the GOP is serious enough about reform that the president can, and must, play the role of broker and statesman to get a deal.
It starts with a lesson from his first term. Republicans have demanded that the border be secured first, before other elements of immigration reform. Yet the administration has been by many measures the strictest ever on immigration enforcement, and devotes massive sums to policing the borders. The White House has met many of the desired metrics for border security, although there is always more to be done, but Republicans are still calling for more before they will consider reform. Enforcing the border, but not sufficiently touting its record of doing so, the White House has learned, won't be enough to win over Republicans.
In a briefing with The Huffington Post, a senior administration official said the White House believes it has met enforcement goals and must now move to a comprehensive solution. The administration is highly skeptical of claims from Republicans that immigration reform can or should be done in a piecemeal fashion. Going down that road, the White House worries, could result in passage of the less politically complicated pieces, such as an enforcement mechanism and high-skilled worker visas, while leaving out more contentious items such as a pathway to citizenship for undocumented immigrants.
"Enforcement is certainly part of the picture," the official said. "But if you go back and look at the 2006 and 2007 bills, if you go back and look at John McCain's 10-point 'This is what I've got to get done before I'm prepared to talk about immigration,' and then you look at what we're actually doing, it's like 'check, check, check.' We're there. The border is as secure as it's been in a generation or two, so it's really time."
One key in the second term, advocates say, will be convincing skeptics such as Republican Sen. John Cornyn of Texas that the Obama administration held up its end of the bargain by proving a commitment to enforcement. The White House also needs to convince GOP lawmakers that there's support from their constituents for immigration reform, which could be aided by conservative evangelical leaders and members of the business community who are pushing for a bill.
Immigrant advocates want more targeted deportations that focus on criminals, while opponents of comprehensive immigration reform say there's too little enforcement and not enough assurances that reform wouldn't be followed by another wave of unauthorized immigration. The Obama administration has made some progress on both fronts, but some advocates worry that the president hasn't done enough to emphasize it. The latest deportation figures were released in the ultimate Friday news dump: mid-afternoon Friday on Dec. 21, a prime travel time four days before Christmas.
Last week, the enforcement-is-working argument was bolstered by a report from the nonpartisan Migration Policy Institute, which found that the government is pouring more money into its immigration agencies than the other federal law-enforcement efforts combined. There are some clear metrics to point to on the border in particular, and Doris Meissner, an author of the report and a former commissioner of the U.S. Immigration and Naturalization Service, said she hopes putting out more information can add to the immigration debate.
"I've been surprised, frankly, that the administration hasn't done more to lay out its record," she said, adding the administration has kept many of its metrics under wraps.
There are already lawmakers working on a broad agreement. Eight senators, coined the gang of eight, are working on a bipartisan immigration bill. It's still in its early stages, but nonmembers of the "gang," such as Sen. Marco Rubio (R-Fla.) are also talking about reform.
It's still unclear what exact role the president will play, but sources say he does plan to lead on the issue. Rep. Zoe Lofgren (D-Calif.), the top Democrat on the House immigration subcommittee, said the White House seems sensitive to the fact that Republicans and Democrats need to work out the issue in Congress -- no one is expecting a fiscal cliff-style arrangement jammed by leadership -- while keeping the president heavily involved.
In other words, it's not the place for steamrolling. "He needs to be an honest broker here," said Ali Noorani, executive director of the National Immigration Forum, which works on bipartisan consensus for reform. "Instead of the politician forcing immigration reform, Obama needs to be the statesman creating immigration reform."
Beyond the border, Obama will push for changes to the legal immigration system, which is universally considered to be out of date and ill-suited to the labor market and to managing the future flow of immigrant workers. Any bill will almost certainly include an increase in visas for graduates with advanced degrees in science, technology, engineering or math, and more and better flexibility for foreign migrant labor.
The Dream Act, a decade-old bill to give legal status to some undocumented young people, will also be part of any reform effort. It failed in the Senate most recently in December 2010, with most Republicans and five Democrats voting against it. But it now seems more tenable -- possibly because it seems small in scope compared to broad legalization of undocumented immigrants. And it is a must if the president's temporary and administrative deferred action policy is to be made permanent.
Citizenship will be another major question. Obama has consistently said that a path to citizenship is vital to immigration reform, and it will be a non-negotiable in his plan. It wouldn't be the "amnesty" decried by some on the right. It would likely involve fines, English tests and "going to the back of the line," which means waiting for possibly a long, long time.
But that, like the argument that border security must be completed before immigration reform can take place, will be a sticking point.
Simon Rosenberg, founder of the New Democrat Network and a player in immigration policy pushes since 2005, said one concern is that many Republicans this go-around seem less open to pathways to citizenship, which in the past has always been a part of the picture. Now Democrats need to remind people again of why it is important. "All we can do is make our case for what we believe in and fight like hell and hope we can get Republicans to come along," Rosenberg said.
The State of the Union address will be important to beginning that argument. White House spokesman Jay Carney said last week that immigration reform would likely be mentioned in Obama's speech. It wouldn't be a surprise: His past two State of the Union speeches mentioned the need for immigration reform, particularly on the high-skilled side and in aid for Dreamers, undocumented young people who would be helped by the Dream Act and reform. The references to immigration in both speeches were roughly the same -- down to the line -- and, as is typical for State of the Union speeches, didn't go into much policy detail.
That speech this year may not have much detail either. But it will be an important first statement of Obama's intention to do something on immigration quickly, and in one piece. Even though previous discussions have focused on comprehensive immigration reform, many Republican lawmakers want it to be done piece by piece. Administration officials don't think that would work, and neither does the president, who has repeatedly said it needs to be done in full.
It's not clear whether the politics have changed enough for a bill to pass. Conservatives who stress the "enforcement first" approach don't think so. Mark Krikorian, executive director of the Center for Immigration Studies, rejects the findings of the Migration Policy Institute and fears that reform might not prevent future swells in unauthorized immigration -- a key goal, after all, of any new policy and the major sticking point for many, if not most, Republicans in Congress. "I don't think the basic reality has changed," Krikorian said of immigration politics.
Conservatives see too much of what they regard as lenience in Obama's actions to date. They note that the administration has in some cases decided not to deport undocumented immigrants it detects, although the percentage of criminals being deported has gone up. Conservatives point to the deferred action policy for young undocumented immigrants and guidelines that put a low priority on removing some other categories of immigrants.
Such concerns allow some Republicans to draw a hard line on the idea of citizenship for the undocumented. Rep. Lamar Smith (R-Texas), a key figure in the ongoing debate and the former head of the House Judiciary Committee, said on Monday that Congress shouldn't trust the president on "mass amnesty" and that a bill including citizenship "will have a hard time" in the House.
Either way it shakes out, the political implications are enormous. The cynical view is that the Democrats can profit off a win or a loss -- and can further divide the GOP in any case. If Obama doesn't pull it off, he can blame Republicans and hope supporters do the same -- and not the next Democratic presidential candidate. If immigration reform becomes law, it would be a major political accomplishment.
Advocates for reform say they feel confident that Obama wants to be remembered as the person who got it done.
"It feels different when you talk to him," said National Council of La Raza President Janet Murguía, who has been a part of White House meetings in which Obama discussed immigration. "He's very committed. ... I think he recognizes that when it comes to his legacy there is a unique opportunity for him to push forward, in a breakthrough moment, immigration reform. There's a lot at stake here, not just for the country but for him as well."
The same is true for people who are numbers in categories, but who just want to be American citizens.
This article is part of a series produced by The Huffington Post that closely examines the most pressing challenges facing President Obama in his second term. To read other posts in the series, click here.
Sam Stein contributed reporting.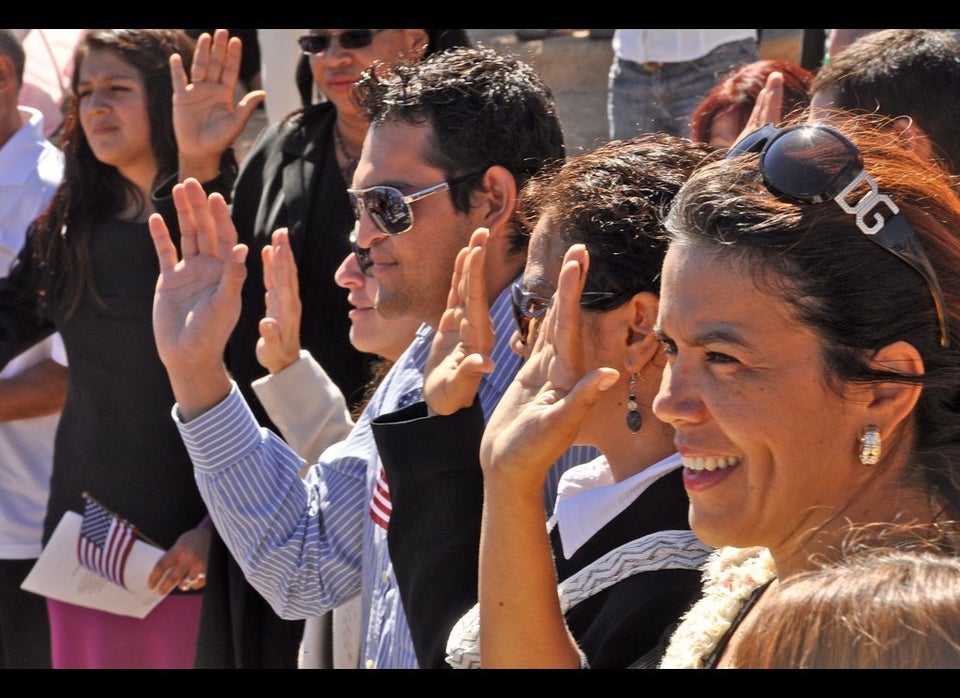 10 Major U.S. Federal Immigration Laws