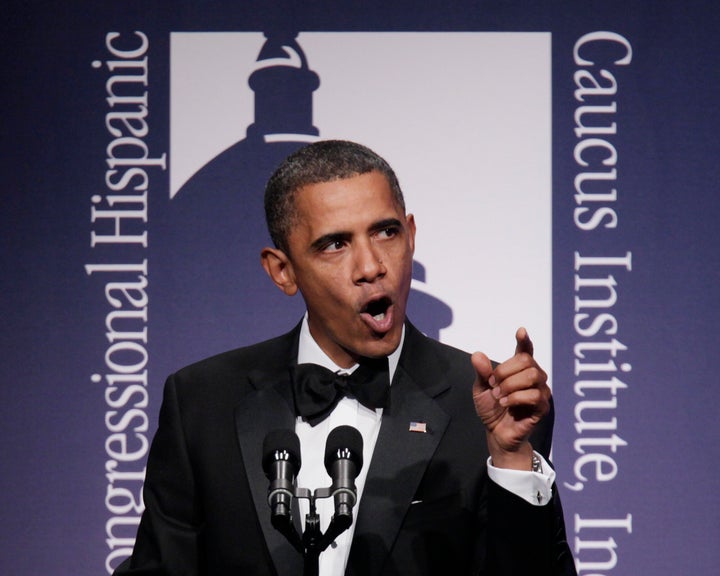 Last week, the President convened another in a series of meetings on immigration reform. This latest session was with members of the Congressional Hispanic Caucus. That's the third immigration-related meeting in a two-week span. Tomorrow, he'll be addressing the issue during a speech in El Paso, Texas. Clearly, the President has gotten the message that the Latino community is frustrated and angry about the lack of action on comprehensive immigration reform. Recent tracking polls from Latino Decisions shows that while Obama's approval rating among Latino voters is 73%, his reelect number is 41%, and immigration is a hugely important issue for those who are still undecided. As Latino Decisions points out, "This 32 point gap could spell trouble down the road."
The President needs to take a detour. Heading into 2012, he can't allow his legacy on immigration to be defined by a record number of deportations and no relief for any of the undocumented immigrants he pledged to legalize. It's great that the President is using his megaphone to put more pressure on Congress to pass comprehensive immigration reform. We need it. But we also need the administration to take bold action to reform its enforcement policies and bring them more in line with their stated priorities.
In addition to the meeting that the President had with the Congressional Hispanic Caucus on immigration, two senior administration officials, Melody Barnes and Cecilia Muñoz, conducted an on-the-record question and answer session with reporters. That provided an illuminating insight into the administration's thinking on immigration: they're worried about avoiding conflict.
[Barnes] suggested the tactics would not include the White House introducing its own bill, as congressional Republicans wanted.

"Often when the White House just puts something on the table, it can become a point of conflict and not an inflection point to move forward," Barnes said.
The same concern was voiced earlier this year, when the New York Times reported:
But senior administration officials said they did not want to make wider use of those powers for fear of deepening the conflict with Mr. Smith and other Republicans, who might try to limit the authority granted by immigration law and further stiffen their opposition to measures like the Dream Act. The officials spoke anonymously, saying they could discuss policy more freely that way.
And the effort to avoid conflict was painfully clear when DHS Secretary Janet Napolitano testified before the Senate Judiciary Committee in early March. After being grilled by Sen. Chuck Grassley (R-IA) about DHS deportation policies, Napolitano tried to appease the senator instead of challenging him for his role in blocking needed immigration reforms. Napolitano touted her Department's record number of deportations and noted that the Obama administration granted deferred action in less than 900 cases last year -- fewer than the Bush administration.
But why all this effort to avoid conflict? When it comes to immigration reform, bold moves are what's needed. It's hard to imagine how the opposition from Grassley and Rep. Lamar Smith to Obama administration immigration policies could get much stiffer. It's easy to imagine how support for the Latino community could grow with strong executive action.
Let Lamar Smith and Chuck Grassley turn immigration into a major issue. Take a page from the Harry Reid playbook. Have the fight, and see who wins.
During the briefing this week, Melody Barnes said that the President was going to lean hard into the immigration issue. That's good. His first step should be to use his executive authority to stop the record-breaking deportations, starting with DREAM students. Surpassing Bush's record on deportations hasn't earned him any respect from Republicans -- and won't. It only further alienated Latinos. If Republicans want a fight over DREAMers, Obama should welcome it. Harry Reid did in 2010, and it didn't hurt him with independents. And boy, did it help him with Latinos.
These voters were critical to keeping the Senate in Democratic hands last cycle, and they will play a decisive role in the race for the White House in 2012. Polling and demographic data demonstrate the enormous promise and challenge facing both parties as they develop strategies to court Latino voters in the coming elections.
It's increasingly clear that immigration reform is a key motivator for this growing segment of the American electorate, and that it hasn't proved to be the potent wedge issue that so many Republican candidates were banking on -- not in 2006, not in 2008, and not even in 2010. In 2010, Reid, Senator Michael Bennet and Senator Barbara Boxer modeled a winning strategy by engaging the immigration issue while exposing the extreme positions of their opponents. In an otherwise bad year for Democrats, all three won with huge margins from Latino voters.
If anyone should be afraid of Lamar Smith, it's his fellow Republicans.
The Smith/Gallegly/King/Grassley strategy is to deport all undocumented immigrants, which they've renamed "attrition through enforcement." Under Smith's "leadership," the GOP is poised to alienate Latinos, the fastest growing voting demographic, for decades to come.
The President should lean in to the immigration issue. He has the upper hand over his Republican opponents in Congress, because they stand for a broken, enforcement-only regime that has failed this country for decades, and he stands for pragmatic policies and solutions. It's time to put some muscle into it.
Popular in the Community