WASHINGTON -- The Democratic Congressional Campaign Committee raised $1 million in a single day on Monday, chairman Rep. Steve Israel (D-N.Y.) said. The fundraising juggernaut was driven by Democratic opposition to a lawsuit House Republicans intend to file against President Barack Obama related to the enforcement of certain Obamacare provisions.
"Since the announcement of the lawsuit, we've raised more than $7.6 million," Israel said at a breakfast hosted by the Christian Science Monitor. The committee has received more than 160,000 donations, Israel said, and the average donation amount is $19.
On Monday, House Speaker John Boehner (R-Ohio) published an op-ed defending the GOP lawsuit plan. Obama "has overstepped his constitutional authority," Boehner wrote, by twice extending the Affordable Care Act's deadline for large employers to provide health coverage for their workers.
For Israel and the Democrats, the most important number, however, may be 74,000 -- the number of first-time contributors to the committee in recent weeks. Israel confirmed what many on Capitol Hill suspected: The prospect of legal action by the GOP against the president is a powerful tool for mobilizing Democratic campaign donors, who strongly oppose the lawsuit.
Prominent Democrats have also successfully woven together the Obamacare lawsuit with a rumored House GOP plan to file impeachment proceedings against the president. The latter is a prospect that numerous top Republicans have rejected, and that House Speaker John Boehner (R-Ohio) said Tuesday was a baseless "scam started by Democrats at the White House." Nonetheless, incoming House Majority Whip Steve Scalise (R-La.) during an appearance on "Fox News Sunday" refused to rule out possible impeachment proceedings.
As long as the specter of impeachment hangs over the Capitol, Democrats probably will continue to capitalize on the widespread public opposition to impeachment.
Before You Go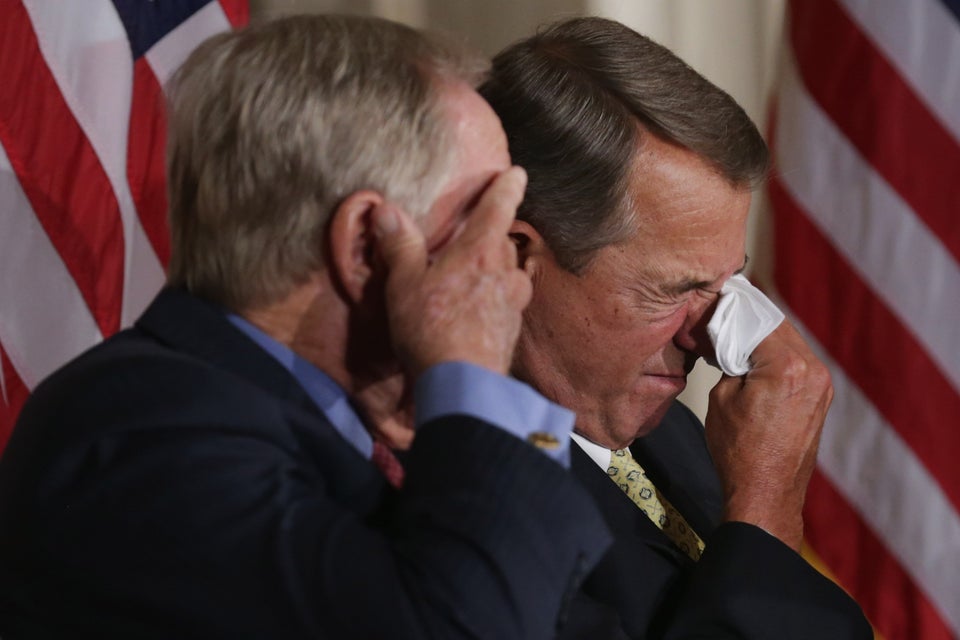 John Boehner Cries
Popular in the Community