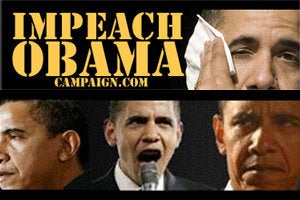 A popular, ideologically extreme website has begun pushing the idea that President Obama should be impeached. And the person leading the charge is the notorious Republican dirty trickster responsible for the infamous (and racially explosive) Willie Horton ads that derailed the campaign of Michael Dukakis.
WorldNetDaily -- the hard-right website that has trafficked the most outlandish rumors about the Obama presidency, including pushing the "birther" conspiracy -- is now circulating an article suggesting that the president should be booted from office. The effort is being spearheaded by the longtime GOP operative Floyd Brown, who has launched his own online Impeach Obama Campaign. On Thursday, Floyd took to WND to ask: "Is it time to whisper the word 'impeachment'?"
That story, quickly picked up by the progressive media tracker Media Matters, doesn't actually point to any particular impeachable offense committed by the president -- just the crazed notion that Obama has malevolence towards the country.
"'[H]igh crimes and misdemeanors' does not refer to a criminal act," Brown writes, referring to the grounds for impeachment. "Our Founding Fathers fully intended to allow for the removal of the president for actions which include: gross incompetence, negligence and distasteful behavior.
"For those who mistakenly hold the illusion that impeaching Barack Hussein Obama would be a simple matter of 'playing politics,' the founders fully intended that the impeachment of a sitting president be a political act."
The exercise is a hilarious expression of conservative angst and paranoia that would be funnier if it not for the clout that Brown and World Net Daily have in Republican circles. A known brass-knuckle strategist, Brown has worked for several prominent GOP candidates -- most notably Ronald Reagan. In 2008, he wasn't associated with the McCain campaign, but he did put up inflammatory television ads attempting to tie Obama to gang violence in Chicago.
WorldNetDaily, meanwhile, has become a virtual townhall for Obama conspiracy theorists. But It is also a place where the Republican National Committee likes to spread its political message. The committee has rented access to the WND email list and uses it to blast out calls to action and press releases.
Popular in the Community