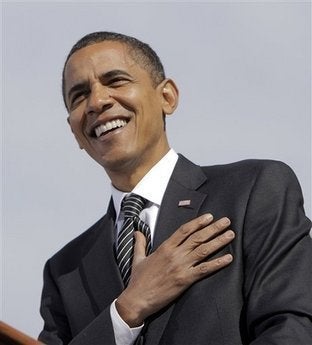 PHNOM PENH -- Since early September, American nationals have flocked to Phnom Penh's Foreign Correspondents' Club restaurant every Saturday night. The political debates they come to watch may have happened days earlier -- and been replayed on TV multiple times. And, as with the Palin vs. Biden debate, electricity blackouts might repeatedly disrupt the screening.
Still, the FCC events regularly attract a full house.
"Americans in Cambodia are turning out in droves," Wayne Weightman, the Cambodia chair for Democrats Abroad recently told me. "People may have already seen the debates, but they want to watch them together."
While they may be living thousands of miles from home, working in a poverty-stricken Southeast Asian country, Americans in Cambodia are well aware of this election's significance. As are their friends of other nationalities -- Cambodian, French, German, Australian, Korean. As an American, I am always struck by the amount of attention paid to U.S. politics by citizens of other countries -- we certainly do not return the favor -- and this year, interest is especially keen.
As Weightman told me: "It's not just Americans in Cambodia, but all nationalities in Cambodia. The whole world is watching this."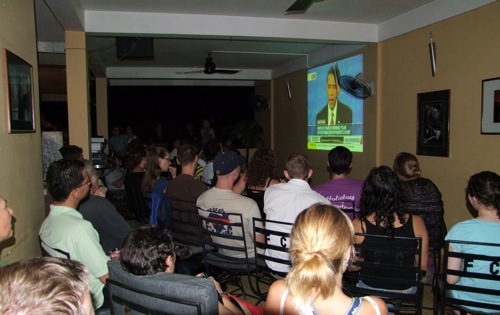 Expats at the FCC in Phnom Penh watch the final Obama vs. McCain debate.
I was also in Cambodia for the 2004 presidential election. Although there was certainly a good deal of interest in the election's outcome at that time, the local political activity this year has far surpassed what I saw in the past. Conversations and debates about U.S. politics buzz throughout the city's expat bars and cafes. Foreign-run restaurants are planning to start broadcasting election results in the early morning of Nov. 5 -- which would be the evening of Nov. 4 in America.
A dynamic Democrats Abroad chapter here has helped motivate the already energized electorate. Weightman is the force behind the organization. An immigration consultant from Hawaii who has lived in Cambodia for the last eight years, he remembers the disappointment he felt in 2004: "I was sitting in a little hotel room in Thailand watching Fox news, because that's the only channel they had. I was ill watching the results."
Weightman vowed to get more involved in Cambodia's fledgling Democrats Abroad chapter. Although he happens to be a high school friend of Barack Obama's, he says he would have become chair of the organization this January no matter who the Democratic nominee was.
"It's been a huge, huge undertaking," Weightman admitted. "I've put a lot of my life on hold."
Including his honeymoon, which had to be postponed so Weightman could organize a February primary at Phnom Penh's "USA Donuts." His house has been transformed into Democrats Abroad headquarters, filled with banners, baseball caps and "I voted for Obama from Cambodia" t-shirts.
"If we were any more grassroots, we'd be digging a hole in the ground," Weightman joked.
He says the local effort has built momentum over time and now has a devoted base of volunteers. They spend eight- to ten-hour stretches manning desks at the FCC, helping Americans navigate the labyrinth of state voter registration procedures and absentee ballot deadlines. Volunteers even assist Republican voters, who do not have a comparable party organization in Cambodia.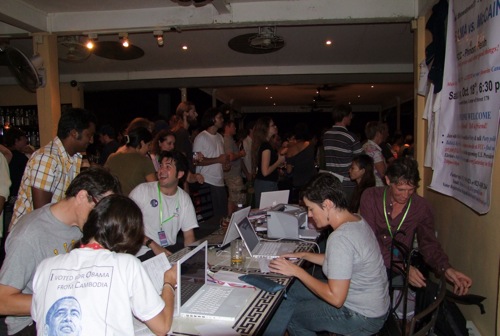 Expats at the FCC in Phnom Penh watch the final Obama vs. McCain debate.
Weightman admits that voting from abroad "is not a simple process. What your little ballot has to negotiate to get to being counted could make an incredible film."

Each state has different regulations and deadlines. The process usually involves multiple mailings, faxes and email correspondence with people who have no sense of the conditions of the place you are voting from. (I nearly laughed when I received an email from my home state suggesting I pick up materials at any "library, post office or DMV office.") And a developing country like Cambodia, with its shaky phone lines and sluggish postal system, is more challenging than many.
There are around six to seven million Americans living overseas, and while it's against Democrats Abroad policy to disclose at this point how many people the group has registered, participation in Cambodia "has dwarfed our expectations," Weightman said. "The amount of people we've touched is amazing."
No doubt many of them will skip work next week and gather in front of two big screens at the FCC, waiting to see if their labor-intensive votes made an impact.
"I don't live in America, but it's still my country," Weightman told me. "Nov. 5, I want to feel I did all I could."

Support HuffPost
The Stakes Have Never Been Higher
Popular in the Community