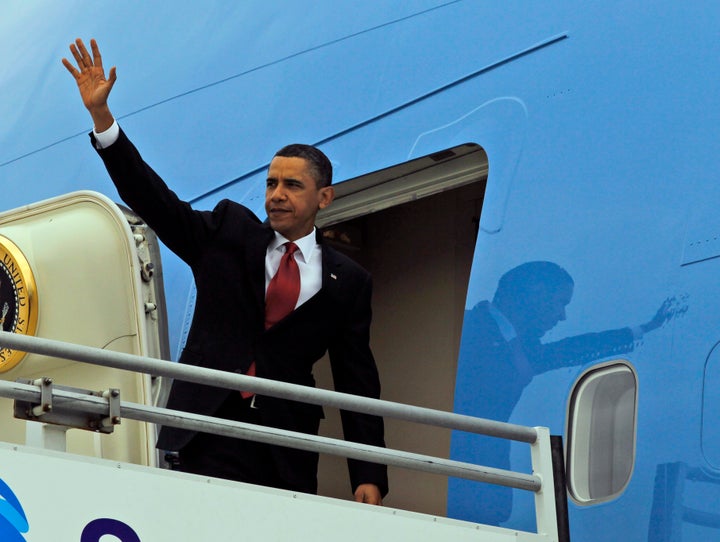 UPDATED -- Councilman Bill Rosendahl confirmed to HuffPost that President Obama will be getting around Los Angeles by helicopter like his visit last October. KNX 1070 broke the news this afternoon.
Rosendahl said that the the Los Angeles Police Department briefed him on a final security meeting that involved the LAPD, the Department of Transportation (LADOT), the FBI, the Secret Service, and White House representatives. There will be a mix of both motorcade and helicopter to get President Obama around Los Angeles, as opposed to last August's visit (all motorcade) and last October's visit (mostly helicopter), said Rosendahl.
Rosendahl admitted that "there will be gridlock," due to street closures, but that the closures won't be indefinite. He explained, "They will be tied in real-time to the President based on his real itinerary. It's not going to be as exacerbating as it was the time before last."
He recalled the aftermath of President Obama's August visit to Los Angeles, saying that "the frustration of the West Side was palatable for days and days." Still, he remains a hopeful skeptic: "It's still a work in progress, but I'm hoping they'll be sensitive to us... the proof will be in the pudding."
PREVIOUSLY -- President Obama is going to be in Los Angeles for less than twenty-four hours tomorrow, but judging from last year's traffic snafu, his presence could be a big headache for commuting Angelenos.
During his visit last August, the city grew furious when security street closures related to Obama's schedule transformed relatively short commutes into "hours-long ordeals." This year, Angelenos are cringing at the thought of more potential traffic jams his motorcade could create.
2:45 p.m.: Obama arrives at LAX.
4:30 p.m.: Fundraising appearance at the Sony Studios in Culver City.
Dinner 1: Michael Lynton is organizing a 60-seat dinner at Sony Studios. Plates are $35,800 a head.
Dinners 2 and 3: Consultant Andy Spahn, DreamWorks Animation CEO Jeffrey Katzenberg, tennis channel CEO Ken Soloman and Capital Group's John Emerson are chairing two dinners at Tavern in Brentwood, also at $35,800 a head.
8:55 a.m. (Friday): Obama leaves from LAX.
Because he'll be criss-crossing the West Side of Los Angeles during the afternoon rush hours, both Culver City and UCLA have issued traffic warnings about the possible congestion. As his exact traffic routes have not been released yet, UCLA's advice is vague: "Specific information regarding travel routes has not been made available. With an afternoon event scheduled at Sony Studios to be followed by a visit to Brentwood, please expect heavy traffic on the Westside." Culver City's warning, however, is more explicit about the area surrounding Sony Studios: "Drivers should, if at all possible, avoid utilizing the streets in this area and take an alternate route."
Related
Popular in the Community