RAMALLAH, West Bank -- The Barack Obama roadshow kept up its grueling pace Wednesday. The usual delays and frustrations that typify life in the "Muddled East" were effectively excised for the senator's 36-hour visit to the Holy Land. He kept to a strict timetable with about 100 war-zone-weary journalists in his wake.
Considering that Senator Obama arrived barely nine hours after security personnel shot and killed arogue backhoe driver near the presidential hopeful's hotel in downtown Jerusalem, after the man attacked a bus and several cars with his yellow monster machine -- the second such road rage this month by a construction worker from East Jerusalem -- security was efficient and brisk.
Indeed the heightened security made it even tougher than usual to be "off the bus" and "out of the press bubble," with little chance of access. The mini-welcome rally organized by the local "Israel for Obama" supporters was brief. There was no time to tell if Obama was charismatic, cerebral, or jet-lagged.
From Yad Vashem Holocaust Museum in Jerusalem to the traumatized town of Sderot near Gaza, Obama kept on the move. He crossed a checkpoint to the West Bank's de facto capital, Ramallah, to meet for less than an hour with the U.S.-backed moderates, President Mahmoud Abbas and Prime Minister Salam Fayad, as part of his charm offensive. As a formal courtesy, this was a notch up from John McCain's phone call in March.
But Obama spent the bulk of his trip reassuring Israelis about his commitment to their security. He talked tough about possible sanctions against Iran, and warned that, if elected, he'd take "no options off the table." (Huh? that's practically a Republican war cry.) A strategy of "big sticks and big carrots" to get Iran to halt its nuclear program seemed purposefully vague.
In Ramallah, armed security troops in camouflage uniforms and berets were lined up every ten yards all along the approach to the Mukata'a, the Palestinian Authority headquarters. Guards at three different entrances barred OffTheBus from the premises. Turns out the phrase "citizen reporter" doesn't quite translate in this tense atmosphere. We offered water to the men, then hit the road.
We drove around in the heat searching for Obama supporters or fans, but even at venues with names in English, such as the Stars & Bucks cafe or Supermarket Baghdad, there were no Gobama banners to be seen. When a local radio newscast announced that the Senator had "confirmed to President Mahmoud Abbas that he will be a constructive partner in the peace process" and would "not waste a minute" if elected, there was little visible reaction in a patio cafe. Most customers just kept sucking their narghila water pipes. Talk is just talk, no matter how it's parsed.
Later, while we were stalled in traffic at an Israeli checkpoint, the candidate and media pack moved on to Sderot. It's a literal boom town -- struck by thousands of rockets and mortars after Israel pulled its settlements out of the adjacent Gaza strip two years ago.

Since Egypt arranged a temporary ceasefire between Hamas and the Israeli Defense Forces last month, these crude rockets have nearly stopped falling. Obama inspected a hole blasted through the roof of the Amar family house by a Qassam rocket fired by "Iran-backed terrorists," as the locals phrased it. The owner had rescued his handicapped wife by dragging her wheelchair through blazing rubble, and now the house is uninhabitable. The senator was visibly moved by their plight.
"If somebody was sending rockets into my house where my two daughters sleep at night, I would do everything to stop that, " Obama told reporters at the Sderot police station. He said he "would expect Israel to do the same thing."
Oddly, John McCain had met the very same family back in March. That hole obviously is quite impressive.
Perhaps time does move at a different pace in the Middle East. America's old fairness doctrine, which once demanded equal time be given to the rival political parties, still appears to be practiced by the Amars. If only the same consideration could be be applied to both sides in the Israel-Palestinian conflict, maybe the peace process could be jump-started after all.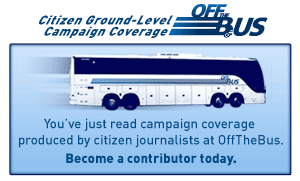 Calling all HuffPost superfans!
Sign up for membership to become a founding member and help shape HuffPost's next chapter