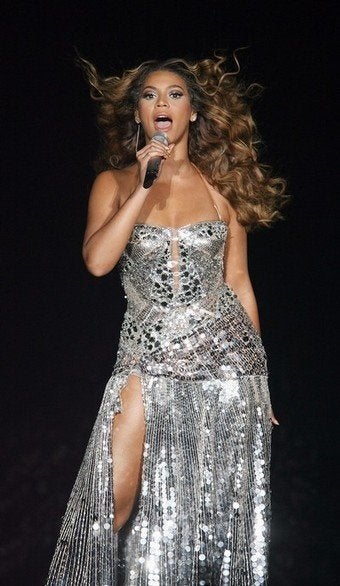 President-elect Barack Obama's inauguration events kick off on Sunday, January 18th with a celebration at the Lincoln Memorial. Performers include Beyonce, Mary J. Blige, Bono, Garth Brooks, Sheryl Crow, Josh Groban, Herbie Hancock, Shakira, Bruce Springsteen, James Taylor, will.i.am, and Stevie Wonder. Jamie Foxx, Martin Luther King III, Queen Latifah and Denzel Washington are reading historical passages. Reverend Gene Robinson, an openly gay bishop, will deliver the invocation prayer.
Obama will arrive at the Memorial steps after a train ride tracing Lincoln's path from Philadelphia to Washington.
"It is one of the great, patriotic symbols of our country," Presidential Inaugural Committee spokeswoman Linda Douglass said of the location. "It's a symbol of the American spirit; it's a symbol of unity; it's a symbol of our values. So for all those reasons it's an appropriate place to celebrate an inauguration that is really built around celebrating our common values as a people."
HBO will televise the event.
The Presidential Inaugural Committee (PIC) is pleased to announce the producers and initial talent lineup for WE ARE ONE: THE OBAMA INAUGURAL CELEBRATION AT THE LINCOLN MEMORIAL, the Opening Celebration for the 56th Presidential Inaugural, to be presented exclusively by HBO on Sunday, January 18 (7:00-9:00 p.m. ET/PT). The event will be free and open to the public, kicking off the most open and accessible Inauguration in history.

The special will be executive produced by George Stevens, Jr. (The Kennedy Center Honors), and produced by Don Mischer (Olympic Ceremonies) who will also direct the special, and Michael Stevens (The American Film Institute Salutes) who is also writing the special, and will be a production of The Stevens Company in association with Don Mischer Productions.

Musical performers scheduled for the event include Beyonce, Mary J. Blige, Bono, Garth Brooks, Sheryl Crow, Renee Fleming, Josh Groban, Herbie Hancock, Heather Headley, John Legend, Jennifer Nettles, John Mellencamp, Usher Raymond IV, Shakira, Bruce Springsteen, James Taylor, will.i.am, and Stevie Wonder. Among those reading historical passages will be Jamie Foxx, Martin Luther King III, Queen Latifah and Denzel Washington. The Rt. Reverend V. Gene Robinson will give the invocation. Rob Mathes will be the music director and arranger for the backing band, which will support all of the artists. Additional performers will be announced as they are confirmed.

"Our intention is to root the event in history, celebrating the moments when our nation has united to face great challenges and prevail," observed George Stevens, Jr. "We will combine historical readings by prominent actors with music from an array of the greatest stars of today."

"This is a great opportunity to capture an historic event in a very meaningful setting," noted Don Mischer. "We will have the statue of Abraham Lincoln looking down on our stage and a crowd of hundreds of thousands of people lining the mall -- a tableau any director would relish."

"We have found that the great artists are eager to take part and each one is working with us to find music that expresses the optimism and hope that people bring to the Obama inauguration," said Michael Stevens.

Televised to the nation, the Opening Celebration will be a declaration of common purpose and new beginnings. The Sunday afternoon performance will be grounded in history and brought to life with entertainment that relates to the themes that shaped Barack Obama and which will be the hallmarks of his administration.

HBO will televise the event on an open signal, working with all of its distributors to allow Americans across the country with access to cable, telcos or satellite television to join in the Opening Celebration for free.

The 56th Inauguration promises to be the most inclusive in history, and the Opening Celebration is one of a series of inaugural events that reflect that commitment. On Saturday, the President-elect, Vice President-elect and their families will journey to the nation's capital via train, holding events that are free and open to the public along the way. They will be joined by a group of everyday Americans they met along their road to the White House. On January 19th, Martin Luther King, Jr. Day, President-elect Obama will call on all Americans to make an ongoing commitment to serve their communities and their country. A new website, USAservice.org, makes it easy for Americans to organize service events or find existing events to participate in. To date, nearly 5,000 events have been organized across the country. That evening, Michelle Obama, Dr. Jill Biden, and their families will host a free "Kids' Inaugural" concert to honor military families, broadcast live on the Disney Channel and Radio Disney.

This spirit of openness will continue on Inauguration Day, when, for the first time in history, the entire length of the National Mall will be open to the public for the swearing in ceremony. Local D.C. students have also been given the chance to receive tickets in front of the White House for the Inaugural Parade for themselves and their family members based on the submission of essays answering the question, "How can I contribute to my neighborhood through community service?"

On the evening of Inauguration Day, the first ball that President Obama and First Lady Michelle Obama will attend will be the first-ever Neighborhood Inaugural Ball. The ball will be broadcast live on ABC and over the Internet, bringing together neighborhoods across the country in the spirit of unity and celebration.

The sum of these public events is an Inauguration that allows more Americans than ever before to come together as one nation and one people, united in our resolve to tackle our greatest common challenges and move this country forward together.
Calling all HuffPost superfans!
Sign up for membership to become a founding member and help shape HuffPost's next chapter