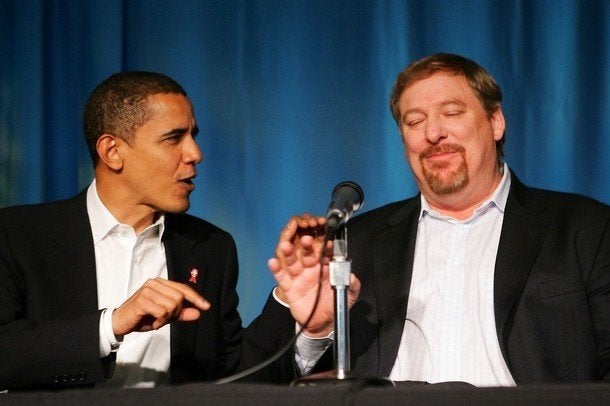 Pastor Rick Warren, who hosted a Saddleback Church Forum attended by both Barack Obama and John McCain, will deliver the invocation at Obama's inauguration.
David Brody of CBNNews adds:
Pro-life pastor Rick Warren will give the invocation at President-Elect Barack Obama's inauguration. It makes a whole lot of sense. Even though Warren and Obama disagree on the life issue, they do see eye to eye on many social justice issues. This move is also classic Obama because it is a signal to religious conservatives that he's willing to bring in both sides to the faith discussion in this country. Obama has never shied away from that.
WASHINGTON, DC - Senator Dianne Feinstein, Chairman of the Joint Congressional Committee on Inaugural Ceremonies, today announced the program for the 56th Presidential Inauguration, which will take place on the West Front of the U.S. Capitol on January 20, 2009.


"I am delighted to announce this superb line-up of participants in the 2009 inaugural ceremonies," said Senator Feinstein. "The inauguration of President-elect Barack Obama will be an event of historic proportion. It is appropriate that the program will include some of the world's most gifted artists from a wide range of backgrounds and genres."

The program participants were invited by the Joint Congressional Committee on Inaugural Ceremonies and chosen by the Chairman, the Presidential-elect and the Vice President-elect. In addition to Senator Feinstein, the members of the Joint Congressional Committee on Inaugural Ceremonies include: Senator Bob Bennett, Ranking Member of the Senate Rules Committee; Senate Majority Leader Harry Reid; Speaker of the House Nancy Pelosi; House Majority Leader Steny Hoyer; and House Republican Leader John Boehner.

The order of the program will be as follows:

Musical Selections

The United States Marine Band

Musical Selections

The San Francisco Boys Chorus and the San Francisco Girls Chorus

Call to Order and Welcoming Remarks

The Honorable Dianne Feinstein

Invocation

Dr. Rick Warren, Saddleback Church, Lake Forest, CA

Musical Selection

Aretha Franklin

Oath of Office Administered to Vice President-elect Joseph R. Biden, Jr.

By Associate Justice of the Supreme Court

The Honorable John Paul Stevens

Musical Selection, John Williams, composer/arranger

Itzhak Perlman, Violin

Yo-Yo Ma, Cello

Gabriela Montero, Piano

Anthony McGill, Clarinet

Oath of Office Administered to President-elect Barack H. Obama

By the Chief Justice of the United States

The Honorable John G. Roberts, Jr.

Inaugural Address

The President of the United States, The Honorable Barack H. Obama


Poem

Elizabeth Alexander


Benediction

The Reverend Dr. Joseph E. Lowery

The National Anthem

The United States Navy Band "Sea Chanters"
Popular in the Community