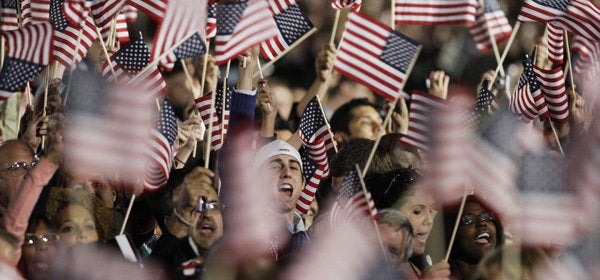 Barack Obama will be sworn in as president just days before the 200th anniversary of Abraham Lincoln's birth, and his inauguration theme will reflect the timing: "A New Birth Of Freedom," a phrase from the Gettysburg Address.
The brave men, living and dead, who struggled here, have consecrated it, far above our poor power to add or detract. The world will little note, nor long remember what we say here, but it can never forget what they did here. It is for us the living, rather, to be dedicated here to the unfinished work which they who fought here have thus far so nobly advanced. It is rather for us to be here dedicated to the great task remaining before us -- that from these honored dead we take increased devotion to that cause for which they gave the last full measure of devotion -- that we here highly resolve that these dead shall not have died in vain -- that this nation, under God, shall have a new birth of freedom -- and that government of the people, by the people, for the people, shall not perish from the earth.
From the press release announcing the theme from Sen. Dianne Feinstein, chair of the Joint Congressional Committee on Inaugural Ceremonies:
"A New Birth of Freedom" commemorates the 200th anniversary of Abraham Lincoln's birth. The words come from the Gettysburg address, and express Lincoln's hope that the sacrifice of those who died to preserve the nation shall lead to "a new birth of freedom" for our nation.

The inaugural theme, which was selected by Senator Feinstein and the members of the Joint Congressional Committee on Inaugural Ceremonies, will be woven through the inaugural ceremonies. The theme is traditionally linked to a major anniversary, and in her announcement Senator Feinstein spoke of the appropriateness of the chosen theme to our present day circumstances, particularly in light of the historic election of Senator Barack Obama.

In addition to Senator Feinstein, the members of the Joint Congressional Committee on Inaugural Ceremonies include: Senator Bob Bennett, Ranking Member of the Senate Rules Committee; Senate Majority Leader Harry Reid; Speaker of the House Nancy Pelosi; House Majority Leader Steny Hoyer; and House Republican Leader John Boehner.

"At a time when our country faces major challenges at home and abroad, it is appropriate to revisit the words of President Lincoln, who strived to bring the nation together by appealing to 'the better angels of our nature'," Senator Feinstein said. "It is especially fitting to celebrate the words of Lincoln as we prepare to inaugurate the first African-American president of the United States."

"On January 20, as President-elect Obama takes the oath of office, he will look across the National Mall toward the Lincoln Memorial, where the sixteenth president's immortal words are inscribed. Although some inaugural traditions have changed since Lincoln's time, the swearing-in ceremony continues to symbolize the ideals of renewal, continuity, and unity that he so often expressed."
Popular in the Community