WASHINGTON -- It's still a battle. It's still a fight. But for the surviving Tuskegee Airmen and other black World War II veterans who journeyed here to witness the second inauguration of President Barack Obama Monday, the struggle is one of love.
They wanted to see the nation's first African-American commander-in-chief sworn in again, validating the choice America made four years ago, declaring it was no fluke, that someone like them really can rise to lead the country they had to struggle to serve.
"I never expected to live long enough to see a black president," said Stephen Sherman, a 92-year-old who served with the Army's 308th Combat Engineers in both theaters of the war. He teared up just a little as he stood to roar out "God Bless America" before Obama spoke.
"It breaks my heart. I love my country," said Sherman, who was among about two dozen of his comrades in arms sitting just below the president, many in wheelchairs, on the west front of the Capitol to see Obama take his oath of office, as they did four years ago.
All around Sherman were Tuskegee Airmen, members of the same African-American who paved the way for blacks in the Army Air Forces. They were warriors who had to battle just to win an equal chance to die for their country.
LeRoy Battle, 91, a former navigator, bombardier and pilot from Harwood, Md., never saw action over the Pacific because he was locked in a struggle at home, getting arrested with other members of the 477th Bombardment Group trying to integrate an officers' club in Indiana. It was known as the Tuskegee Mutiny, or the Freeman Field Mutiny.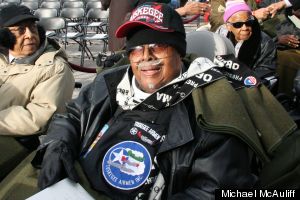 "They pulled us out of our barracks at 2 or 3 o'clock in the morning. They said 'We're going to hang you because you disobeyed a superior officer in a time of war,'" Battle recalled. "That's what I fought against."
Sherman said he grew up in Akron, Colo., where he was the only black kid in his class and no one thought much about it. He was never segregated until he joined the Army.
"I couldn't understand, but I still went in and served my country because I love it," he said.
Echoes of that broader fight resonated in Obama's speech. "Through blood drawn by lash and blood drawn by sword, we learned that no union founded on the principles of liberty and equality could survive half-slave and half-free," the freshly sworn president said at one point.
"The words I spoke today are not so different from the oath that is taken each time a soldier signs up for duty or an immigrant realizes her dream," Obama also said.
The veterans hope Obama delivers in his second term the hope he promised in his first, unhindered by opponents who wanted to make him a one-term president.
"I'd like to be able to see him do his job," said James Warren, 89, of Vacaville, Calif., an airman originally with the 477th who retired as a lieutenant colonel after 35 years in the Air Force. "He has a lot of brilliant ideas, but he had to fight like hell. Now he doesn't have to give them anything. He's not running for office again."
"There's a lot of good people on this earth, a lot of good people of all races," said Battle, who said he thought Obama is succeeding in moving America toward a more equal society. "He's very special. God put him here just like he did Moses," Battle said. "I can see progress, but that's not good enough, because I know that we've got more to go."
"I would like him to achieve 100 percent where every citizen would be the same," said Sherman. "I hate to go to other countries where I am better treated than I am here in America. I'm waiting to see that day come, and he can change it.
"We've been last for so many, many years," Sherman said, seeing real gains in the second election of Obama.
"I fought in three wars, and I never thought I'd see somebody like me being president," said Warren.
The Rev. Jesse Jackson made sure to stop and pose for photographs with the men, noting that the principles they fought for finally began to be realized after Martin Luther King Jr. won passage of historic civil rights laws in 1964 and 1965.
"They endured the humiliation," Jackson told The Huffington Post, appreciating that Obama was sworn in on the federal holiday set aside for King. "When you see these guys singing 'God Bless America,' it's something special. They didn't just inherit America; they had to make America."
Michael McAuliff covers Congress and politics for The Huffington Post. Talk to him on Facebook.
CORRECTIONS: An earlier version of this story mistakenly included a reference to the infamous Tuskegee experiments, which are not connected to the airmen. The story has also been clarified to say that the air force at the time was part of the Army, not its own branch of the military. And an earlier version of the post gave the wrong year for the modern Civil Rights Act: It was enacted in 1964, not 1965.
Before You Go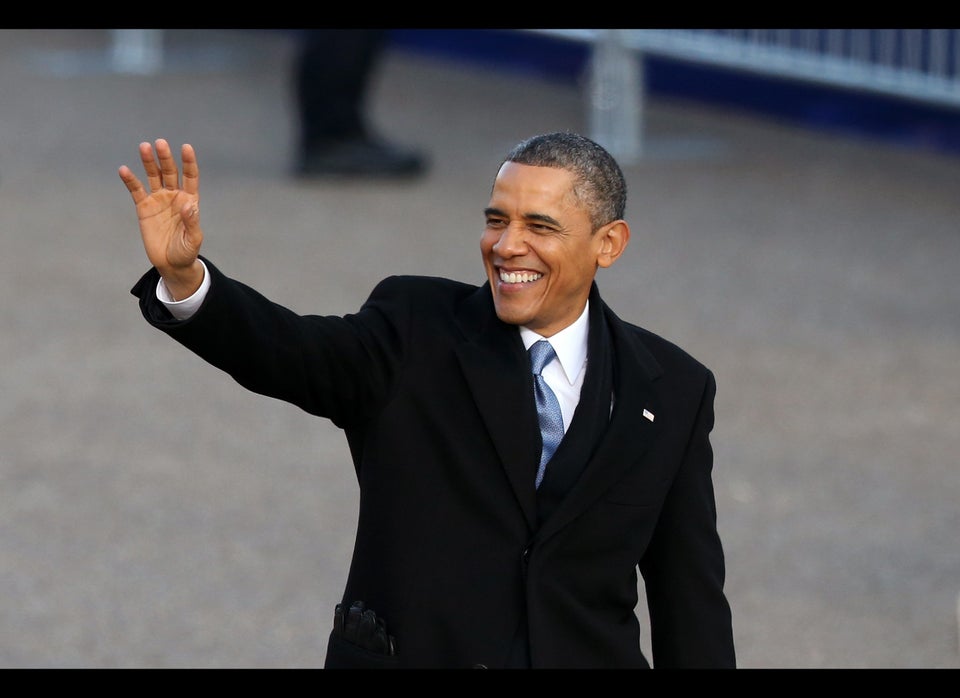 Inauguration 2013
Popular in the Community