President Barack Obama visited Indonesia's largest mosque during his trip to the world's largest majority Muslim nation, reports the AP. The visit to Istiqlal Mosque comes as Obama tries to rebuild ties with the Muslim world, citing "years of mistrust" that have damaged relations, says Reuters. During his speech to the Indonesian people, he said that Indonesia, his boyhood home, is "part of me."
Obama, who criticized Israel yesterday for its decision to build 1,300 new settlement homes in east Jerusalem, also said that the Israeli-Palestinian peace process faces "enormous obstacles," but added:
But let there be no doubt: we will spare no effort in working for the outcome that is just, and that is in the interest of all the parties involved: two states, Israel and Palestine, living side by side in peace and security.
The president related his speech in Indonesia to his previous appeal to the Muslim world from Cairo, saying he realized that "no single speech" can undo "years of mistrust," but that the U.S. would continue its appeals to the Muslim world. In Cairo, however, Reuters is reporting that some Muslims feel that the he has not done enough to heal U.S.-Muslim relations.
Obama used the mosque visit to highlight Indonesia's religious diversity, according to the New York Times. After touring the mosque in stockinged feet, with the First Lady wearing a traditional headscarf, Obama said of religious tolerance, "As a Christian visiting a mosque on this visit, I found it in the words of a leader who was asked about my visit and said: 'Muslims are also allowed in churches. We are all God's followers.'"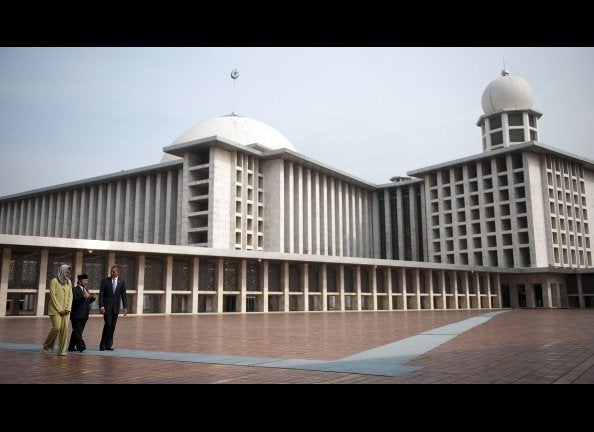 Related
Popular in the Community