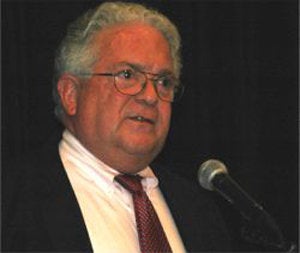 Charles "Chas" Freeman, President George H.W. Bush's ambassador to Saudi Arabia and now President Obama's pick for the crucial intelligence post of National Intelligence Council chairman, has come under fire in the past weeks for his financial ties to China and Saudi Arabia. Opposition to his appointment to the lead intel position initially came from the right wing, but as Chinese human rights advocates and PRC dissidents lodge their protests against Freeman for sitting on the advisory board of China's third largest oil company and for remarking that the Chinese government showed too much "restraint" in its handling of Tiananmen Square protests in 1989, Congressmen from both sides of the aisle are starting to call for investigation and opposition to Freeman is becoming more rounded and less ideological.
One new development, revealed here for the first time, which is likely to further damage Freeman's already battered standing is that the former ambassador advocated creating a national identity system in the US as a part of the war on terror. During a 9/11 Commission interview, Freeman remarked that of three major changes the US government should make to effectively combat terror, one was that "the United States should implement a national identity system, so we better know who is who."
This development could raise fresh objections to Freeman from both Republicans advocating leaner and less involved approaches to government and Democrats pushing for more robust civil liberty protections. Additionally, revelation that Freeman advocated putting a national identity system in place might also raise questions from the few remaining left-of-center commentators and outlets which support Freeman's appointment.
Popular in the Community