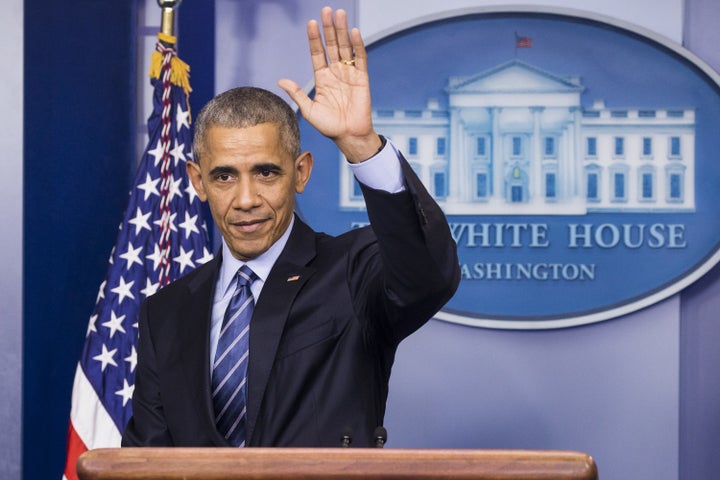 A new report on global attitudes toward the U.S. shows marked improvement since 2008. There's no indication of a Democratic wave in congressional races so far. And Americans are more united on gun control issues than it seems. This is HuffPollster for Wednesday, June 29, 2016.
OBAMA'S RATINGS WORLDWIDE ARE MUCH HIGHER THAN BUSH'S WERE - Richard Wike, Jacob Poushter and Hani Zainulbhai: "As he nears the end of his presidency, Barack Obama continues to enjoy a broad degree of international popularity. A new Pew Research Center survey conducted in 10 European nations, four major Asia-Pacific countries, Canada and the United States finds that half or more of those polled in 15 of 16 countries express confidence in the American leader…. previous Pew Research Center surveys have found higher international ratings for Obama than for his predecessor, George W. Bush. During the Bush era, opposition to U.S. foreign policy and rising anti-Americanism were widespread in many regions of the world, but Obama's election in November 2008 led to a significant improvement in America's global image. The shift was especially dramatic in Western Europe, where assessments of Bush were grim, but subsequent views of Obama have been remarkably positive." [Pew]
Americans don't get such high marks from many Europeans and Asians - More from Wike, Poushter and Zainulbhai: "The survey also finds that international publics see a mix of both good and bad characteristics in the American people. Survey respondents were read a list of six traits, and for each one, were asked whether this is something they associate with Americans. On the positive side, half or more in 15 of 16 nations say Americans are optimistic, and majorities in 14 countries think Americans are hardworking (although relatively few in China or Japan say this). Americans overwhelmingly think of themselves as optimistic and hardworking. Nearly two-thirds in the U.S. (65%) also say Americans are tolerant, but international publics are less convinced. While half or more hold this view in Poland, Japan, Germany and Italy, most in China, Sweden, Australia, the UK, France and Canada believe Americans are not tolerant. Moreover, many around the world also associate negative characteristics with the American people. Half or more in 10 countries think Americans are arrogant and many say they are greedy. Interestingly, most in the U.S. say Americans are arrogant (55%) and greedy (57%)."  [Pew] 
AMERICANS TRUST HILLARY CLINTON OVER DONALD TRUMP ON TERROR THREATS - Dave Jamieson: "According to an ABC News/Washington Post poll released Tuesday, 50 percent said they trust Clinton on terror, compared to 39 percent for Trump. Those numbers are comparable to the split in a March poll, before the gap narrowed to just 3 points last month, when Trump's poll numbers rose in general. But after the mass killing at a gay nightclub in Orlando, that gap has widened once again. Far more respondents thought Clinton had a better overall response to the attacks, by 46 percent to Trump's 28. And an even wider margin said they thought she showed better temperament in the wake of the shooting -- 59 percent to 25." [HuffPost] 
CLINTON'S LEAD INCREASES, BUT DOESN'T LOOK LIKE A WAVE - Chuck Todd, Mark Murray, and Carrie Dann: " Four months to go until Election Day 2016, and Hillary Clinton holds the early advantage in the presidential race. Our national NBC/WSJ poll shows her ahead of Donald trump by five points; the Washington Post/ABC poll has [her] up 12; and this morning's NBC/SurveyMonkey online tracking poll shows her leading by eight, Clinton's largest advantage in that survey. So that's the good news for Democrats. The bad news? It doesn't look like that advantage is translating into the building of a significant wave -- at least not yet, according to our NBC/WSJ poll. On a generic presidential ballot, 45% of voters prefer a Democrat to win the White House, versus 42% who want a Republican. (At this same time in 2008, by comparison, Democrats held a 16-point edge on this question, 51%-35%.) What's more, voters are split, 46%-46% over which party they'd prefer to control Congress. (It was 52% Democrat, 33% Republican in June 2008, though 45%-44% in June 2012.) What's more, voters are split, 46%-46% over which party they'd prefer to control Congress." [NBC]
AMERICANS ARE MORE UNITED ON GUN CONTROL THAN IT MAY SEEM - Samantha Neal: "In the aftermath of the mass shooting in Orlando, Americans appear to be divided on the broad concept of gun control — but not on specific gun control measures, according to polls. In a recent CNN/ORC poll, 55 percent percent of respondents say they favor stricter gun control laws, while 42 percent say they're opposed….Those differences in opinion may seem insurmountable. Yet the polls also reveal something else: Respondents are largely united in support of specific measures that restrict access to firearms. A vast majority of voters polled — 92 percent, according to the CNN/ORC poll — favor background checks for anyone attempting to purchase a gun. Eighty-nine percent of respondents in a CBS poll said they did as well. Nearly 9 in 10 voters support a law preventing individuals on the terrorist watch list from purchasing firearms, according to both CNN/ORC and YouGov….A key takeaway: Question phrasing matters. The term 'gun control' seems to be a politicized phrase that encourages a partisan response. Yet when polls ask about precise measures, Americans show overwhelming support for certain restrictions." [HuffPost]
BREXIT IS A CAUTIONARY TALE FOR INTERPRETING 2016 POLLS - John Johnson: "First, remember that how questions are asked will affect the results. For example, in the US, the treatment of third-party candidates in the polling questions could create similar issues as the 'undecided' vote on Brexit did for British pollsters. It is important to pay attention to how results change when only Clinton and Trump appear in the polling, versus the inclusion of either a generic 'other' candidate or, perhaps more importantly, a named third-party candidate. Second, always guard against the tendency to over interpret support for a candidate without considering the margin of error....Third, unlike a referendum vote in the UK, the US Presidential election is based on the Electoral College....Turnout of key demographics by state (and especially in swing states) is what will really matter. How a given poll models state-by-state turnout can really shape the results, and it's worthwhile to look closely. Polls are useful tools in trying to gauge the state of the electorate, but they have to be interpreted thoughtfully and carefully to give meaningful information." [The Hill]  
HUFFPOLLSTER VIA EMAIL! - You can receive this daily update every weekday morning via email! Just click here, enter your email address, and click "sign up." That's all there is to it (and you can unsubscribe anytime).
WEDNESDAY'S 'OUTLIERS' - Links to the best of news at the intersection of polling, politics and political data: 
-A new Quinnipiac University poll gives Hillary Clinton with a 2-point lead over Donald Trump. [Quinnipiac]
-Public Policy Polling (D) shows Clinton leading Trump in five of six battleground states. [The Hill]
-Steven Shepard finds little evidence that polls are skewed against Trump. [Politico]
-Scott Clement and Emily Guskin contest Trump's criticism of their latest poll. [WashPost]
-Fernando Casal Bértoa assesses the outcome of Spain's most recent election. [WashPost]  
-Americans had economic anxiety even before the Brexit vote. [Marketplace]  
-Thirty percent of households in the U.S. contain a mismatched partisan marriage. [538]
Samantha Neal contributed reporting. 
Calling all HuffPost superfans!
Sign up for membership to become a founding member and help shape HuffPost's next chapter