WASHINGTON -- Hawkish Senate Democrats are backing off an aggressive push for Iran sanctions legislation, saying they'll give President Barack Obama breathing room to let international talks play out over Iran's nuclear program.
Sen. Robert Menendez (D-N.J.) said Tuesday that he and nine other Democrats told Obama they will pull their support for a sanctions bill until at least after March 24, when international negotiators aim to reach a deal with Iran to curb its ability to develop a nuclear weapon. Menendez and Sen. Mark Kirk (R-Ill.) are coauthors of the legislation, which would impose new sanctions on Iran if international talks fall apart. Negotiations have been underway for about 18 months.
"This morning, many of my Democratic colleagues and I have sent a letter to the president telling him that we will not support passage of the Kirk-Menendez bill on the Senate floor until after March 24 and only if there is no political framework agreement," Menendez said during a Senate Banking Committee hearing.
"We remain hopeful that diplomacy will succeed in reversing Iran's ability to develop a nuclear weapon capability," he said. But, Menendez added, "We remain deeply skeptical that Iran is committed to making the concessions required to demonstrate to the world that this nuclear program is exclusively peaceful by March 24."
In addition to Menendez, who is the ranking member of the Senate Foreign Relations Committee, the letter was signed by Democratic Sens. Chuck Schumer (N.Y.), Richard Blumenthal (Conn.), Gary Peters (Mich.), Bob Casey (Pa.), Ben Cardin (Md.), Chris Coons (Del.), Joe Manchin (W.Va.), Joe Donnelly (Ind.) and Debbie Stabenow (Mich.). Many of the signatories are past cosponsors of Menendez's sanctions bill.
The Democrats' about-face is a victory for Obama, who has clashed with Republicans and some in his party -- particularly Menendez -- over the need to let the delicate Iran talks proceed without threats of punishment. Obama has warned Congress that any action on sanctions legislation could hurt negotiations and says he will veto any bills of this nature. Last week, he reminded lawmakers that if international talks fail, the likelihood of a military confrontation "is heightened, and Congress will have to own that as well."
A White House spokeswoman did not respond to a request for comment.
"Senator Menendez and the rest of the Democratic warmonger caucus just blinked," said Zack Malitz, campaign manager at CREDO, an online progressive group that has made blocking sanctions a top priority. "Their decision to delay a vote on new, diplomacy-killing sanctions shows that pressure from progressive activists and the White House is having an effect."
Despite Democrats backing off, Senate Majority Leader Mitch McConnell (R-Ky.) said Tuesday that Republicans are still moving forward on the sanctions bill.
"We're hoping to get a bill out of the Banking Committee," McConnell told reporters. "My understanding is, Chairman [Richard] Shelby hopes to move that measure out of the committee very soon."
Even if Republicans were to pass sanctions legislation, it's not clear they would have the votes to override a veto. A quick review of past critics of the Kirk-Menendez bill shows at least 28 senators publicly opposed to it, which means only six more would be needed to sustain a veto -- a threshold at least one Democratic leader believes they can hit.
In the House, meanwhile, a Democratic leadership aide was certain they have the 145 votes necessary to uphold a veto. There are 188 House Democrats in total.
"The vast majority of House Democrats are in support of the President's position," said the aide.
The Kirk-Menendez bill isn't the only sanctions bill in play. Sen. Bob Corker (R-Tenn.), chairman of the Senate Foreign Relations Committee, has proposed another bill that would require congressional approval before the White House can sign a deal with Iran. Republicans say such a vote is necessary, if only to give lawmakers a role in shaping any Iran agreement that is reached.
"I think it's imperative that we send a signal, at a bare minimum, that any deal that's negotiated, if there is one, comes to Congress," said Sen. Lindsey Graham (R-S.C.). "At the end of the day, if you don't want to do sanctions, we at least need to do that."
Ali Watkins contributed reporting.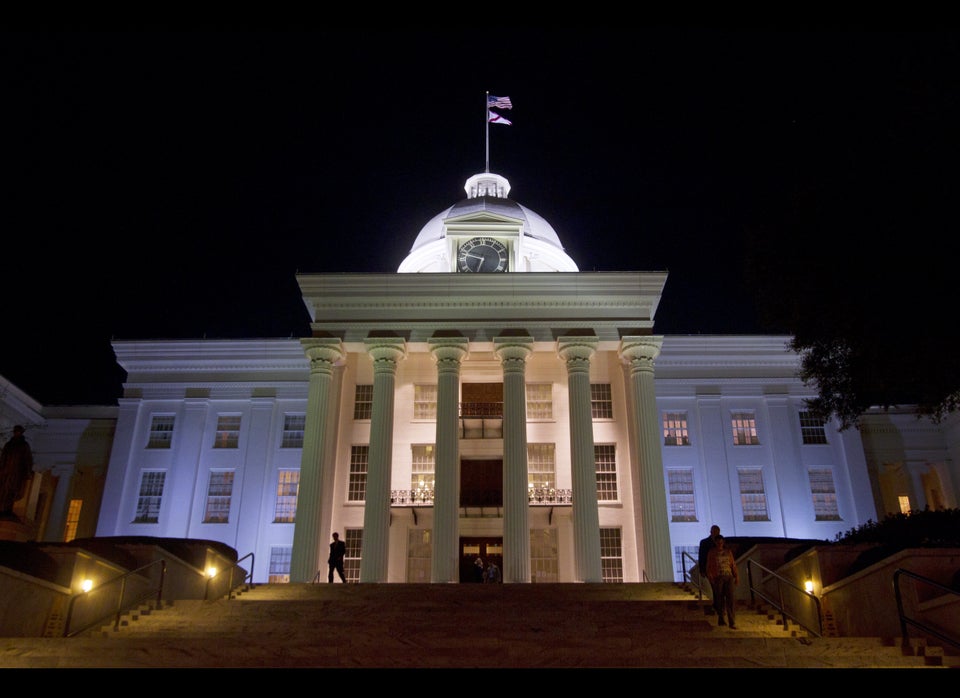 U.S. State Capitol Buildings
Popular in the Community