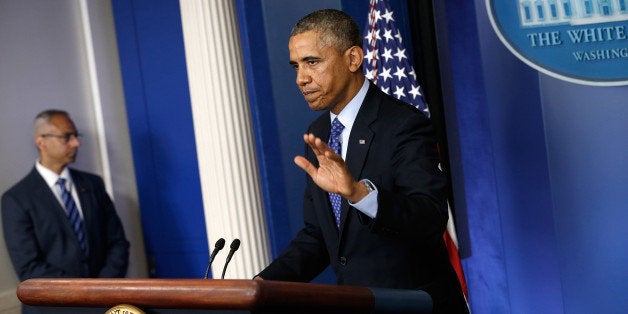 Looking at the chaos in Iraq, Americans are still more likely to point the finger at George W. Bush, according to a Quinnipiac survey released Thursday. But they're growing increasingly unhappy with President Barack Obama's foreign policy record, too.
The 2003 decision to go to war in Iraq is, in retrospect, quite unpopular, with a record-low 32 percent of U.S. voters saying it was the right thing to do. Former President Bush takes the lion's share of blame for the conflict: 51 percent said he was more to blame for the current situation in Iraq than Obama, and 58 percent approved of Obama's decision to withdraw all U.S. troops from Iraq by the end of 2011.
However, two-thirds of voters said Obama has been the same or worse on foreign policy than Bush. Just 37 percent gave the president positive marks for his handling of the Iraq situation, down 24 points from 2011. Eighty percent of Republicans, as well as 60 percent of independents and 25 percent of Democrats, disapproved. His numbers on handling the situation in Afghanistan were not much better, with just 42 percent approving.
The low approval ratings don't mean that voters necessarily disagree with the actions Obama has taken in either country. Sixty-three percent oppose the idea of sending ground troops back into Iraq, which the president said he would not do. A 46 percent plurality said he's handling the troop withdrawal from Afghanistan "about right," with the remainder split on whether the drawdown is too quick or not fast enough.
The current situation in Iraq may be a no-win in terms of public opinion. The Quinnipiac survey shows American voters simultaneously concerned about the security ramifications of the Islamic militants' advance and widely opposed toward taking military action. While 72 percent said that if the militants take over Iraq, it's likely they'll launch a terrorist attack against the U.S. in the near future, 56 percent said it wasn't in the national interest of the U.S. to be involved in the latest conflict in Iraq. Nearly two-thirds agreed that the U.S. should do less around the world and focus more on problems at home.
Even before the rising violence in Iraq, the president's foreign policy numbers were slipping, buffeted by the unrest in Ukraine and the contentious decision to release Taliban prisoners in exchange for U.S. soldier Bowe Bergdahl.
"Whether it's [Russian President Vladimir] Putin, Ukraine, the VA hospitals, Bowe Bergdahl, the events have controlled Obama, rather than Obama having controlled the events," Democratic pollster Peter Hart said, discussing an NBC News/Wall Street Journal poll in mid-June.
Quinnipiac University surveyed 1,446 voters between June 24 and June 30, using live interviewers to call both land lines and cell phones.
Popular in the Community