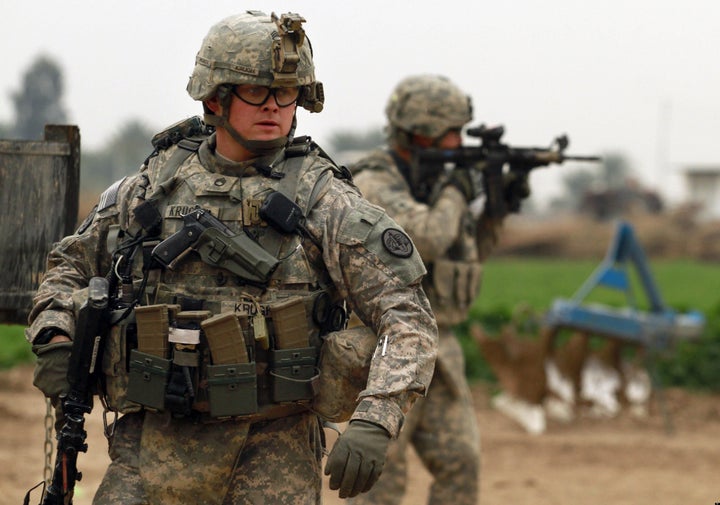 WASHINGTON -- As the United States and Iraq debate whether to keep American forces involved in the war beyond the end of the year, 93 members of Congress have signed a letter to President Obama urging him to stick by the planned withdrawal date.
The letter was spearheaded by Reps. Barbara Lee (D-Calif.) and Water Jones (R-N.C.), two of the leading voices pushing for a more rapid withdrawal in Afghanistan as well.
"We are deeply concerned to learn that your Administration is considering plans to keep potentially thousands of U.S. troops in Iraq beyond the end of this year," the lawmakers wrote. "Extending our presence in Iraq is counterproductive -- the Iraqi people do not support our continued occupation. Remaining in Iraq would only further strengthen the perception that we are an occupying force with no intention of leaving Iraq."

"Leaving troops and military contractors in Iraq beyond the deadline is not in our nation's security interests, it is not in our nation's strategic interests, and it is not in our nation's economic interests."
Three of Jones' Republican colleagues, Reps. Jimmy Duncan (R-Tenn.), Tim Johnson (R-Ill.) and Ron Paul (R-Texas), also joined the letter.
The signatories include few surprises, attracting the support of many lawmakers who were actively speaking out against the war in Afghanistan. Rep. Janice Hahn (D-Calif.), the newest member of the House of Representatives after she won the July 13 special election for her seat, also signed on.
"We've spent the past decade nation-building everywhere but where we need it the most: here in America," said Hahn in a statement. "We need our young men and women and our dollars back in America, powering a new green economy, transforming our energy sector, and creating jobs. I am proud to join with ninety of my colleagues to encourage the President to finally get us out of Iraq."
The Status of Forces Agreement signed by Iraq and the United States during the Bush administration says all U.S. troops must leave Iraq by Dec. 31, 2011. But the contract also leaves the door open to further negotiations that would delay withdrawal.
While running for president, Barack Obama promised to end U.S. combat in Iraq. "Let me say this as plainly as I can: By August 31, 2010, our combat mission in Iraq will end," he said, according to the Atlantic. "I intend to remove all U.S. troops from Iraq by the end of 2011."
On his first official visit to Iraq in his new position earlier in July, Defense Secretary Leon Panetta said that the U.S. would "seriously consider" an Iraqi request to keep military forces there. Later, meeting with a group of American soldiers, Panetta expressed his exasperation that the Iraqi government was taking so long to make the request. "Dammit, make a decision," he said, according to The New York Times.
The case for an on-time withdrawal gained a powerful advocate when Senate Majority Leader Harry Reid (D-Nev.) recently came out and said, "As Iraq becomes increasingly capable, it is time for our own troops to return home by the end of the year and for these precious resources to be directed elsewhere. There is no question that the United States must continue to provide support for the Iraqis as they progress, but now is the time for our military mission to come to a close."
However, if the Obama administration does agree to keep troops in Iraq, it will likely find support from other members, including House Speaker John Boehner (R-Ohio) and Sen. Lindsey Graham (R-S.C.), who have already said they would back such a plan.
93. Yarmuth
Popular in the Community