WASHINGTON -- President Barack Obama strongly condemned officials at the Internal Revenue Service for singling out conservative groups during the lead-up to the 2012 elections.
In a press conference on Monday, Obama called the reports "outrageous" and intolerable, while saying he would reserve harsher judgment for when a fuller report on the IRS's actions is formally released.
"This is pretty straightforward," said Obama. "If, in fact, IRS personnel engaged in the kind of practices that have been reported on and were intentionally targeting conservative groups, then that is outrageous, and there is no place for it, and they have to be held fully accountable, because the IRS as an independent agency requires absolute integrity and people have to have confidence that they are applying the laws in a non-partisan way. You should feel that way regardless of party."
"But I have got no patience with it, I will not tolerate it, and we will make sure that we find out exactly what happened on this," he added.
The remarks were the president's first on the evolving scandal surrounding the tax collection agency. News broke last Friday that the IRS had targeted groups with the words "Tea Party" or "Patriot" in their name, forcing them to fill out additional questionnaires and provide more information in order to get approval for their tax-exempt status. Over the weekend, the Wall Street Journal reported that the IRS had also given extra scrutiny to organizations that focused on government spending, debt and taxes.
Lawmakers have responded with anger and outrage. On Monday morning, Sen. Marco Rubio (R-Fla.) called on the IRS commissioner to be fired. The senator's office confirmed to The Huffington Post that he was referring to Steven Miller, the acting commissioner. The Senate has not yet confirmed a full-time commissioner since Douglas Shulman, a Bush appointee, stepped down this past fall.
Sen. Joe Manchin (D-W.Va.), meanwhile, called for a "congressional investigation to determine" how the IRS scandal took place. Sen. Max Baucus (D-Mont.), who chairs the Senate Finance Committee, said that "The IRS should be prepared for a full investigation into this matter by the Senate Finance Committee."
The results of such an investigation will ultimately determine whether the story amounts to a case of terrible bureaucratic judgment or becomes a wider political scandal.
The IRS began taking on additional campaign finance regulatory responsibilities after the Supreme Court's Citizens United decision, which led to an uptick in filings for 501(c)(4) organizations seeking social welfare status. The agency's Cincinnati office became the central clearing point for those applications. Officials there, the agency said, were the ones who inappropriately targeted conservative groups for scrutiny.
As early as mid-2011, however, high-ranking IRS officials became aware that the Cincinnati office was engaging in this activity, a forthcoming Treasury Inspector General for Tax Administration report will reportedly reveal. Why nothing was said or done prior to last Friday is unclear.
The president on Monday said that neither he nor his advisers were aware that this was taking place.
"I learned about it from the same news reports that I think most people learned about this," said the president. "I think it was on Friday."
The Wall Street Journal, meanwhile, reported that a government official who had reviewed a copy of the report said no one outside the IRS was involved in encouraging the targeting of conservative groups.
UPDATE: 2:45 p.m. -- Senate Majority Leader Harry Reid (D-Nev.) has joined the chorus of concerned lawmakers, saying that he supports bipartisan calls for an investigation into the IRS scandal. From his floor remarks:
I have spoken today to the senior Senator from Montana, Chairman of the Finance Committee, Max Baucus, and he is looking into this matter in his role as finance chairman of that committee. If the Inspector General's report indicates further investigation is needed, I have full confidence in the ability of Senator Baucus and the Finance Committee to get to the bottom of this matter and recommend appropriate action.
Support HuffPost
The Stakes Have Never Been Higher
Before You Go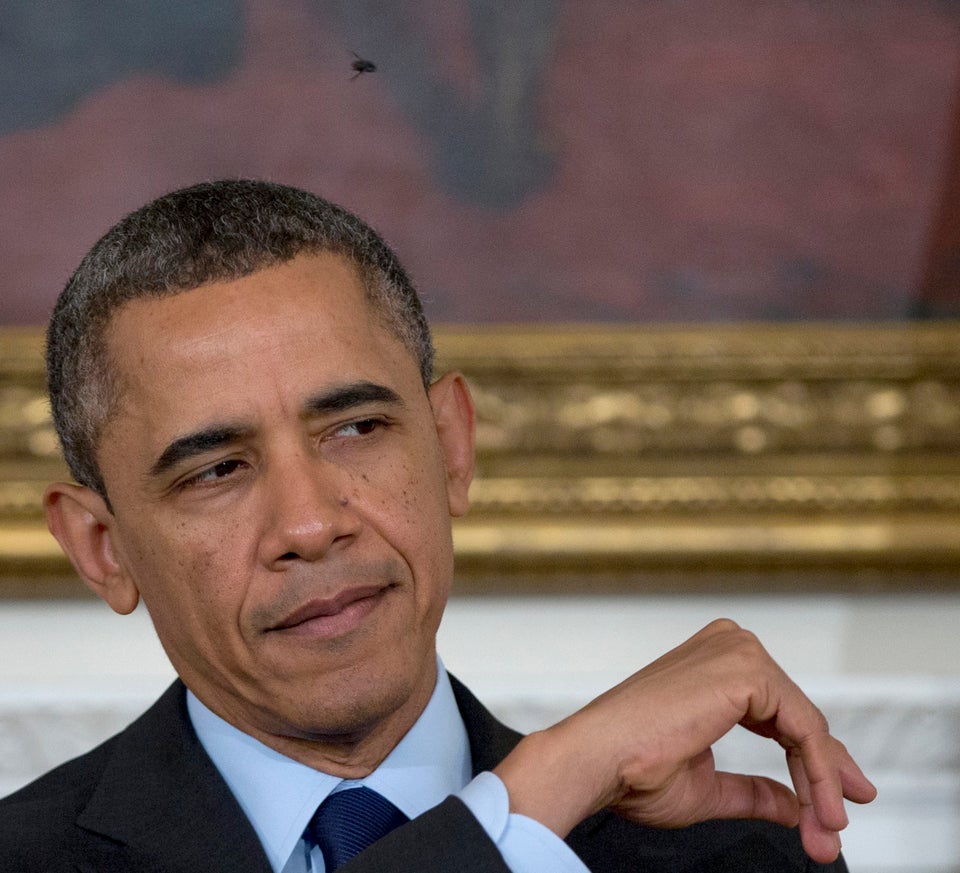 Obama Vs. The Fly
Popular in the Community