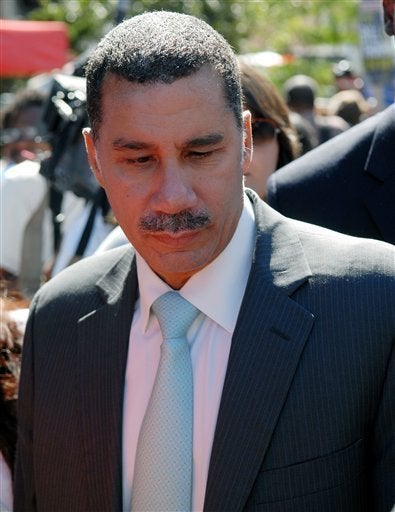 Top players in the New York Democratic Party took out an ad on the front-page of Sunday's New York Times. That kind of space doesn't come cheap, but luckily for them, they didn't pay in dollars -- they paid in political capital.
Don't worry if that doesn't make complete sense. You're not alone. For one, the Republican National Committee's Michael Steele had trouble wrapping his head around it.
Steele was on Face The Nation this morning as a brief rebuttal guest to President Obama, whom he agreed with when he said that "the meanness" of the GOP opposition is not -- repeat: not -- fueled by race.
But what is fueled by race? According to Steele, news that President Obama is pressuring Governor David Paterson to step aside in the 2010 New York Democratic primary.
I found that to be stunning that the White House would send word to one of only two black governors in the country not to run for reelection. And it just raised a curious point for me.
Steele went on to say that non-minority New Jersey Governor Jon Corzine also has terrible numbers but Obama not only endorsed his reelection, he campaigned for him. How "stunning and also rather bold." Asked to clarify whether he was saying the White House involvement was about race, Steele said he didn't think that. He was only pointing out how "curious" it is.
Steele is trying to stir up controversy where there isn't any. In fact, there's a very good explanation for why Paterson and not Corzine is getting the presidential boot: all politics is local.
It's been the silent consensus of New York Democratic leaders for months now that Paterson needs to go. Paterson did not respond well to these critics, injecting race into the equation -- even conflating attacks on him with attacks on President Obama (practically inviting the White House to wade in). It backfired, Paterson backtracked and was left even deeper in the hole. Obviously, state Democratic leaders felt they weren't getting anywhere. They needed somebody to step in. And so, they reached out to the White House. Bing. Bang. Boom.
On the other side of the Hudson, you have an unpopular governor but a different political situation. While one major Garden State Democrat publicly floated dropping Corzine in June, the establishment by and large stuck by him. And if they're happy, Obama is happy.
Paterson gets this. He may even have been forewarned (Say 'uncle' or be humiliated). The governor maintains that he will run, and the White House leak probably confirms how serious he is about doing so. All Obama did today was confirm that Paterson is a pariah in his own party. The New York Democratic establishment made this decision -- the White House only assented.
Now that a full amount of political cover has been applied, Andrew Cuomo 2010 can begin operating in the open. New Yorkers decide the next governor in only a little more than four hundred days. This leak from President Obama signals that state Democrats will wait no longer.
Calling all HuffPost superfans!
Sign up for membership to become a founding member and help shape HuffPost's next chapter