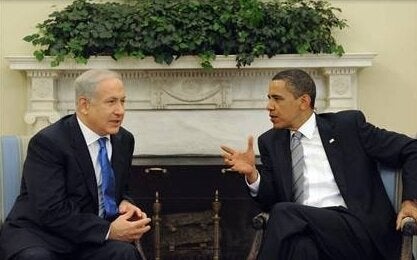 Two cheers for President Obama.
Now, Israel is going to have to take some difficult steps as well, and I shared with the Prime Minister the fact that under the roadmap and under Annapolis that there's a clear understanding that we have to make progress on settlements. Settlements have to be stopped in order for us to move forward.
In calling for an end to Israeli settlement expansion in the West Bank, President Obama is restating longstanding U.S. policy. However, under the Bush Administration, U.S. officials tended to use weak formulations like referring to the settlements as "an obstacle to peace" rather saying explicitly that they should stop. And the statements tended to come from folks like Secretary of State Rice, rather than from the president himself. By making the statement in his press conference with Netanyahu, President Obama underscored the policy.
However, what really matters is giving teeth to the policy. There can scarcely be any reasonable doubt that if the Obama Administration really wants to, it can stop Israeli settlement activity in the West Bank. The U.S. has a great deal of leverage over the Israeli government. The question is whether the Obama Administration will use that leverage.
For example, earlier this month, President Obama sent his FY2010 budget request to Congress and, as expected, included in it $2.775 billion in military aid for Israel, an increase of $225 million from this year's budget.
This presents the perfect opportunity for the Obama Administration to "put its money where its mouth is." The Obama Administration could, for example, support conditioning the increase in U.S. military aid on Israeli compliance with a settlement freeze. No-one could plausibly claim that conditioning the increase on compliance with a settlement freeze would "endanger Israel" in any way -- even if Israel did not comply with the settlement freeze, and did not receive the increase in military aid as a result, that would leave Israel receiving exactly as much U.S. military aid as it receives now.
But such a move would make clear that the Obama Administration is serious.
Without a settlement freeze, there can be no progress on a two-state solution to the Israeli-Palestinian conflict. If President Obama truly wants to see an agreement establishing an independent Palestinian state achieved during his first term in office, now is the time to match words with deeds.
Popular in the Community