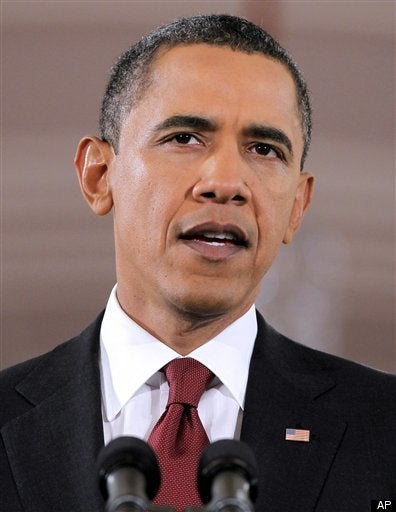 WASHINGTON -- President Obama, who had gone nearly 700 days without using his clemency power, finally issued nine pardons on Friday afternoon to a very minor rogue's gallery of small-time felons who long ago did their time, if they did any at all.
Far from sending a message about the excesses and errors of the judicial system, Obama picked minor and sometimes ancient offenses -- such as a 1963 conviction for "mutilation of coins" -- to forgive. He also chose not to commute any sentences at all.
P.S. Ruckman Jr., the editor of the Pardon Power blog and a political science professor in Illinois, told HuffPost he was struck by the minor nature of the crimes that Obama selected.
"Six out of the nine pardons are for people who didn't even go to prison," he said.
Some observers had hoped that, as a constitutional lawyer by training and the first African-American president, Obama might issue pardons and commutations that made a powerful statement about the justice system past and present.
But expectations diminished as the days and months went by, and Obama became the second-slowest president to issue a pardon at all. He was about two weeks away from surpassing even George W. Bush, who pardoned seven people just before Christmas of his second year.
"You can decrease the significance of the pardon power by not using it, that's one way to do it," Ruckman said. "The other way to decrease its significance is to basically use it on behalf of the people who need it the least."
George Lardner Jr., a former Washington Post reporter who is writing a book about presidential pardon power, was also not impressed. "Mr. Obama has apparently been sitting on these since last February when the Justice Department recommended them as easy calls," he told the Huffington Post. "What took him so long? Was he afraid of making a mistake? ... The President's inattention to the pardon power, if not his disdain for it, has been painfully demonstrated by these minor league (or should I say Bush-league) grants."
The nine people Obama pardoned, and their offenses, are as follows:
•James Bernard Banks - Liberty, Utah
Offense: Illegal possession of government property; 18 U.S.C. § 641.
Sentence: Oct. 31, 1972; District of Utah; two years of probation.

•Russell James Dixon - Clayton, Ga.
Offense: Felony liquor law violation; 26 U.S.C. § 5604(a)(1).
Sentence: June 23, 1960; Northern District of Georgia; two years of probation.

•Laurens Dorsey - Syracuse, N.Y.
Offense: Conspiracy to defraud the United States by making false statements to the U.S. Food and Drug Administration; 18 U.S.C. §§ 371, 1001.
Sentence: Aug. 31, 1998; District of New Jersey; five years of probation and $71,000 restitution.

•Ronald Lee Foster - Beaver Falls, Penn.
Offense: Mutilation of coins; 18 U.S.C. § 331.
Sentence: Oct. 4, 1963; Eastern District of North Carolina; one year of probation and $20 fine.

•Timothy James Gallagher - Navasota, Texas
Offense: Conspiracy to distribute and possess with intent to distribute cocaine; 21 U.S.C. § 846.
Sentence: Oct. 18, 1982; District of Arizona; three years of probation.

•Roxane Kay Hettinger - Powder Springs, Ga.
Offense: Conspiracy to distribute cocaine; 21 U.S.C. §§ 841(a)(1) and 846.
Sentence: March 31, 1986; Northern District of Iowa; 30 days in jail followed by three years of probation.

•Edgar Leopold Kranz Jr. - Minot, N.D.
Offense: Wrongful use of cocaine, adultery and writing three insufficient fund checks; Articles 112a and 134, Uniform Code of Military Justice.
Sentence: Sept. 14, 1994, as approved Nov. 4, 1994; General court-martial convened at Hickam Air Force Base, Hawaii; bad conduct discharge (suspended), 24 months of confinement and reduction to pay grade E-1.

•Floretta Leavy - Rockford, Ill.
Offense: Distribution of cocaine, conspiracy to distribute cocaine, possession of marijuana with intent to distribute, and possession of cocaine with intent to distribute; 21 U.S. C. §§ 841(a)(1), (a)(2) and 846, 18 U.S.C. § 2.
Sentence: Oct. 19, 1984; District of Kansas; one year and one day in prison and three years of special parole.

•Scoey Lathaniel Morris - Crosby, Texas
Offense: Passing counterfeit obligations or securities; 18 U.S.C. §§ 472 and 2.
Sentence: May 21, 1999; Western District of Texas; three years of probation and $1,200 restitution, jointly and severally.
White House spokesman Reid Cherlin told the Huffington Post: "The President was moved by the strength of the applicants' post-conviction efforts at atonement, as well as their superior citizenship and individual achievements in the years since their convictions."
People seeking pardons and commutations apply to the Department of Justice's Office of the Pardon Attorney. If they get a positive recommendation from that office, their petitions are sent over to the White House.
Obama in October formally denied 71 pardon requests and 605 commutation requests that had been sent over by the Justice Department for his consideration.
Cherlin told HuffPost that in late November, Obama denied another 552 commutation petitions and 60 pardon petitions.
So that makes Obama 9 for 140 on pardon requests, and 0 for 1,157 on commutation requests.
*************************
Popular in the Community