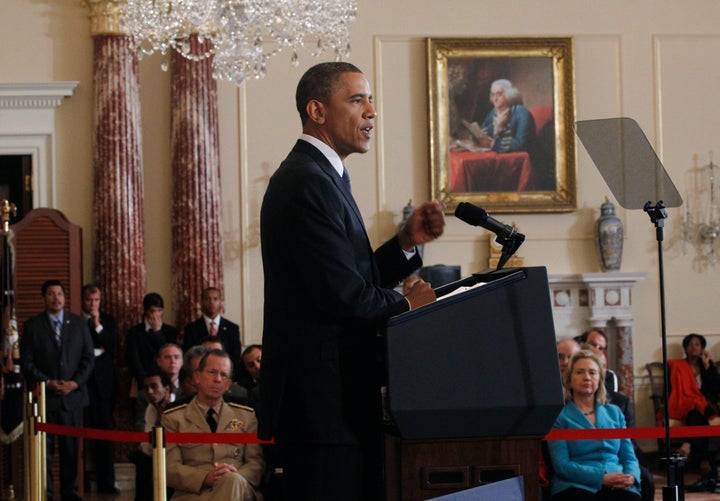 The conventional wisdom in DC was that President Barack Obama was putting the support of Jewish donors at risk with his "Arab Spring" speech, if only because, as Greg Sargent points out, "conservatives have been engaged in a full-throttle campaign to distort and outright falsify his stance on Israel." But the New York Observer's David Freedlander had "conversations with nearly a dozen of the top Jewish fund-raisers in New York," and lo, they revealed "a much different reality":
"This is nonsense," said David Pollak, a former chairman of the state Democratic Party. "I think anyone who would not give money to Barack Obama because of remarks he made the other day wasn't giving money to him in 2008."

Last August, hedge-fund manager and Obama megabundler Daniel Loeb sent a kiss-off letter to his friends in financial services, expressing his sense of being betrayed by the administration and comparing the treatment they were getting to that of a battered wife. Mr. Loeb's sentiment was echoed by several Wall Street Democrats and taken as proof that the financial industry was turning its back on the party.

A similar letter from a major Jewish donor was feared to be forthcoming. But so far, only Haim Saban, the billionaire entertainment executive, has publicly declared that he was finished donating to the president. There was just one problem, though: Mr. Saban was a staunch supporter of Hillary Clinton and had never given money to Mr. Obama. Furthermore, Mr. Saban pledged to keep supporting down-ticket Democrats.

Mr. Obama's New York supporters said most of these accounts rely disproportionately on voices like that of Mr. Saban, or, more often, the heads of major national Jewish organizations, who have long been lukewarm about Mr. Obama.
It was painfully obvious that this whole meme was highly questionable from the start. The claim that Jewish supporters would desert Obama began with a Reuters story quoting former New York mayor Ed Koch making dark threats about withdrawing support for Obama. But as I noted at the time, Koch is the go-to guy when people are looking for a prominent Jewish Democrat to bash fellow Dems on Israel. And has a single actual major Jewish donor broken publicly with the President since then? If The Observer — which reports extensively on the world of big Jewish power Dems — is to be believed, the answer is No. Nor is there any significant chatter in private about deserting Obama.
Fundraiser Robert Zimmerman shows up in Freedlander's piece with the nuanced bottom line: "You have concerns among Democratic supporters of Obama, but they are concerns among friends. ... And there is no trust or confidence in the Republicans."
Calling all HuffPost superfans!
Sign up for membership to become a founding member and help shape HuffPost's next chapter