 WASHINGTON -- During the past two weeks, President Barack Obama's campaign has blasted Republican challenger Mitt Romney as an "outsourcer," focusing on his career with private equity firm Bain Capital. The Romney campaign hit back on Tuesday, claiming Obama's stimulus package failed to protect American workers and helped create jobs overseas.
If Romney really wanted a juicy example of outsourcing, he would have to look no further than the president's jobs council.
Obama's Council on Jobs and Competitiveness, 26 business leaders assembled by the president for job-spurring ideas, includes representatives of several companies that have used outsourcing, fueling job creation abroad and job losses in the U.S. Shipping work to low-cost overseas labor markets has been a trend in American manufacturing for decades. The White House has a plan to curb outsourcing, but companies represented on the jobs council reveal just how pervasive the practice is.
There's General Electric, whose CEO Jeffrey Immelt has served as chair of the advisory board since January 2011. Since Immelt took over GE in 2001, the company has lost 37,000 American jobs, and added 25,000 jobs overseas, according to filings with the Securities and Exchange Commission. Some of those U.S. job losses are inflated by the company's sale of NBC to Comcast in 2009.
Chris Townsend, political director of the United Electrical Workers labor union that represents roughly 5,500 GE employees in the U.S., said the company has closed more than 30 U.S. plants since Obama took office. GE would not confirm the number.
GE "is a company that, despite the constant claims of growth, continues to shrink in the United States," Townsend said. "These are a mixture of things from garden-variety, old-line manufacturing plants to electrical apparatus service facilities, sometimes something to do with servicing. Several of them were GE Capital."
GE's outsourcing-related job losses have occurred over a long period, Townsend said. Unlike some of the companies that Bain Capital invested in -- which quickly fell into bankruptcy, faced layoffs or saw jobs shipped overseas as the private equity firm continued to profit -- the GE plant closures have happened slowly, he said.
"If you just back up five, 10, 15 years, those were all plants that were in slow, steady decline," Townsend said. "And that's been the tradition of a lot of these things. All we're detecting is the end of the era of these companies really wanting to do mass manufacturing in this country."
GE spokesman Andrew Williams said the company has increased its U.S. workforce in recent years with 17 new plant openings since 2009. He said GE's foreign revenue has increased significantly since Immelt became CEO in 2001. The company's exports are ultimately good for American labor, he said.
"If you're going to keep jobs in the U.S., it has to be through exports," Williams said.
Scott Paul, founding executive director of the Alliance of American Manufacturing, said he's generally pleased with Obama's record on preventing outsourcing. Though he criticized the administration for doing little to stop Chinese currency manipulation -- which drives up the price of U.S. exports and hurts American manufacturing -- he praised the president's politically difficult move to bail out the auto industry and his tax policy proposal laid out in the most recent State of the Union speech.
But when it comes to the composition of the jobs council, successor to the President's Economic Recovery Advisory Board, "it's a different story," Paul said. "The optics of this are stupid, the economics are stupid, the policy is stupid."
The jobs council also includes the AFL-CIO, though the labor union dissented from its final recommendations. And, to be sure, the mere presence of a company on the council does not equal an endorsement by the White House of all of its activities
White House spokeswoman Amy Brundage said the council advises the administration and doesn't set policy, and that being named to the jobs council does not mean the White House supports all of the companies' activities.
"The Jobs Council is an outside advisory board comprised of a number of individuals with diverse opinions and backgrounds, and just because a company is on the Council doesn't mean that we endorse its specific business decisions," Brundage said in an email. "The council is only intended to provide outside advice and recommendations on ways to create jobs here at home and improve our global competitive edge."
Another company represented on the jobs board is Boeing, whose CEO, James McNerney, also chairs the President's Export Council, the principal advisory committee on international trade. The aerospace giant has shed over 14,000 American jobs since 2008, according to a recent report by Public Campaign, a campaign reform advocacy group.
Since McNerney became CEO in 2005, he has done little to reverse the trend of outsourcing established more than a decade ago, according to Stan Sorscher, who worked as a physicist at Boeing from 1980 to 2000. Sorscher remains in regular contact with Boeing employees as a representative for the Society of Professional Engineering Employees in Aerospace labor union.
Sorscher said he witnessed a "culture war" at the company in late-1990s, when the company shifted from in-house design and manufacturing to a global supply chain. Sorscher said he believes that McNerney shares that new vision, which culminated in Boeing outsourcing nearly every part of the supply chain for the new 787 Dreamliner jet. The company has since admitted that outsourcing was responsible for driving up costs and delaying the project for three years.
"Boeing followed the textbook of outsourcing and dismantling the integrated design and manufacturing community" that had been a staple of the company," Sorscher told The Huffington Post about the 787 project. "The biggest failure I could imagine would be that we could be six months late. It just never occurred to me we could blow it as much as we did."
Boeing now views China as a trading partner, rather a competitor, said Sorscher. He said Boeing is counting on China to buy 5,000 planes by 2030. China, he said, "would gladly pay top-sucker price for whatever wreck is left after we've mismanaged this program and the next program and the one after that."
In the last few months, Boeing has ramped up business in China. In September 2011, the company signed a 10-year contract with the state-owned Shanghai Aircraft Manufacturing Co. to build horizontal stabilizers for the 737 jet. The contract is the company's largest with a Chinese supplier. And in March, Boeing announced partnership with the Commercial Aircraft Corp. of China on energy research.
Several other corporations represented on the jobs council also rely on outsourcing.
Xerox, for example, has a business model that depends on providing its outsourcing services to other companies worldwide. In its most recent annual report, Xerox said it is the "largest worldwide diversified business process outsourcing company in the large and growing BPO market."
American Express, one of the pioneers of outsourcing call centers to India in the 1980s, still depends on "outsourcing functions … [and] relocating certain functions to lower-cost overseas locations," according to its most recent SEC filings.
Even jobs council representative Permac Industries, a 36-employee precision part manufacturer located in suburban Minneapolis, is finding its place in the global supply chain. The company offers "outsourcing management, a process where Permac teams up with other global suppliers -- inside the U.S. as well as offshore -- to get the job done," the company's website says. "While other manufacturers may deny the changing reality of U.S. manufacturing, Permac looks it squarely in the eye."
The United Electrical Workers's Townsend said the outsourcing companies on the jobs council reflect longstanding failure to protect American jobs. Obama, he said "has not been serious about addressing the catastrophic destruction of good, primarily manufacturing jobs. ... Where on earth is their coherent response to this?"
Paul, of the Alliance of American Manufacturing, said Obama has shown a willingness to praise companies when they create U.S. jobs.
"At the same time," Paul said, "there's been no moment where he's been before a group of CEOs where he's ripped them for what they've done for the economy."
Before You Go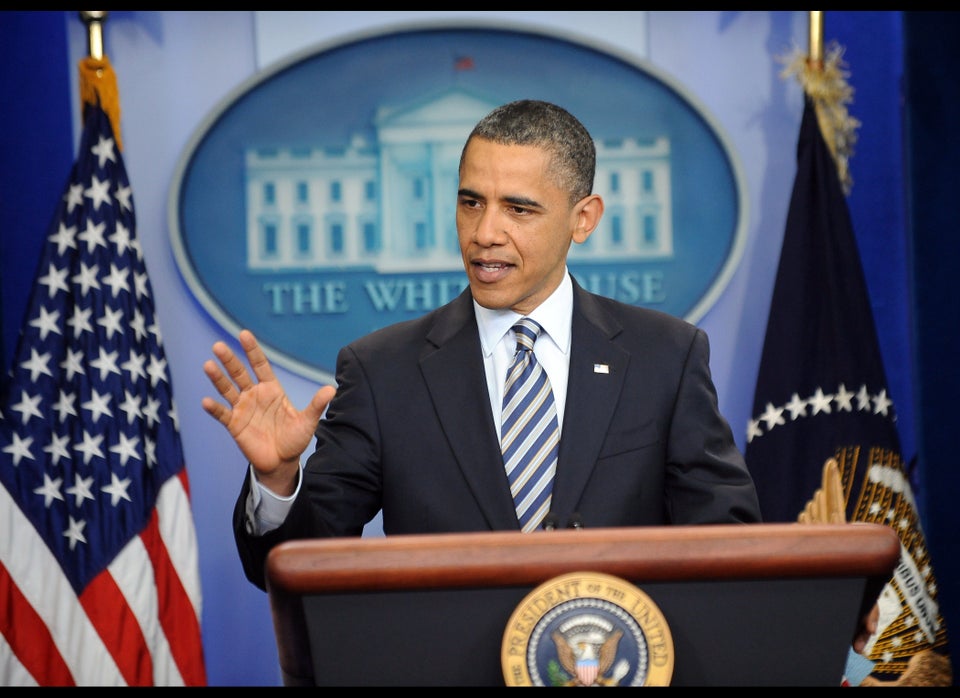 Barack Obama's Greatest Hits
Popular in the Community