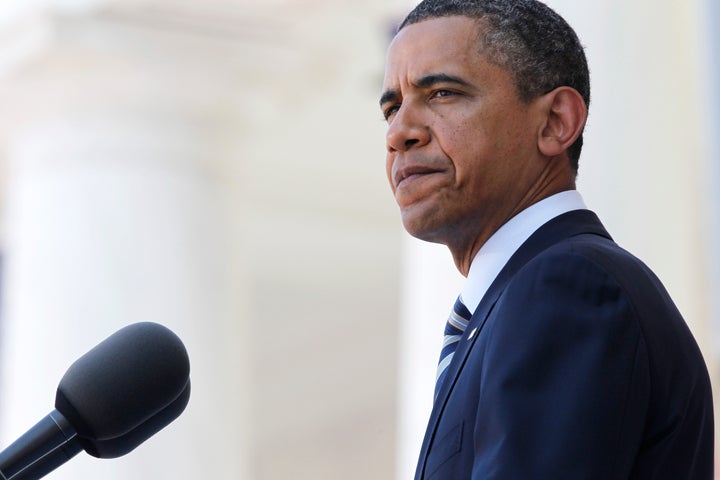 * Obama promotes "insourcing" of U.S. jobs
* New tax ideas likely face Republican resistance
* Jobs, economy's health are key issues in November election (Recasts, adds details of forum)
By Matt Spetalnick and Caren Bohan
WASHINGTON, Jan 11 (Reuters) - President Barack Obama vowed on Wednesday to help bring jobs home from overseas and promised new tax proposals to reward companies that invest in America as he launched an election-year effort to show he is tackling high unemployment.
Obama's latest jobs push appeared timed to steal back the spotlight and draw a contrast with Republican presidential front-runner Mitt Romney, whose rivals have accused him of once being a ruthless corporate raider who laid off U.S. workers and shipped jobs overseas.
Highlighting what the White House touts as a growing trend but which some economists say has yet to gather much steam, Obama put the focus on businesses that have chosen to "insource" jobs from abroad and urged others to follow their lead.
"In the next few weeks, I will put forward new tax proposals that reward companies that choose to bring jobs home and invest in America and we're going to eliminate tax breaks for companies that are moving jobs overseas," Obama told business leaders and state and local officials.
The White House declined to give specifics about the new ideas but repeated its call for Congress to enact some of those already put forth, including making a research and development tax credit permanent, allowing businesses to write off new equipment and providing a hiring credit for adding new workers.
Any new tax initiatives would require approval by Congress, where the Democratic president faces continued stiff resistance on tax policy from his Republican foes.
Obama was hosting a White House forum on "Insourcing American Jobs," a message that could resonate with middle-class voters and unionized workers whose support he will need to win re-election in November.
His push for corporate America to return more jobs to U.S. soil after years of hiring workers in lower-wage countries like China and India ties in with the increasingly populist theme of his re-election campaign.
Obama's new effort came just a day after Romney, a former governor of Massachusetts, won New Hampshire's Republican presidential primary election.
Before seeking public office, Romney headed investment firm Bain Capital that took over distressed companies and sometimes outsourced production to China and other emerging markets. He says his business experience will help him revive the U.S. economy.
At the White House, Obama pressed companies to invest and hire more in the United States instead of moving jobs overseas, saying "labor costs are going up in places like China" while U.S. workers are becoming more productive.
Leaving little doubt that election politics were in play, Obama said he wanted the next generation of manufacturing jobs to "take root in places like Michigan and Ohio and Virginia and North Carolina." All four are key election battlegrounds.

CARROT-AND-STICK APPROACH?
Lobbyists and congressional aides said Obama is likely to revive many of his earlier international tax proposals and also propose tighter limits on the ability of corporations to avoid taxes by parking profits in low-tax countries.
"I'd envision some type of carrot-and-stick approach that offers tax incentives to firms that keep jobs here while penalizing firms that outsource," said Greg Valliere, an analyst at the Potomac Research Group.
For several years, Obama has proposed closing what he calls tax loopholes used by multinational firms, including those restricting the use of foreign tax credits, and preventing companies from deferring taxes on income earned abroad.
The administration had been drafting revisions to just the corporate side of the tax code but largely abandoned the effort over the past year after complaints that the tax code needs a massive overhaul and that many businesses file as individuals.
Executives from more than a dozen firms attended the meeting, including Ford Motor Co, computer chipmaker Intel , chemicals giant DuPont and padlock maker Master Lock plus U.S. subsidiaries of technology giant Siemens, engine maker Rolls-Royce and steel maker ThyssenKrupp.
" Ask yourselves what you can do to bring jobs back to the country that made our success possible," Obama said. "And I'm going to do everything in my power to help you do it. We're going to have to seize this moment."
But those companies are credited so far with bringing back only modest numbers of jobs from overseas as the U.S. economy still struggles to heal after the worst recession since the Great Depression of the 1930s.
While rising costs in emerging markets have prompted some U.S. firms to rethink their outsourcing strategy, questions remain whether it will become enough of a trend to start reversing decades of shipping U.S. jobs overseas.
"You don't see a lot of evidence of it happening in a big way just yet," said Michael Mandel, chief economic strategist for the Progressive Policy Institute in Washington.
He said a key obstacle was a lack of data comparing competitive advantages and disadvantages of operating in the United States versus foreign markets and he urged Obama to order the Labor Department to conduct studies to fill the gap.
The issue resonates strongly in Midwest industrial states such as Ohio and Michigan that have been hit hard by the 2007-2009 economic crisis and by years of shrinkage in manufacturing jobs.
Republicans vying to challenge Obama in November's election have hammered him over his economic stewardship, contending that his regulatory policies - including new rules for the financial sector and the overhaul of the healthcare system - have discouraged investment and hampered job creation. (Additional reporting By Kevin Drawbaugh and Kim Dixon; Editing by John O'Callaghan)

Popular in the Community