WASHINGTON -- President Barack Obama will visit an Amazon fulfillment center in Chattanooga, Tenn., on Tuesday as part of his national jobs tour, according to the White House. As he tries to sell his economic proposals to the American public, the president will deliver a speech at the massive, 2-year-old facility to outline his "better bargain for the middle class." A leading theme of the speech will be high-paying jobs.
An Amazon fulfillment center is a logical venue for the president to talk about job growth. To meet growing demand, the company just announced that it would be adding 5,000 new jobs at its warehouses nationally, expanding on a current workforce of 20,000. But when it comes to the topic of job quality, any genuine discussion would require some scrutiny of the president's host.
While there are middle-class jobs to be found inside retail warehouses like Amazon's, lawsuits and recent investigative reports have shown that there's a good deal of low-paying and highly unstable temporary jobs, too. Like other major retailers, including Walmart, Amazon relies on temp workers inside its warehouses to keep labor costs down. Now common throughout the logistics industry, this practice has helped create a two-tiered work system inside the U.S. retail supply chain.
Inside modern warehouses, the good, middle-class jobs tend to be the skilled direct-hire positions, like supervisor or forklift operator -- the sort of gigs hyped during a high-profile visit by the president. But then there are the more common menial positions, like Amazon's "pickers," who scurry throughout the massive warehouses plucking item after item for shipment, or Walmart's "lumpers," who load and unload trucks throughout the day, sometimes paid according to "piece rate" to encourage them to work faster.
Retailers like to say this temp or seasonal model gives them the flexibility they need to adjust to industry fluctuations. But many temps say this system simply helps the retailers dodge the responsibilities they'd otherwise have as a direct employer, like offering decent wages and benefits, as well as reliable hours and job security.
An Amazon spokesperson didn't respond to a query from HuffPost on Friday asking how much of the Chattanooga workforce is direct hire and how much is temporary. According to the website for Integrity, the company's Chattanooga office is currently taking applications for work at the local Amazon facility, with wages "from $11.50" per hour and "plenty of chances for overtime." Although the positions are deemed seasonal, they come with a weekly paycheck, medical benefits after a week of work and a "fun, fast-paced environment," according to the webpage.
When the facility opened in late 2011, the Chattanooga Times Free Press reported that Amazon would have roughly 3,000 temps at its Chattanooga and Cleveland, Tenn., facilities during brisk periods -- double the estimated 1,500 permanent employees.
As The Morning Call's Spencer Soper reported in his 2011 investigation, many workers take jobs through the staffing firm in hopes of someday landing a direct-hire position at Amazon. A lot of these workers end up disappointed. Of the Integrity employees interviewed by Soper, few knew of co-workers who ultimately managed to score jobs with Amazon. "Instead, they said they were pushed harder and harder to work faster and faster until they were terminated, they quit or they got injured," Soper wrote.
Earlier this year, HuffPost interviewed former Integrity employee and Amazon warehouse picker Jesse Busk. Busk is currently a lead plaintiff in a class-action lawsuit against Integrity over security wait lines at Amazon facilities. According to the lawsuit, Busk and others would have to wait up to 25 minutes without pay in order to pass through a security checkpoint designed to prevent employee theft. Busk has sued for back wages, claiming he's owed money for the time he was forced to wait on line.
According to Busk, the environment at his Amazon warehouse in Nevada was more fast-paced than fun. "It was probably one of the hardest jobs that I've ever had," he told HuffPost. "The mindset was 'just be grateful you have a job.'" Busk said he earned $12.35 an hour working nights and $11.60 working days, without health care or paid leave. He claimed he was laid off in post-holiday staffing cuts for not picking products fast enough.
Joshua Buck, a lawyer for Busk, told HuffPost on Friday that they plan to expand their lawsuit to include other Integrity workers from Amazon warehouses in several other states, including Tennessee.
Before You Go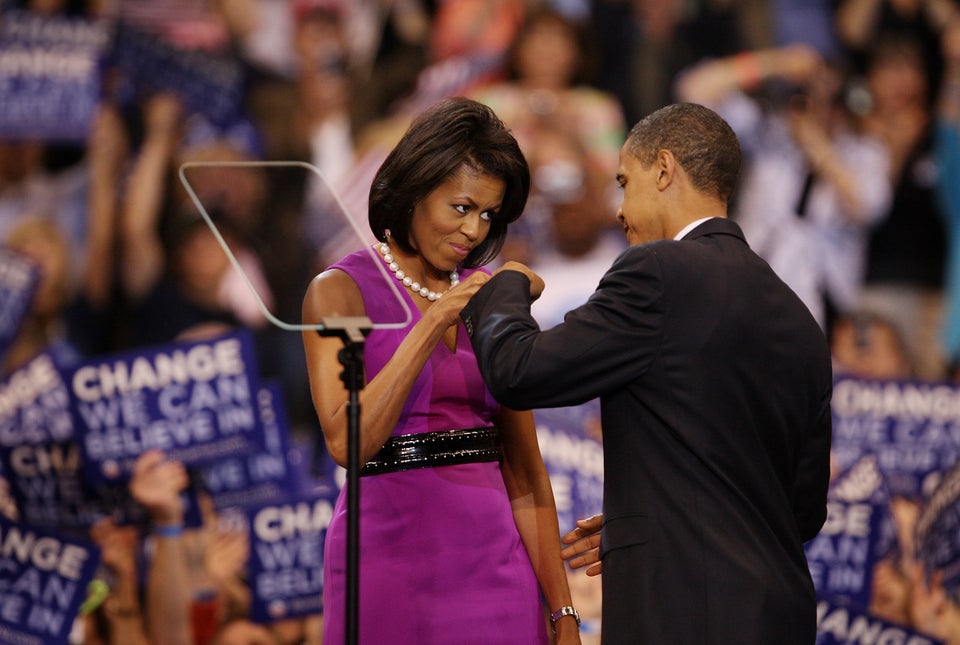 Obama's Fist Bumps
Popular in the Community