 By DARLENE SUPERVILLE , The ASSOCIATED PRESS
WASHINGTON -- Aiming to show he's still focused on creating jobs, President Barack Obama is beginning a series of quick trips around the country to resurrect ideas from his State of the Union address that quickly became overshadowed by the intense debates over gun control, immigration and automatic spending cuts.
Obama on Thursday was dropping in on Austin, Texas, and using that bustling state capital as a backdrop to talk about attracting jobs, providing skills training and ensuring that hard work begets a decent living.
The president argued in February's State of the Union address that an economy that is growing and creating well-paying middle-class jobs must be the guiding principle for Washington policymakers. He proposed a broad expansion of pre-kindergarten to accommodate every 4-year-old, calling it a smart investment that will help improve educational outcomes, along with raising the federal minimum wage to $9 to help working families. Both ideas faced almost immediate resistance from some lawmakers who said the proposals cost too much and could stunt the economy, and Obama has barely discussed the proposals since then.
At the time of the speech, the debate over gun-control legislation was heating up following the December massacre of 20 first-graders and six educators at a Connecticut elementary school. A bipartisan group of senators was drafting a sweeping immigration bill desired by both political parties, and Congress and the White House were blaming each other for $85 billion in automatic spending cuts that would kick in March 1.
The series of field trips Obama is beginning Thursday marks an attempt by the president to remind the public that he hasn't forgotten about the issue that concerns them the most: the economy and jobs. The outing also comes amid questions about whether the second-term president has enough sway to get his agenda through a divided Congress before attention turns to the November 2014 midterm elections.
Since his second inauguration, Obama has lost a bid to expand background checks for gun buyers and was similarly unsuccessful at getting lawmakers to undo the spending cuts. On Thursday, the Senate Judiciary Committee is scheduled to begin considering and voting on scores of proposed changes to the immigration bill, which is facing opposition from conservatives, religious leaders and others.
His jobs proposals have stalled in Congress, with Republicans showing no interest in job-creation plans based on new federal spending. They also argue that Obama's regulatory regime and new health care law - the president's signature domestic policy achievement to date - are hindering more robust job growth.
Obama's effort to highlight jobs and the economy is buoyed by last Friday's positive jobs report, which found that the unemployment rate had dipped to a four-year low of 7.5 percent in April and employers had added 165,000 jobs - and that far more jobs were added in in February and March than previously thought.
"He's focusing on economic issues that are at the core of his agenda, and have always been at the core of his agenda," White House press secretary Jay Carney said Wednesday.
But the slowly improving economy masks the stagnant wages and fewer working hours that strike directly at the president's base of support - young people, racial minorities and the less affluent. The average unemployment rate in the first three months of the year was 7.7 percent, but the rate was 13.6 percent for blacks and 9.5 percent for Latinos.
During his stay of about five hours in Texas, Obama was announcing a pair of executive actions the White House said would help the economy in the absence of action by Congress.
Keeping a promise made in the State of the Union speech, Obama was to announce a competition to create three new Manufacturing Innovation Institutes, partnerships among businesses, universities and government to help U.S.-based manufacturers and workers create good jobs, a White House official said. He also will ask Congress for $1 billion to create a nationwide network of 15 such institutes.
The president will also issue an executive order requiring that government data be made easily available to entrepreneurs, researchers and others who may use the information to create new products and services, build businesses and create jobs, said the White House official, who spoke on condition of anonymity because the individual was not authorized to be quoted by name before Obama's announcement.
Obama planned to visit Manor New Tech High School near Austin, where the curriculum is based on science, technology, engineering and math. He'll hold separate meetings with middle-class workers and technology entrepreneurs, and visit Applied Materials, a high-tech company whose products help make goods like smartphones, flat-screen TVs and solar panels more affordable, according to its website.
Republicans have been critical of Obama's periodic announcements that he's focusing again on jobs; they say it's an issue he should never lose sight of.
"I see that the president has decided to `pivot' once again to jobs," Senate Minority Leader Mitch McConnell, R-Ky., said this week. "I can't even count how many times he's done one of these `pivots' at this point, so I won't try. But I presume he'll jet off around the country to campaign-style rallies in order to bash Congress and claim that none of this is his fault."
Associated Press writer Jim Kuhnhenn contributed to this report.
Follow Darlene Superville on Twitter: http://www.twitter.com/dsupervilleap
Before You Go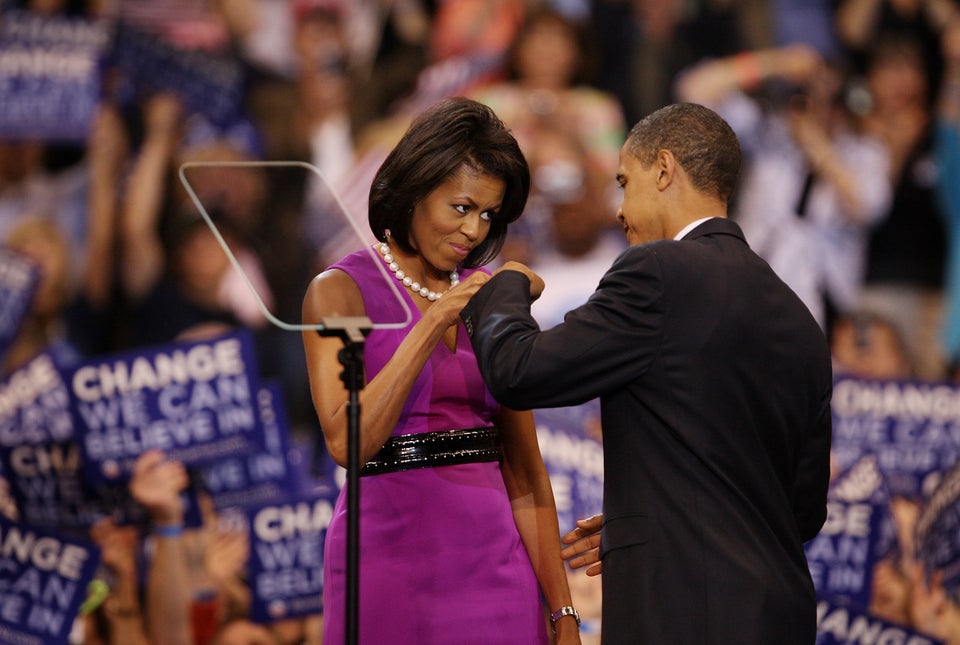 Obama's Fist Bumps
Popular in the Community