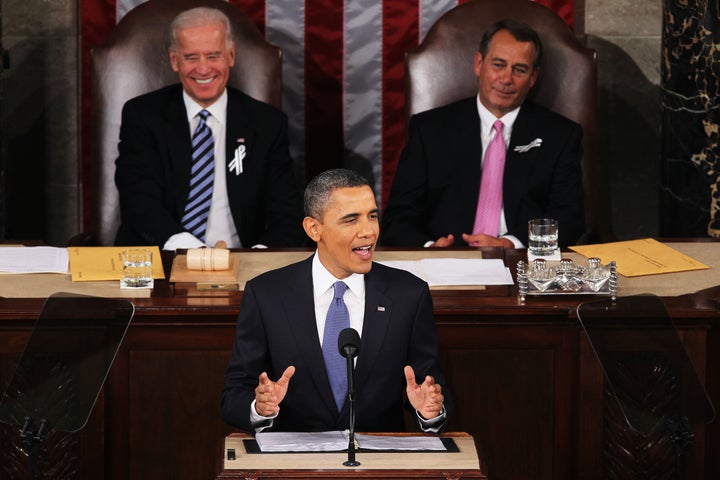 WASHINGTON -- Upping the stakes of his push for a major jobs plan, President Barack Obama asked House Speaker John Boehner (R-Ohio) and Senate Majority Leader Harry Reid (D-Nev.) Wednesday morning to call a joint session of Congress that would take place on Sept. 7, 2011.
Boehner responded later Wednesday, inviting the president to address Congress on Sept. 8 instead. His rejection of the president's original request throws planning for the joint session into chaos. An administration official told The Huffington Post that the White House had cleared the Sept. 7 date with GOP leadership before publicly announcing it. Boehner's office confirmed that they were given a short advance warning, but disputed that they had okayed the date.
"No one in the speaker's office -- not the speaker, not any staff -- signed off on the date the White House announced today," Boehner spokesman Brendan Buck said.
The president's letter, sent Wednesday morning to both leaders, reads as follows:
Dear Mr. Speaker: (Dear Mr. Leader:),

Our Nation faces unprecedented economic challenges, and millions of hardworking Americans continue to look for jobs. As I have traveled across our country this summer and spoken with our fellow Americans, I have heard a consistent message: Washington needs to put aside politics and start making decisions based on what is best for our country and not what is best for each of our parties in order to grow the economy and create jobs. We must answer this call.

Therefore, I respectfully request the opportunity to address a Joint Session of Congress on September 7, 2011, at 8:00 p.m. It is my intention to lay out a series of bipartisan proposals that the Congress can take immediately to continue to rebuild the American economy by strengthening small businesses, helping Americans get back to work, and putting more money in the paychecks of the Middle Class and working Americans, while still reducing our deficit and getting our fiscal house in order. It is our responsibility to find bipartisan solutions to help grow our economy, and if we are willing to put country before party, I am confident we can do just that.
Regardless of the date the president speaks, the joint session would provide him with the type of audience that usually accompanies a State of the Union address. It would also add additional weight to an already critical push by the administration to shift political discussions to job creation.
Obama has deployed this tactic in the past. After a series of town hall protests nearly derailed the health care reform legislative process in the summer of 2009, the president addressed a joint session.
Politics also seem to be at play here. The president's speech would occur at precisely the same time as the Republican presidential field is set to hold a presidential debate at the Reagan library in California.
Asked if the White House chose the date specifically to upstage the Republican presidential field, White House Press Secretary Jay Carney responded, "No, of course not," adding that the Sept. 7 debate, which will be co-hosted by NBC and Politico, was "one debate of many."
UPDATE: 4:20 p.m. -- Boehner urged in a letter to the president that the speech be moved from Wednesday Sept. 7 to Thursday Sept. 8. His reasoning was not that the speech will conflict with the Republican presidential debate scheduled to take place that night. Rather, he argued that the House of Representatives won't have enough time to pass the resolution and conduct the security measures necessary in order to officially invite the president to a joint session on Wednesday -– an explanation that is perhaps hard to swallow, considering Congress' ability to pass massive pieces of legislation at the last minute.
Thank you for your letter requesting time to address a Joint Session of Congress next week. I agree that creating a better environment for job creation must be our most urgent priority. For months, the House has been implementing an agenda designed to reduce economic uncertainty, remove unnecessary government barriers to private-sector job creation, and help small businesses, and we welcome the opportunity to hear your latest proposals.

As your spokesperson today said, there are considerations about the Congressional calendar that must be made prior to scheduling such an extraordinary event. As you know, the House of Representatives and Senate are each required to adopt a Concurrent Resolution to allow for a Joint Session of Congress to receive the President. And as the Majority Leader announced more than a month ago, the House will not be in session until Wednesday, September 7, with votes at 6:30 that evening. With the significant amount of time – typically more than three hours – that is required to allow for a security sweep of the House Chamber before receiving a President, it is my recommendation that your address be held on the following evening, when we can ensure there will be no parliamentary or logistical impediments that might detract from your remarks. As such, on behalf of the bipartisan leadership and membership of both the House and Senate, I respectfully invite you to address a Joint Session of Congress on Thursday, September 8, 2011 in the House Chamber, at a time that works best for your schedule.

We look forward to hearing your ideas and working together to solve America's jobs crisis.
UPDATE: 5:00 p.m. -- Boehner's response to Obama's request may be unprecedented, according to the Senate Historical Office.
"The Senate Historical Office knows of no instance in which Congress refused the president permission to speak before a Joint Session of Congress," said Betty K. Koed, an associate historian for the U.S. Senate, in response to an inquiry from The Huffington Post. "From 1800 to 1913, presidents chose not to address Congress in person. Since 1913, every president has appeared before Congress at least once during his term(s) in office. Permission to speak in a joint session is given by resolution of the House and Senate, and arrangements are made through the leadership offices of each chamber."
UPDATE: 6:14 p.m. -- An aide for House Minority Leader Nancy Pelosi told The Huffington Post, "The House Democratic leadership was not consulted with respect to Speaker Boehner's letter requesting a new date for the President's address."
Amanda Terkel contributed reporting.
Popular in the Community