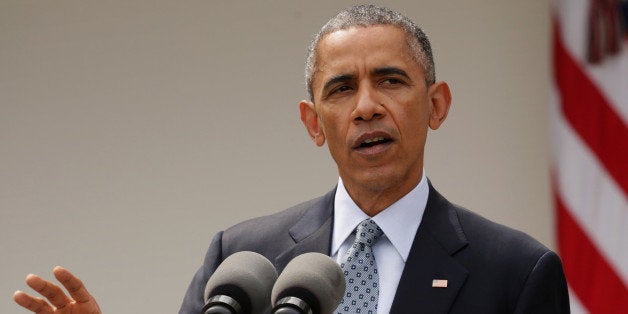 NEW YORK -- Facing congressional pushback, President Barack Obama has tried building support for a nuclear agreement with Iran in recent days by making the administration's case through the news media.
Obama discussed the preliminary Iran deal with New York Times columnist Tom Friedman in the Oval Office on Saturday afternoon, and two days later sat down with NPR's Steve Inskeep.
The president has also argued in support of an agreement in private conversations with journalists. On Monday afternoon, he met with roughly a dozen opinion writers and editors at the White House for a nearly two-hour, off-the-record meeting focused primarily on the Iran deal, according to sources familiar with the gathering.
Sources said that the group of journalists included The New Yorker's Dexter Filkins, The Daily Beast's Michael Tomasky, The Atlantic's Jeffrey Goldberg, New York's Jonathan Chait, The New York Times' Carol Giacomo, The Wall Street Journal's Gerald Seib and a quartet from the Washington Post: David Ignatius, Ruth Marcus, Eugene Robinson and Greg Sargent.
The Huffington Post Washington Bureau Chief Ryan Grim also attended the private meeting, but did not discuss the substance of the meeting for the purpose of this article.
The White House did not respond to a request for comment.
Obama has held a number of off-the-record meetings with journalists during his presidency, using the private White House setting to outline his administration's positions on major foreign and domestic issues.
Some of these meetings have come at pivotal moments in Obama's presidency, such as when it appeared the U.S. might strike Bashar Assad's regime in Syria in 2013 or just hours before the president announced an escalation of the U.S.-led military campaign against the Islamic State, or ISIS, last September.
Support HuffPost
The Stakes Have Never Been Higher
Related
Popular in the Community