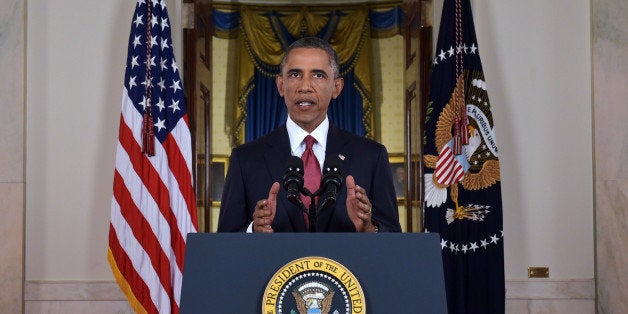 NEW YORK –- President Barack Obama met with over a dozen prominent columnists and magazine writers Wednesday afternoon before calling for an escalation of the war against the Islamic State, or ISIS, in a primetime address that same night.
The group, which met in the Roosevelt Room of the White House in an off-the-record session, included New York Times columnists David Brooks, Tom Friedman and Frank Bruni and editorial writer Carol Giacomo; The Washington Post's David Ignatius, Eugene Robinson and Ruth Marcus; The New Yorker's Dexter Filkins and George Packer; The Atlantic's Jeffrey Goldberg and Peter Beinart; The New Republic's Julia Ioffe; Columbia Journalism School Dean Steve Coll; The Wall Street Journal's Jerry Seib; and The Daily Beast's Michael Tomasky, a source familiar with the meeting told The Huffington Post.
National Security Advisor Susan Rice, Deputy National Security Advisor Ben Rhodes and White House Chief of Staff Denis McDonough also attended the meeting, according to the source.
The White House declined comment.
Peter Baker, the chief White House correspondent for The New York Times, reported on Saturday that Obama had met with columnists and magazine writers but did not name the attendees.
Baker wrote that three New York Times columnists and one editorial writer attended, but indicated they weren't sources for his story. Since the meeting was off the record, the Times columnists could not report what Obama said. But Baker, a Times reporter not in attendance, was under no obligation to withhold the fact that the meeting took place.
Obama has long derided the 24-hour news cycle in which minor misstatements can become fodder for endless cable discussions. But throughout his presidency, he has used smaller, private meetings with influential columnists and commentators as a way to explain his positions before rolling out major foreign and domestic policy decisions.
Obama's decision to escalate the war Wednesday followed several weeks of calls by politicians and pundits for him to expand the air campaign against the Islamic State, even as the intelligence community and terrorism experts said the militant group poses no imminent threat to the United States.
Related
Popular in the Community