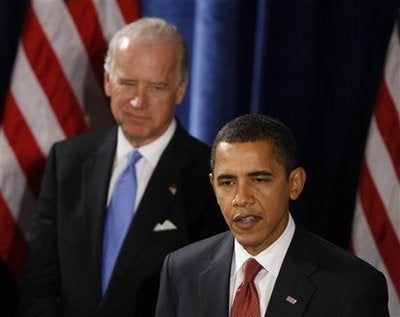 Much of the focus of the just completed Obama press conference is going to center on his answer to the obligatory Rod Blagojevich question -- the president-elect repeated that his staff had no inappropriate contacts with the embattled governor and that they would be releasing their internal findings on the matter next week.
But tucked in the proceedings was some serious discussion on energy and economic matters. Obama declined to speculate when he thought the struggling economy would turn around, saying, simply: "I don't have a crystal ball." But he did offer something in the way of a measure for performance judgment.
"The yardstick should be," he said, "am I creating these jobs and are we strengthening the economy."
Of specific note, the president-elect repeated something that his press secretary, Robert Gibbs, said on Sunday: that the economic stimulus that will leave his desk early upon taking office will focus largely on "shovel-ready projects," as in, programs that are ready to create jobs immediately. Moreover, it appears Obama will use state governments as a conduit for the cash:
"Governors and mayors are pleading to fund [these programs]," he said. "And the minute we can get those investments to the state level, jobs are going to be created."
Certainly, there are some outstanding questions yet to be nailed down in regards to the stimulus legislation: with many state governments facing massive shortfalls in budget revenue, what kind of provisions the Obama team write into the bill in order to ensure that the money is spent on its intended project? Who is going to determine which programs or municipalities get the cash (the office of intergovernmental affairs and public liaison)? How much oversight will there be? And so on.
Obama has mostly offered broad answers to these questions. On Monday, he insisted that his administration will invest in science and the environment: noting that being environmentally conscious and economically shrewd were not mutually exclusive. He also offered that -- while the stimulus package is ultimately destined to spur short-term growth -- he would not take his eye off of long-term objectives.
"We're going to create jobs that wouldn't otherwise be created," he said. "We know we'll put ourselves on the path to long-term sustainable growth. We know that we're going to start getting serious about how our federal budget operates so we're not wasting money on programs that don't work and we'll do an exhaustive review."

Calling all HuffPost superfans!
Sign up for membership to become a founding member and help shape HuffPost's next chapter