WASHINGTON -- It's bad enough that there are 82 vacant federal judge slots around the country, a level so high that many observers have deemed it a crisis situation.
But perhaps even more startling is the fact that of those 82 vacant slots, 61 of them don't even have a nominee.
On its face, the absence of nominees would appear to be a sign that President Barack Obama is slacking. After all, he is responsible for nominating judges, and he did put forward fewer nominees at the end of his first term than his two predecessors. But a closer look at data on judicial nominees, and conversations with people involved in the nomination process, reveals the bigger problem is Republican senators quietly refusing to recommend potential judges in the first place.
The process for moving judicial nominees is simple enough. A president takes the lead on circuit court nominees, while, per longstanding tradition, a senator kickstarts the process for district court nominees, which make up the bulk of the federal court system. Senators make recommendations from their home states, and the president works with them to get at least some of the nominees confirmed -- the idea being that senators, regardless of party, are motivated to advocate for nominees from their states. The White House may look at other nominees on its own, but typically won't move forward without input from the corresponding senators. Once a nominee is submitted to the Senate, he or she receives a vote in the Senate Judiciary Committee. If approved, the nomination heads to the Senate floor for a full vote.
It's hardly news that the judicial nomination process is gummed up. Democrats regularly blast Republicans for blocking Obama's nominees after they clear the Senate Judiciary Committee with broad support, making them wait an average of 116 days for a confirmation vote. That's three times longer than the average wait for President George W. Bush's nominees. But these obstacles come at the end of the nomination process. It's now clear that there's a serious problem at the beginning, too.
It turns out that since Obama took office, senators from some states -- particularly those represented by two Republicans -- have simply refused to make recommendations, according to data recently published by the Alliance for Justice, a left-leaning association of more than 100 organizations focused on the federal judiciary.
Take Kansas, for example. The state is represented by Republican Sens. Pat Roberts and Jerry Moran, neither of whom has put forward nominees for a district court slot there that has been vacant for 1,246 days. Their inaction hasn't gone unnoticed -- both senators have taken heat for not participating in the nomination process.
Or look at Texas, where Republican Sens. John Cornyn and Ted Cruz have not moved to fill seven vacant judicial slots, two of which have been vacant for 1,733 and 1,034 days, respectively, without a nominee. At least one Texas paper ran a piece suggesting Cornyn and former Texas Republican Sen. Kay Bailey Hutchison were holding off on making judicial recommendations because they were hopeful Mitt Romney would become president in 2012.
There are four vacant judicial slots in Arizona, one of which has been vacant for 1,132 days. Neither of the state's Republican senators, John McCain and Jeff Flake, have put forward a nominee for any those spots.
In total, 25 of the 61 vacancies without nominees are in states with two Republican senators, and another 14 are in states with one Republican senator and one Democratic senator. Seventeen are in states with two Democratic senators, and the remaining five are in other districts. That means many of the vacancies without nominees can be traced back to Senate Republicans who just aren't participating in the process -- a reality that flies in the face of Republicans' chief complaint that Obama isn't putting forward enough judicial nominees.
"It's disingenuous at best for Republicans to complain about the number of judicial vacancies without nominees when Republicans themselves are responsible for the majority of those vacancies," said Michelle Schwartz, director of Justice Programs for Alliance for Justice. "Nearly two-thirds of the vacancies without nominees are in states with at least one Republican senator, most of whom have consistently refused to work with the White House in good faith to identify qualified candidates."
To be sure, there are states with long-vacant judgeships that are represented by two Democratic senators. But according to Alliance for Justice data, those instances are less frequent, the number of days those slots have been vacant is significantly lower and, in most cases, those senators have put forward nominees. In California, for example, which is represented by Democratic Sens. Dianne Feinstein and Barbara Boxer, one judicial slot has been vacant for 575 days. But the senators have made a recommendation, and the White House is currently working with them to fill the judgeship.
Thirty-six of the current vacancies are considered "judicial emergencies." At the circuit courts, that means that because of the vacancies, the number of cases per panel of judges exceeds 700, or stays between 500 and 700 for more than 18 months. In district courts, it means the number of cases per individual judge is more than 600, or between 430 and 600 for more than 18 months. The more overloaded judges are, the more delayed the process of moving civil and criminal matters through the justice system.
HuffPost reached out to the Republican senators mentioned to ask why they haven't submitted nominees for seats that have long been vacant, and to see if they planned to do so anytime soon. Only one responded.
Cornyn spokesman Drew Brandewie said the Texas senator did send the White House recommendations for the two judicial slots that have been vacant for more than 1,000 days, both in 2010, and that Obama didn't go on to nominate them. Cornyn has made two additional recommendations for vacancies in Corpus Christi, Brandwie noted. Obama nominated one of them, Nelva Ramos, who was confirmed by the Senate in 2011.
Schwartz responded that her group had "no knowledge" of Cornyn making recommendations for the two long-vacant slots, and speculated that he may have made them to the White House privately. A White House official declined comment.
Nearly everyone was to blame for a lull in the nominations process last fall, when people in both parties turned their attention to the elections. The Senate Judiciary Committee stopped reporting out nominees between mid-August and early December. Democrats and the White House stopped pressing as hard for action, and, as one White House aide put it late last year, the bottleneck in the Senate didn't exactly encourage anyone to work harder to come up with more nominees. "If my coffee pot only makes one cup per hour, no matter how many coffee beans I pour into it, the number of cups coming out will still be the same," the aide said.
But in the months since Obama won reelection, there appears to have been a shift. When he met with Senate Republicans in early April, he pressed them to work with him on nominations. Senate Democrats have more visibly stepped up efforts to make recommendations. White House press secretary Jay Carney, meanwhile, has been highlighting when the Senate acts on Obama's nominees during his daily briefings. The president has also been putting forward more circuit court nominees since the start of the year, a nomination process senators are less involved in.
Some Republicans may even be signaling that they're ready to play ball now. In mid-April, Cornyn and Cruz announced a bipartisan commission to recommend Texas judicial nominees. Sen. Ron Johnson (R-Wis.), who previously blocked one nominee from his home state, announced that he, too, would help establish a similar nominating commission there.
But politics are clearly still driving the process. Last week, when the Senate overwhelmingly confirmed Jane Kelly of Iowa to be a circuit court judge, Republicans said it showed that they're not blocking the process.
"Today's confirmation is the 14th so far this year -- including five circuit judges and nine district judges," Sen. Chuck Grassley (R-Iowa), the ranking member of the Senate Judiciary Committee, said during remarks on the Senate floor. "Let me put that in perspective for my colleagues. At this point in the second term of the Bush presidency, only one judicial nomination had been confirmed. A comparative record of 14 to 1 is nothing to cry about."
Sen. Patrick Leahy (D-Vt.), the chairman of the Senate Judiciary Committee, was quick to push back. In floor remarks, he noted that the median time circuit court nominees have had to wait before a Senate vote has jumped from 18 days under Bush to 132 days under Obama. On top of that, he said, the 82 judicial vacancies around the country is nearly double the number that existed at this point in the Bush administration.
"While it is good that they have allowed this vote on Jane Kelly from Iowa, if it proves an exception rather than a change in their tactics of obstruction, we will recognize it for what it is," Leahy said, suggesting that Grassley may have had other reasons for supporting Kelly getting a vote, and that he may have skipped over other nominees that have been waiting since last year.
"It should not take being from the ranking Republican's home state to be promptly confirmed as a noncontroversial judicial nominee," Leahy said.
Before You Go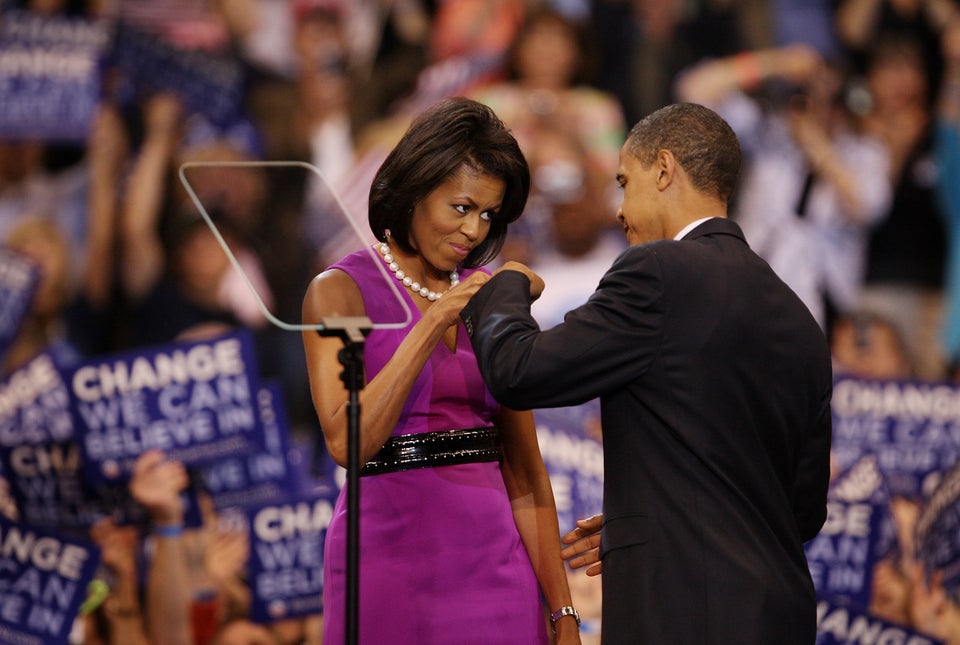 Obama's Fist Bumps
Popular in the Community