 WASHINGTON -- For all the stagnation in Congress, there's a constant stream of action on one front: Judicial nominations.
The Senate has confirmed more than 40 of President Barack Obama's judicial nominees in the last six months. Sure, Republicans continue to protest last year's filibuster reform that makes it easier for Democrats to advance the president's picks. But for all the delays GOP senators have imposed as retribution, they've mostly voted to confirm Obama's nominees anyway.
The Senate has taken action on so many nominees that it's actually running out of people to confirm. Only seven judicial nominees haven't had hearings. Two -- Jennifer May-Parker of North Carolina and Alison Lee of South Carolina –- don't appear to be going anywhere because their home-state senators refuse to let them move forward in the Senate Judiciary Committee.
But as the Senate clears the decks, one of the biggest obstacles to filling empty court seats remains: Having nominees at all. There are still 38 federal court vacancies around the country that don't have nominees. The blame falls on home-state senators, who simply aren't recommending potential nominees to the president.
Per longstanding tradition, senators begin the nomination process by recommending judicial picks from their home states to the White House. From there, the president works with those senators to help the nominees win Senate confirmation. Senators in both parties have been slow in suggesting nominees, but the vast majority are Republicans, some of whom may be calculating that it's better to leave courts empty for now and wait for the next Republican president to fill out the judiciary.
Of the 38 court vacancies that have no nominees, 21 are in states with two GOP senators, 12 are in states with one GOP senator and four are in states with two Democratic senators. One vacancy is in the District of Columbia.
Caroline Fredrickson, president of the American Constitution Society for Law and Policy, a progressive legal group, said Republicans who fail to recommend judges to Obama are hurting their constituents more than anyone else.
"The concentration of vacancies without nominees in certain states clearly shows that some senators are refusing to perform their constitutional duty at the expense of our courts and the citizens trying to access them," Fredrickson said.

Senators in Texas and Pennsylvania are the worst offenders. They are responsible for half of the nation's court vacancies without nominees -- 19 of the 38.
Texas Sens. John Cornyn (R) and Ted Cruz (R) have 10 empty court seats without nominees. One has been vacant for more than 2,000 days; another is approaching 1,100 days. Making matters worse, six of the 10 open judgeships in Texas are "judicial emergencies," meaning the workload for other judges is now more than 600 cases. For seats vacant more than 18 months, judges are handling 430 to 600 cases.
As judges become more overloaded, the process of moving criminal and civil cases through the justice system becomes that much more jammed. The situation in Texas has gotten so bad that an April report by the Center for American Progress found that the state's courts could have decided 19 years worth of cases if federal judges had been appointed on schedule. Instead, there is a backlog of more than 12,000 cases.
Cornyn and Cruz signaled in April 2013 that, at last, they planned to get moving on nominees and launched a bipartisan committee to help find people to fill vacancies on federal courts in Texas. But it wasn't until July 2013 that the committee began accepting applications. Nine months later, in April, the senators admitted they'd only made three recommendations to the president.
It's unclear what happened with those three recommendations. It's also unclear whether Cornyn and Cruz have any plans to submit more potential nominees to the president. Neither the White House nor the Texas senators' offices responded to requests for comment.
Meanwhile, in Pennsylvania, Sens. Bob Casey (D) and Pat Toomey (R) have nine empty court seats without nominees. One has been vacant for nearly 700 days. Two have been empty for about 400 days. But there is hope for some action here. Casey and Toomey have been working on a deal that would give Casey three or more judicial picks in exchange for Toomey getting at least one, according to Keystone Progress, a statewide progressive advocacy group that has been tracking those negotiations.
The senators appeared ready to send their package to the White House two months ago, but it fell apart after progressives got wind that one of the nominees was David Porter, a conservative Republican. Keystone Progress and other liberal groups collected nearly 40,000 signatures in opposition to Porter being in the package. Their efforts appear to have worked, and now Toomey is holding up the rest of the package until he gets a replacement for Porter, sources tell The Huffington Post.
The likelihood of action on that package is unclear, with or without a Porter replacement. Requests for comment from Toomey's and Casey's offices were not returned.
Michelle Schwartz of Alliance for Justice, a national association of more than 100 organizations focused on the federal judiciary, warned that the pipeline of judicial nominees is about to dry up unless Republicans step it up.
"There is still a judicial vacancy crisis in this country," Schwartz said, noting that, after Wednesday, there will be as many Texas court vacancies without nominees as there are nominees left in the Senate waiting for votes. "Playing politics with judicial nominations only hurts senators' own constituents who are left waiting for justice."
Before You Go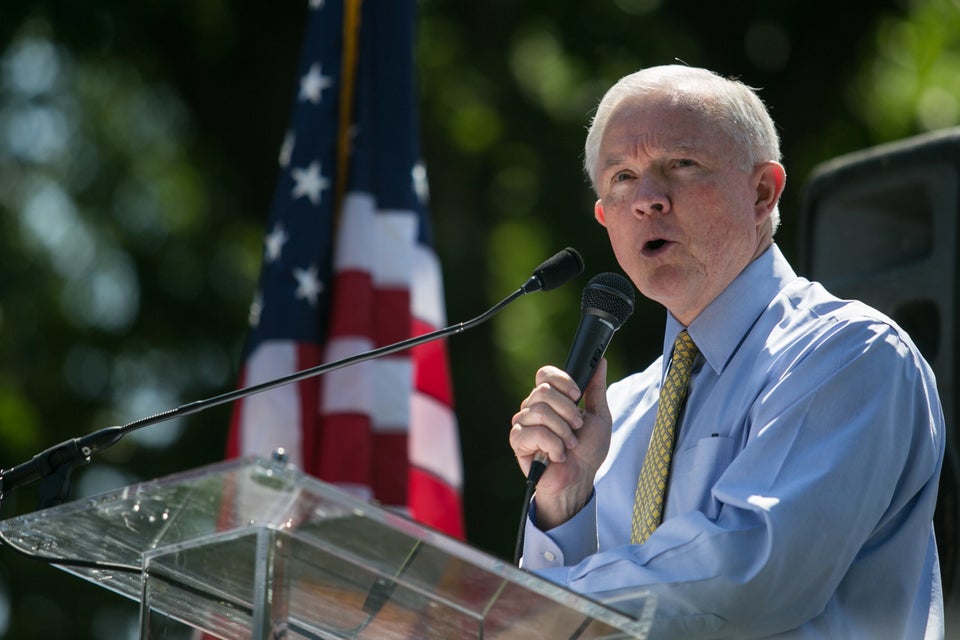 Senate Seats Up For Grabs In 2014
Popular in the Community