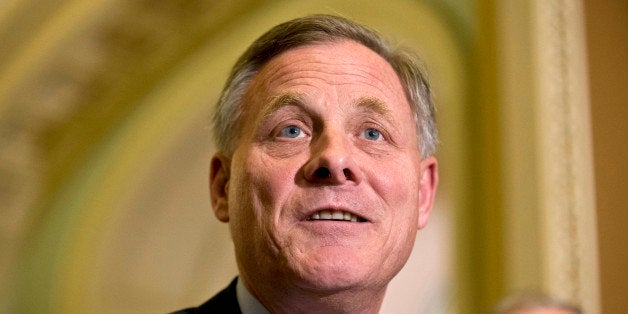 WASHINGTON -- The Senate will do something next week that it hasn't done all year: confirm a judicial nominee.
But Republicans slow-walking nominees through the Senate confirmation process is just one piece of a broader problem for the federal judiciary. Many district and circuit courts have judicial vacancies that don't even have nominees in the queue, and some spots have been open for an incredibly long time.
There are currently 39 federal court vacancies without nominees, and district courts make up the majority. It's up to home-state senators to get the ball rolling on filling these seats by making recommendations to President Barack Obama and working together to get them confirmed. So if a district court has an empty seat and there's no nominee waiting, the responsibility lies with the two senators who represent that state.
Why the delays in filling these seats? Some Republicans are holding out hope that a Republican will take the White House in 2016, which would mean getting a fresh batch of judicial nominees more to their party's liking -- these are lifetime appointments, after all. Other GOPers may simply be trying to prevent Obama from getting his picks through. But ultimately, the courts bear the brunt of the inactivity.
Prolonged judicial vacancies lead to caseloads piling up on the other judges on those courts, sometimes so much that "judicial emergencies" are declared. Meanwhile, people waiting for their day in court have to keep waiting. Court workloads have expanded so much that the Judicial Conference of the United States, led by Supreme Court Chief Justice John Roberts, recently recommended adding 68 judgeships to district courts around the country to keep pace.
"It is the constitutional duty of every senator to work with the president on filling judicial vacancies," said Michelle Schwartz of Alliance for Justice, a left-leaning association of more than 100 organizations focused on the judiciary. "It is imperative that senators abandon the unprecedented obstructionist tactics that have led to some of these longstanding vacancies."
Here's a look at the worst Senate offenders when it comes to not filling long-vacant judgeships in their home states.
Sen. Richard Burr (R-N.C.)
There's a seat on U.S. District Court for the Eastern District of North Carolina that's been empty for 3,387 days. That's more than nine years, and it has no nominee.
Burr avoided questions from The Huffington Post last year about why he was blocking a previous nominee for the slot, Jennifer May-Parker. His obstruction of May-Parker was particularly puzzling, given that he previously recommended her to Obama.
A Burr spokeswoman did not respond to a request for comment on the hold-up for filling the seat, and on whether Burr plans to recommend a nominee soon. A request for comment also was not returned from Burr's home-state counterpart, freshman Sen. Thom Tillis (R).
Sens. Ron Johnson (R-Wis.) and Tammy Baldwin (D-Wis.)
The U.S. Court of Appeals for the 7th Circuit has had an empty seat for 1,919 days. That's more than five years.
The president typically takes the lead in putting forward a nominee for a circuit court seat. But in this case, Johnson and Baldwin created a bipartisan commission in Wisconsin to recommend candidates. Applications closed in September, and the senators haven't made any recommendations, according to a White House aide.
A Johnson aide told The Huffington Post that the bipartisan commission still hasn't given any names to the senators. A Baldwin aide did not respond to a request for comment.
Obama previously put forward a nominee for the slot, Victoria Nourse, in 2010. But Johnson blocked her in committee by refusing to submit his so-called "blue slip," a committee tradition that allows home-state senators to advance or hold up nominees. Nourse asked Obama to withdraw her nomination in 2012, calling the confirmation process "broken."
Sens. John Cornyn (R-Texas) and Ted Cruz (R-Texas)
There's a seat on the U.S. District Court for the Southern District of Texas that's been empty for 1,409 days. Not far behind, there's a seat on the U.S. Court of Appeals for the 5th Circuit that's been vacant for 982 days. Neither has a nominee.
Aides to Cornyn and Cruz did not respond to a request for comment on whether they plan to recommend nominees soon. A Cruz aide told The Huffington Post that the senator is "making a good faith effort" to work with the White House on finding nominees, and pointed to the work of the state's bipartisan judicial commission. But applications closed in August 2013, and it's unclear why the senators still haven't made recommendations to the White House for these seats.
Texas is ground zero when it comes to federal court vacancies. Alliance for Justice issued a report last month indicating that Texas is now home to 20 percent of the nation's judicial vacancies and to more than 20 percent of all judicial vacancies without nominees.
Fortunately for Texas, the lone judicial nominee getting a confirmation vote on Monday is Alfred Bennett, who will fill another open seat on the U.S. District Court for the Southern District of Texas. Two other Texas district court nominees, George Hanks and Jose Olvera, have been waiting weeks for a vote, but haven't been scheduled.
A spokesman for Senate Majority Leader Mitch McConnell (R-Ky.) said the other two Texas nominees will likely "be processed in the coming weeks," but said they're not on the schedule now.
Sens. Mitch McConnell (R-Ky.) and Rand Paul (R-Ky.)
The U.S. District Court for the Eastern District of Kentucky has had a vacant seat for 812 days. That's more than two years.
Aides to McConnell and Paul did not respond to a request for comment on why it's taking so long to fill the seat or on whether they plan to recommend a nominee to the president anytime soon. "We've been in discussions with the White House on filling federal positions in Kentucky," a McConnell aide said.
Calling all HuffPost superfans!
Sign up for membership to become a founding member and help shape HuffPost's next chapter
BEFORE YOU GO
PHOTO GALLERY
Say Cheese! Mitch McConnell Smiles