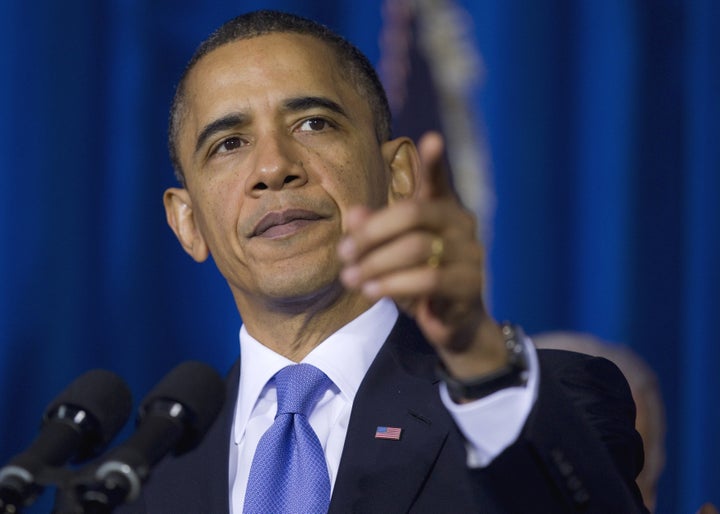 WASHINGTON -- Faced with the prospect of increasingly lengthy court vacancies, the White House on Wednesday formally renominated more than 40 judicial candidates whose possible appointments were left in limbo during the last congressional session.
The Obama administration sent the dozens of nominations -- 23 of which an official categorized as "emergency" nominees -- back to the Senate, where they will be considered anew by the Judiciary Committee. They may face an additional round of committee hearings, a Senate aide said, but that will be determined by Judiciary Chairman Patrick Leahy (D-Vt.) and the ranking Republican, likely to be, according to a Senate aide, Sen. Chuck Grassley (R-Iowa).
Hearings or no, the committee will have to vote on each candidate again before sending them back to the Senate floor for final consideration. And with more Republicans in the chamber than there were for the past two years, the nominees' chances may be slimmer.
Among those nominated again include 18 who had previously cleared the committee but were not confirmed by the Senate at large. That list includes contested figures like University of California law professor Goodwin Liu, Obama's nominee for the Ninth Circuit Court of Appeals, as well as California magistrate judge Edward Chen, nominated for the District Court for the Northern District of California. Twenty-four other renominated candidates never got a committee vote.
Judge Robert Chatigny, who Obama nominated for a seat on the Second Circuit Court of Appeals but had been held up over his positions on judicial restraint and sexual offenders, was not sent back to the Senate for consideration.
During his first two years in office, Obama had 62 judicial nominees confirmed by the Senate, compared to 100 for George W. Bush during the first congressional session of his presidency.
Democratic activists have categorized this disparity as a veritable crisis for the Obama administration, given the plethora of key issues working their way through the courts, including the president's health care law, Arizona's immigration reform measures, gay rights and gun control policy, among others. Those renominated had spent a combined 1,762 days awaiting consideration from the Senate during the last two years, according to a fact sheet sent by an administration official to The Huffington Post.
Even conservative legal luminaries have pushed to speed up the process. U.S. Supreme Court Chief Justice John Roberts recently criticized the slow pace of judicial confirmations.
"[T]he unprecedented obstruction of judicial nominations seen in the last Congress, and the dramatic departure from the Senate's longstanding tradition of regularly considering consensus, noncontroversial nominations, marked a new chapter in what Chief Justice Roberts calls the 'persistent problem' of filling judicial vacancies," Leahy, the Senate Judiciary Committee chairman, said in a statement.
With this as a backdrop, Senate Majority Leader Harry Reid (D-Nev.) and Minority Leader Mitch McConnell (R-Ky.) announced on Wednesday that they had agreed to establish a joint working group to study the issue of judicial confirmations, Roll Call reported.
Below are a list of the renominated and the person they are replacing, per the White House
:
Arenda L. Wright Allen, of Virginia, to be United States District Judge for the Eastern District of Virginia, vice Jerome B. Friedman, retired. (Originally nominated on 12/1/10)
Anthony J. Battaglia, of California, to be United States District Judge for the Southern District of California, vice M. James Lorenz, retired. (Originally nominated on 5/20/10)
Cathy Bissoon, of Pennsylvania, to be United States District Judge for the Western District of Pennsylvania, vice Thomas M. Hardiman, elevated. (Originally nominated on 11/17/10)
James Emanuel Boasberg, of the District of Columbia, to be United States District Judge for the District of Columbia, vice Thomas F. Hogan, retired. (Originally nominated on 6/17/10)
Vincent L. Briccetti, of New York, to be United States District Judge for the Southern District of New York, vice Kimba M. Wood, retired. (Originally nominated on 11/17/10)
Louis B. Butler, Jr., of Wisconsin, to be United Stated District Judge for the Western District of Wisconsin, vice John C. Shabaz, retired. (Originally nominated on 9/30/09)
Susan L. Carney, of Connecticut, to be United States Circuit Judge for the Second Circuit, vice Barrington D. Parker, retired. (Originally nominated on 5/20/10)
Claire C. Cecchi, of New Jersey, to be United States District Judge for the District of New Jersey, vice Joseph A. Greenaway, elevated. (Originally nominated on 12/1/10)
Edward Milton Chen, of California, to be United States District Judge for the Northern District of California, vice Martin J. Jenkins, resigned. (Originally nominated on 8/6/09)
Max Oliver Cogburn, Jr., of North Carolina, to be United States District Judge for the Western District of North Carolina, vice Lacy H. Thornburg, retired. (Originally nominated on 5/27/10)
Mae A. D'Agostino, of New York, to be United States District Judge for the Northern District of New York, vice Frederick J. Scullin, Jr., retired. (Originally nominated on 9/29/10)
Roy Bale Dalton, Jr., of Florida, to be United States District Judge for the Middle District of Florida, vice Henry Lee Adams, Jr., retired. (Originally nominated on 11/17/10)
Sara Lynn Darrow, of Illinois, to be United States District Judge for the Central District of Illinois, vice Joe B. McDade, retired. (Originally nominated on 11/17/10)
Edward J. Davila, of California, to be United States District Judge for the Northern District of California, vice Marilyn Hall Patel, retired. (Originally nominated on 5/20/10)
Charles Bernard Day, of Maryland, to be United States District Judge for the District of Maryland, vice Peter J. Messitte, retired. (Originally nominated on 7/21/10)
Bernice Bouie Donald, of Tennessee, to be United States Circuit Judge for the Sixth Circuit, vice Ronald Lee Gilman, retired. (Originally nominated on 12/1/10)
Edward Carroll DuMont, of the District of Columbia, to be United States Circuit Judge for the Federal Circuit, vice Paul R. Michel, retired. (Originally nominated on 4/14/10)
James E. Graves, Jr., of Mississippi, to be United States Circuit Judge for the Fifth Circuit, vice Rhesa H. Barksdale, retired. (Originally nominated on 6/10/10)
Caitlin Joan Halligan, of New York, to be United States Circuit Judge for the District of Columbia Circuit, vice John G. Roberts, Jr., elevated. (Originally nominated on 9/29/10)
Marco A. Hernandez, of Oregon, to be United States District Judge for the District of Oregon, vice Garr M. King, retired. (Originally nominated on 7/14/10)
Paul Kinloch Holmes, III, of Arkansas, to be United States District Judge for the Western District of Arkansas, vice Robert T. Dawson, retired. (Originally nominated on 4/28/10)
Mark Raymond Hornak, of Pennsylvania, to be United States District Judge for the Western District of Pennsylvania, vice Donetta W. Ambrose, retired. (Originally nominated on 12/1/10)
Amy Berman Jackson, of the District of Columbia, to be United States District Judge for the District of Columbia, vice Gladys Kessler, retired. (Originally nominated on 6/17/10)
Richard Brooke Jackson, of Colorado, to be United States District Judge for the District of Colorado, vice Phillip S. Figa, deceased. (Originally nominated on 9/29/10)
Steve C. Jones, of Georgia, to be United States District Judge for the Northern District of Georgia, vice Orinda D. Evans, retired. (Originally nominated on 7/14/10)
John A. Kronstadt, of California, to be United States District Judge for the Central District of California, vice Florence-Marie Cooper, deceased. (Originally nominated on 11/7/10)
Goodwin Liu, of California, to be United States Circuit Judge for the Ninth Circuit, vice a new position created by Public Law 110-177, approved January 7, 2008. (Originally nominated on 2/24/10)
Robert David Mariani, of Pennsylvania, to be United States District Judge for the Middle District of Pennsylvania, vice James M. Munley, retired. (Originally nominated on 12/1/10)
Marina Garcia Marmolejo, of Texas, to be United States District Judge for the Southern District of Texas, vice Samuel B. Kent, resigned. (Originally nominated on 7/28/10)
John J. McConnell, Jr., of Rhode Island, to be United States District Judge for the District of Rhode Island, vice Ernest C. Torres, retired. (Originally nominated on 3/10/10)
Sue E. Myerscough, of Illinois, to be United States District Judge for the Central District of Illinois, vice Jeanne E. Scott, resigned. (Originally nominated on 7/14/10)
Victoria Frances Nourse, of Wisconsin, to be United States Circuit Judge for the Seventh Circuit, vice Terence T. Evans, retired. (Originally nominated on 7/14/10)
Jimmie V. Reyna, of Maryland, to be United States Circuit Judge for the Federal Circuit, vice Haldane Robert Mayer, retired. (Originally nominated on 9/29/10)
John Andrew Ross, of Missouri, to be United States District Judge for the Eastern District of Missouri, vice Charles A. Shaw, retired. (Originally nominated on 12/1/10)
Esther Salas, of New Jersey, to be United States District Judge for the District of New Jersey, vice Katharine Sweeney Hayden, retired. (Originally nominated on 12/1/10)
Diana Saldaña, of Texas, to be United States District Judge for the Southern District of Texas, vice George P. Kazen, retired. (Originally nominated on 7/14/10)
James E. Shadid, of Illinois, to be United States District Judge for the Central District of Illinois, vice Michael M. Mihm, retired. (Originally nominated on 5/27/10)
Kevin Hunter Sharp, of Tennessee, to be United States District Judge for the Middle District of Tennessee, vice Robert L. Echols, retired. (Originally nominated on 11/17/10)
Michael H. Simon, of Oregon, to be United States District Judge for the District of Oregon, vice Ancer L. Haggerty, retired. (Originally nominated on 7/14/10)
Amy Totenberg, of Georgia, to be United States District Judge for the Northern District of Georgia, vice Jack T. Camp, Jr., retired. (Originally nominated on 3/17/10)
Michael Francis Urbanski, of Virginia, to be United States District Judge for the Western District of Virginia, vice Norman K. Moon, retired. (Originally nominated on 12/1/10)
Kathleen M. Williams, of Florida, to be United States District Judge for the Southern District of Florida, vice Daniel T. K. Hurley, retired. (Originally nominated on 7/21/10)
Popular in the Community