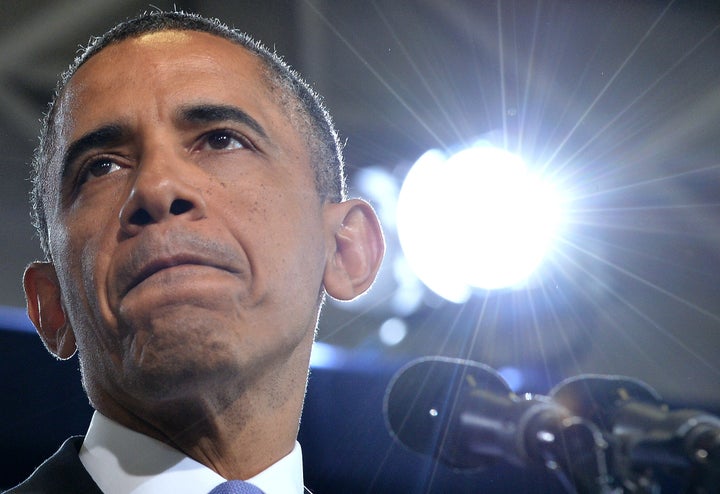 A little more than two months into term two, little progress appears to have been made. As of Thursday, court data show that 87 spots remain unfilled, a four-seat increase since December and a 58-percent jump since Obama took office.
The Federal Judicial Center classifies Article III judges as officials who exercise "the judicial power of the United States" under the Constitution. Judges serving the U.S. Supreme Court, the federal courts of appeals and district courts, and the U.S. Court of International Trade all fall under this category.
When placed alongside his immediate predecessors, Obama's record on judicial vacancies pales in comparison. According to Alliance for Justice data, within the first three years of President George W. Bush's tenure, there was a 65-percent decline in vacancies. President Bill Clinton experienced a less substantial drop-off, but was still able to reduce openings by 34 percent.
Similar contrasts appeared in the realm of judicial nominations and confirmation wait times. Data compiled in November 2012 by USA Today from the White House and Alliance for Justice found that Obama made 212 nominations, with an average wait of 224 days until the confirmation phase. At the same point in their presidencies, Bush reached 225 nominations with an average wait of 176 days, while Clinton netted 237 nominations with an average lag of 98 days.
Back in January, the Brookings Institution's Russell Wheeler broke down some predictions about whether these predicaments could be remedied. Among his bright spots was the Senate's decision to reduce the district judges post-cloture debate period from 30 hours to two hours. But huge hurdles remained in his estimation, headed by long wait times that discourage qualified candidates from even testing the waters.
"We should not want to return to the average nine days from nomination to confirmation faced by Harding's nominees, but the roughly 60 to 70 day averages in the Carter and Reagan administrations are a reasonable goal, even if 'reasonable' does not mean 'attainable,'" Wheeler wrote in January.
An extreme case related to that worry took place two weeks ago, when Obama's nominee for the D.C. Circuit Court of Appeals, Caitlin Halligan, withdrew after enduring nearly two-and-a-half years of Senate filibusters. Obama called the process "unjustified" and the openings "unacceptable."
Calling all HuffPost superfans!
Sign up for membership to become a founding member and help shape HuffPost's next chapter
BEFORE YOU GO
PHOTO GALLERY
Most Iconic Photos Of Obama's First Term