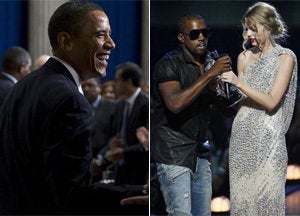 UPDATE -- Sept. 15: The full audio of Obama's exchange about Kanye West has been posted by TMZ. Here's the transcript:
Q: Were your girls as hacked off as mine were that Kanye gave Taylor Swift the Joe Wilson treatment?

Obama: I thought that was really inappropriate. You know it was like she's getting an award -- why are you butting in? I, I hear you -- I agree with you.

Q: So does that count as the first question?

Obama: The young lady seems like a perfectly nice person. She's getting her award. What's he doing up there? He's a jackass. (Laughter) No, now -- this -- all this stuff -- I'm assuming all this stuff. Where's the pool? Come on guys. Cut the president some slack. I got a lot of other stuff on my plate. Yeah. Cause I remember last time it was the fly thing. Now that was the highlight of (trails off)

Q: No that worked out well for you. You were a ninja.

Obama: Except PETA... (laughter)
During a CNBC interview on Monday, President Obama called Kanye West a "jackass" regarding his behavior at the MTV Video Music Awards. (Watch the video of Kanye interrupting Taylor Swift's acceptance speech at the VMAs here and read about his first apology.)
Obama's colorful remark was actually made in an off-the-record portion of the interview that was tweeted -- and then deleted -- by ABC News reporter Terry Moran.
"Pres. Obama just called Kanye West a 'jackass' for his outburst at VMAs when Taylor Swift won. Now THAT'S presidential," Moran wrote.
Politico's Michael Calderone has ABC's statement apologizing for Moran's journalistic breach.
Popular in the Community