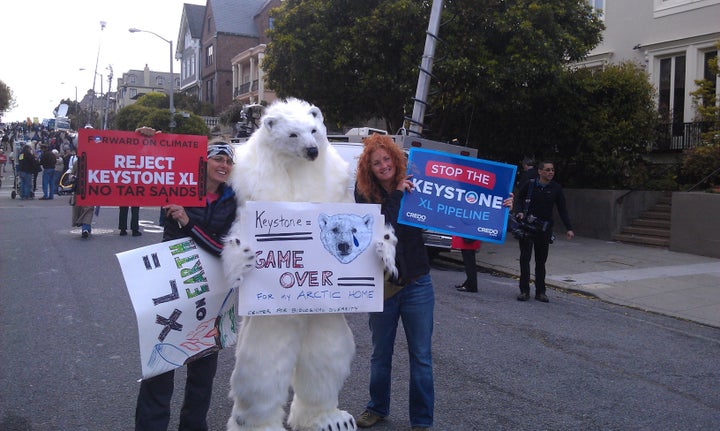 SAN FRANCISCO -- More than one thousand protesters snaked though the mansion-lined streets of San Francisco's Pacific Heights neighborhood Wednesday evening in an attempt to convince President Barack Obama, in town for a fundraiser at the home of Ann and Gordon Getty, to block the construction of the Keystone XL pipeline.
With chants of "hey hey, ho ho, Keystone XL has got to go," protesters held aloft signs urging the president to stop energy giant TransCanada's controversial project. "I'm determined to make a difference and stop the Keystone pipeline," said San Francisco resident Peter Bank, who toted an enormous banner that read "Stop the Keystone Pipeline." "It's just a dumb idea all the way."
The Keystone XL pipeline would transport petroleum down the middle of the United States, from its extraction point in the tar sands of Alberta, Canada, to the Texas Gulf Coast, where it would be refined and/or shipped overseas. Environmentalists have increasingly expressed concerns about the project, from the effect burning oil from the pipeline would have on global warming to the threat of leakage.
Activists hope Obama will make opposing its construction a central issue during his term in office.
Since Keystone would cross the United States' border with Canada, the State Department is ultimately responsible for moving it forward. When a measure to allow TransCanada to build the pipeline first came up for approval in 2011, the president was met with so much public outcry that he rejected it. But he left the door open for the Canadian oil giant to reapply.
In the weeks leading up to Obama's initial decision on the matter, was met with over 1,000 protestors at a similar San Francisco fundraiser.
"Last time the people were so outraged that the State Department had to start all over again," said Becky Bond, the political director of CREDO, the progressive organization that organized the protest.
Bond charged that the previous environmental impact report was tainted because its author, Cardno ENTRIX, has deep financial ties to TransCanada. The newer report, released earlier this year, also downplayed the project's environmental risks.
"That same poll also found that the majority of Americans want strong action on climate change," she noted. "Most people don't know what Keystone really entails. When we explain to them that this is a foreign company using this project to burn some of the dirtiest oil on the Earth, they come around to seeing why its a bad idea."
The President used a speech at Steyer's fundraiser to assuage some environmentalists' concerns, though he never directly mentioned Keystone. "Despite a very aggressive agenda on the other side to block action," he said, rattling off a list of some of his administration's green accomplishments, "we've been able to double fuel-efficiency standards on cars, we've been able to take mercury out of our air, we have been able to reduce carbon emissions in this country."
The State Department is scheduled to release a draft report looking into the pipeline's construction sometime this fall. A final approval by the White House is expected shortly thereafter.
Check out these photos of Wednesday's protest below:
PHOTO GALLERY
Keystone XL Obama Fundraiser San Francisco Protest
Calling all HuffPost superfans!
Sign up for membership to become a founding member and help shape HuffPost's next chapter
BEFORE YOU GO