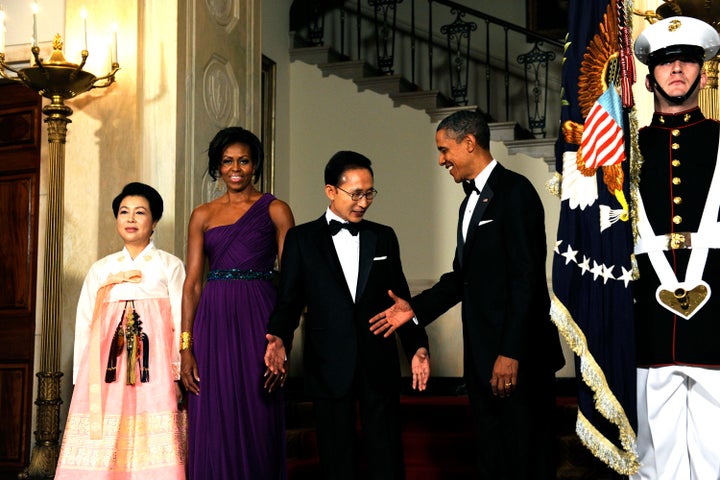 WASHINGTON -- President Obama raised a glass to the U.S.-Korean relationship Thursday night during a state dinner for visiting South Korean President Lee Myung-Bak at the White House. Flanked by First Lady Michelle Obama and Korean First Lady Kim Yoon-Ok, President Obama and Lee expressed heartfelt mutual admiration -- but the real star of the evening was the U.S.-Korea free trade agreement, approved by Congress on Wednesday.
In his toast, Obama avoided any mention of the landmark bilateral pact, instead praising Lee's "unstoppable" energy and "inspiring" life story. Obama described the alliance between the two countries using a Korean term, jeong, which "reflects a deep affection, the bonds of the heart that cannot be broken and that grow stronger with time."
Lee returned the praise in kind, saying through a translator that Obama epitomizes the characteristics of jeong, in that he is "humble and very strong inside." He also shared a story of growing up very poor, and waiting in line one day in the hopes that an American missionary worker would give him his only wish -- a pair of blue jeans. But there were no blue jeans left, and seeing his disappointment, the missionary gave him a rubber ball. "I do not owe the United States anything," Lee joked at the dinner, "except maybe for a rubber ball."
Lee also acknowledged that the evening marked the end of a legislative battle over the free trade pacts with Korea, as well as those with Colombia and Panama, all of which stretched on for years and were approved this week. At times, this debate found the Obama White House at odds with congressional Democrats, who feared the pacts would cost Americans jobs. But Lee assured skeptics of the free trade deal that in a year, they would know "they made a mistake," because the pacts would "create a lot of good, decent jobs for the people of America."
Seated among the more than 220 guests were leading international figures, including U.N. Secretary General Ban Ki-moon, Supreme Court Justice Ruth Bader Ginsburg, tennis star Billie Jean King, Ford Motor Company CEO Alan Mulally, Korean Ambassador to the United States Duck-soo Han and Dr. Peter Rhee, the neurosurgeon who first operated on injured Rep. Gabrielle Giffords.
The president's cabinet was out in full force, including Vice President Joe Biden, Secretary of State Hillary Clinton, Defense Secretary Leon Panetta, Treasury Secretary Timothy Geithner, Housing and Urban Development Secretary Shaun Donovan and Secretary of Agriculture Tom Vilsack. Also present was the newly-appointed chairman of the Joint Chiefs of Staff, Gen. Martin Dempsey, as well as Obama's Chief of Staff Bill Daley and senior adviser Valerie Jarrett.
Members of Congress at the dinner included some of the strongest backers of the Korean free trade deal in both chambers: Sens. John Kerry (D-Mass.), Dick Lugar (R-Ind.), Max Baucus (D-Mont.) and Orrin Hatch (R-Utah) all attended, as did Republican House Ways and Means Committee Chairman Dave Camp (R-Mich.), and Democrats Judy Chu (Calif.), Howard Berman (Calif.) and Sander Levin (Mich.). House Democratic Leader Nancy Pelosi, a skeptic of the trade deal, also attended with her husband.
Mere hours before the dinner, the Senate confirmed Obama's nomination for U.S. ambassador to South Korea, Sung Kim, the first Korean-American to hold the position. Prior to Thursday, Kim's nomination was stalled for months by Arizona Republican Jon Kyl in order to protest U.S. policy toward North Korea. Kyle relented Thursday and did not attend the dinner, although outgoing Ambassador Kathleen Stephens did.
Once inside and seated, guests were served a multicultural feast, starting with a first course of butternut squash soup with cranberries and Virginia ham. This was followed by a Korean-inspired salad with "masago rice pearl crispies" and rice wine vinaigrette. The main course was unexpected: wagyu beef from Texas, a noticeable departure from the lighter entrees served at prior Obama state dinners. The squash served alongside it came from the White House kitchen garden. For dessert, it was a chocolate devil's food cake, layered with what the White House described as "a harmonious blend of Korean and American pears."
Like the menu, the decor featured both Korean and American influences, beginning with an art installation of paper hibiscus flowers that adorned the Cross Hallway on the way into dinner. On the tabletops, low, rectangular centerpieces were filled with apples surrounded by red, orange and green flowers.
The after-dinner entertainment was also a nod to both U.S. and Korean culture, including the Korean-American classical group, The Ahn Trio, whose signature sound is an edgy take on classical music, and the up-and-coming soul songstress Janelle Monae took the stage.
PHOTO GALLERY
President Obama's Korea State Dinner, October 13, 2011
Calling all HuffPost superfans!
Sign up for membership to become a founding member and help shape HuffPost's next chapter