In his last interview as president, President Barack Obama advised Democrats to embrace audacious solutions to the country's coming economic challenges, including automation.
There is room for debate about how to approach trade relations with countries such as China and Mexico, "but the fact is and the data just shows this, the jobs that are going away are primarily going away because of automation," Obama told "Pod Save America," a podcast created and hosted by four of his former aides. 
Listen to Obama's comments here.
As a result, in addition to making the traditional arguments for raising the minimum wage and helping workers unionize, Democrats "are going to have to start thinking about where do jobs come from and how much government involvement is there in the marketplace."
Obama suggested that as technology eliminates more jobs, Democrats might consider more ambitious government intervention to ensure people remain employed.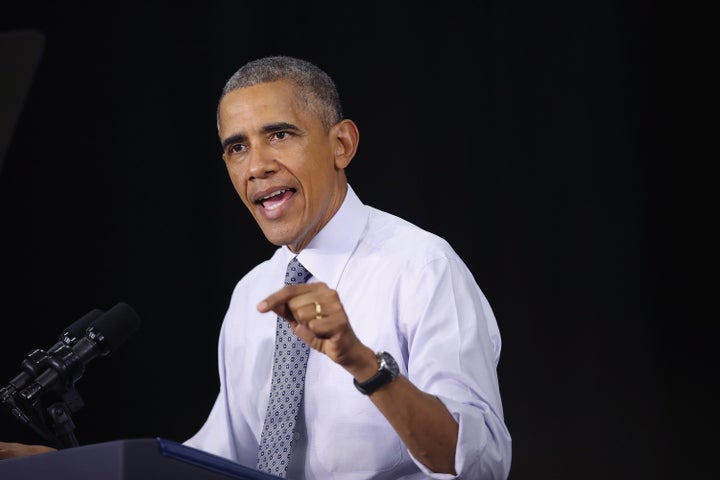 "Do we have a job-sharing economy that works so that everybody has work, because it turns out work is not just about finances, but it is about dignity and feeling like you got a place in the world. And how do you pay for that?" he said. "And more and more people are working in the service sector. How do we make sure that they are getting paid enough?"
"We have to be a little more creative about anticipating what's coming down the pike, because automation is relentless and it's going to accelerate," he concluded.
Obama made the remarks while discussing what Democrats should say when they set out to re-engage the voters in smaller towns who voted for Obama in the past and then opted for Donald Trump in November.
"The first thing they should say is, what is it that you guys want? I think you start by listening and trying to tease out from people what is it they're most worried about," Obama said.
"I have my suspicions about what they'll say, which is, they feel as if there are cities and power centers around this country that are doing really well and they feel like nobody's paying attention to them and that things are deteriorating," he posited. "And that the way of life and security that they used to feel they had isn't there anymore."
Calling all HuffPost superfans!
Sign up for membership to become a founding member and help shape HuffPost's next chapter
BEFORE YOU GO