 CHARLOTTE, N.C. -- The din of clinking glasses, drink orders and the sounds of men and women exchanging business cards and Twitter handles spilled down the mahogany-colored wood and steel stairs at Aria, a "Tuscan Grill" in downtown Charlotte.
In the restaurant's upstairs private party space, a room with glistening white quartz walls and decor that seemed pulled from a West Elm catalogue, men and women were already mingling. Most of them were under the age of 40 and active members of the Obama For America-affiliated fundraising collectives that operate around the country under the name Generation 44 or Gen44. Gen44 is supposed to help the party raise money and foster a "new generation of leaders." But when the group gathered in Charlotte this week during the Democratic National Convention, only four of the more than 50 people in the room appeared to be black or Latino.
In 2012, extremely wealthy PAC and super PAC donors have overshadowed bundling, a long-running campaign practice. Bundlers, usually well-to do or at least well-connected individuals, commit to raise funds for candidates by collecting donations of up to $5,000 from an unlimited number of individuals. And in the world of bundling, people of color do remain scarce. But this year, the number of Latinos included on the list of bundlers voluntarily disclosed by the Obama campaign appears to have increased. At least 15 Latinos rank among the individuals who have committed to raising $50,000 or more for the Obama campaign this year, compared to the 10 who appeared on the campaign's list of bundlers in 2008.
The Obama campaign declined to comment when asked about the growing number of Latino bundlers in its fundraising army, saying that the campaign does not participate in stories about bundlers. Several Latino bundlers contacted by The Huffington Post also said that they have been asked by the campaign not to speak with reporters.
(Mitt Romney has declined to name any of his bundlers, making him the first Republican or Democratic presidential nominee to refuse to disclose bundler names since the 2000 election. In 2008, Romney disclosed the names of his bundlers.)
On the list of wealthy Latinos who have committed to raising funds for President Barack Obama are names such as Alfredo Balsera, a Miami-area political consultant, who also served as a bundler for the campaign in 2008.
As of late August, Balsera and his relatives had contributed $45,463 to federal contests. He has promised to raise $200,000 to $500,000 for Obama this year.
Then, there is Henry Munoz, a San Antonio-based architect, who along with members of his family had contributed $285,460 to federal campaigns by late August. Munoz's name did not appear on the Obama campaign's list of disclosed bundlers in 2008. This election cycle, he has promised to raise at least $500,000.
Also on the list this year: actress Eva Longoria, a bundler and friend to the campaign working to mobilize Latino voters. On Wednesday, NPR described her as one of the Obama campaign's most potent forces in the effort to win Latino votes. Her personal story –- Longoria hails from a hard-working middle-class family in deep blue South Texas, is Mexican-American like more than 60 percent of Latino voters and worked her way onto to Hollywood's A-list after first completing college -– appeals to Latino voters in a way that other celebrity endorsements do not, according to NPR. Longoria also did not appear on the list of voluntarily disclosed bundlers in 2008.
By late August, Longoria and her relatives had made $114,100 in federal political contributions. She has promised to raise $200,000 to $500,000 for Obama this cycle.
Increasing diversity in the ranks of bundlers points to a mix of social forces, said Paul S. Ryan, senior council at the Campaign Legal Center, a campaign finance and voting rights watchdog organization. The group is a Washington, D.C. nonprofit perhaps best known for helping Stephen Colbert set up a campaign fundraising operation designed to expose and satirize flaws in the nation's campaign finance system.
Race and ethnicity remain closely linked with income and social capital in the United States, Ryan said. That a growing list of Latinos rank among those with the personal and financial clout to collect donations from others is worth noting, he said. And, in some ways, bundling and the rise of bundlers reflects the rising cost of elections.
But bundling has the ability to shade from public view precisely who is donating to candidates. Campaigns voluntarily disclose the names of bundlers and how much they have raised, but they don't disclose the names on the individual checks inside bundlers' hauls.
What's more, some bundlers are rewarded by the presidents they help. Nearly 200 of Obama's biggest bundlers received federal contacts or were awarded federal jobs or appointments, the Center for Public Integrity reported.
"The concern that the Campaign Legal Center has about bundlers is it is entirely possible that you could by a significant amount of access to the president," said Ryan. "So the one reform that we would advocate without exception is mandatory disclosure. Voters could then more readily hold candidates responsible and scrutinize who is getting those appointments."
In 2000, George W. Bush became the first candidate to voluntarily disclose his bundler's names. His campaign saw his bundlers as such an essential part of the operation that he gave them an unofficial title: Rangers. (Hillary Clinton's presidential campaign, meanwhile, called its bundlers Hill Raisers.)
In 2007, then-Sen. Barack Obama proposed legislation that would have required presidential candidates to disclose bundlers who raise $50,000 or more in the two years leading up to the election. It failed.
Money has become so central to what it takes to win elections that inside the Hispanic Caucus gathering Wednesday morning, held in a Charlotte Convention Center ballroom, Michelle Obama worked a fundraising appeal into what was an otherwise get-out the vote focused speech.
"If you can afford to write a check, then write a check," Obama said to the room of mostly Latino delegates, their spouses, children and other party faithful in the room. "And if you've written a check and you haven't maxed out, max out. "
The maximum amount that an individual may give between the primary and general elections is $5,000.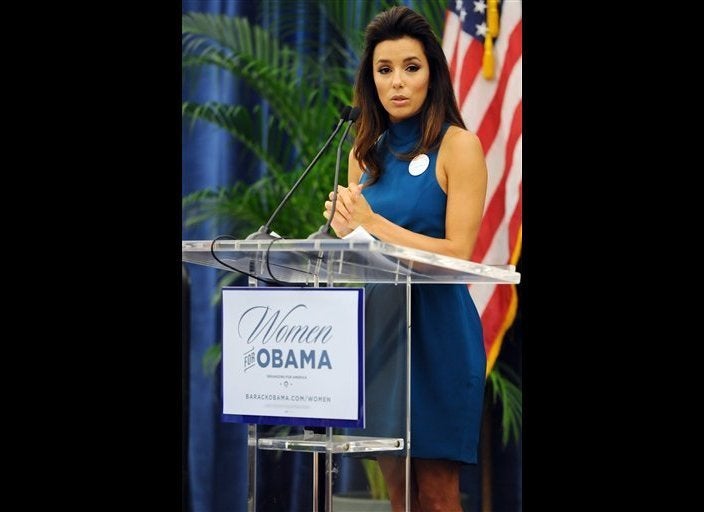 Obama's Top Latino Donors & Bundlers
HuffPost Live will be taking a comprehensive look at the corrupting influence of money on our politics Sept. 6 from 12-4 p.m. EDT and 6-10 p.m. EDT. Click here to check it out -- and join the conversation.
Popular in the Community