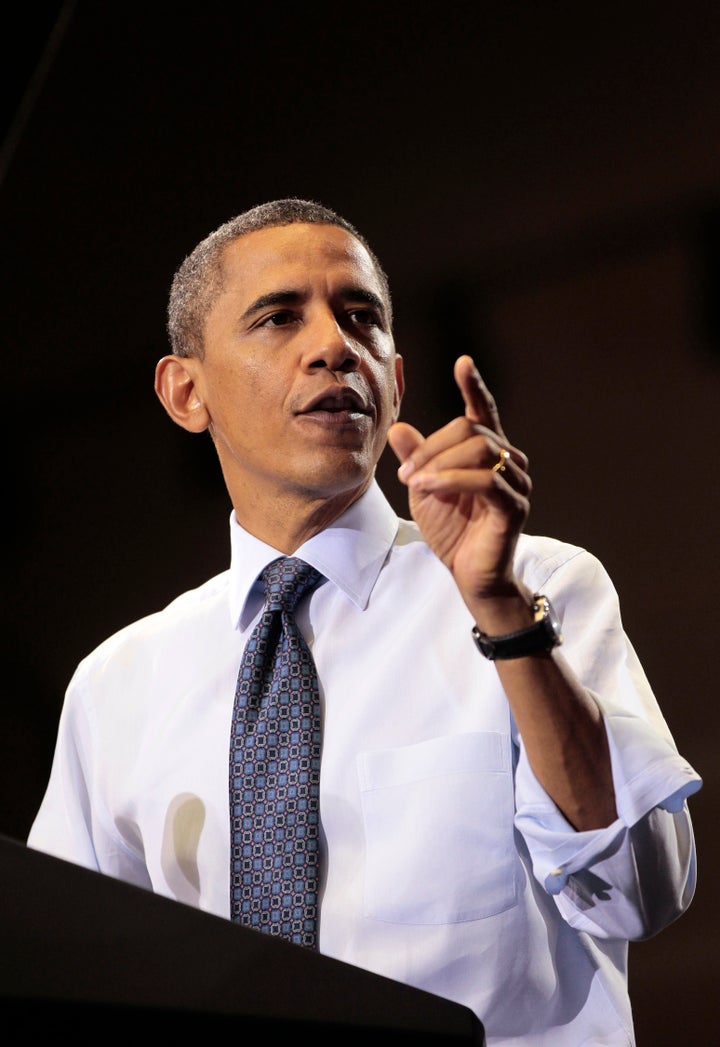 WASHINGTON -- Republicans need to come forward to pass immigration reform, President Barack Obama said at a meeting of Latino advocacy group National Council of La Raza on Monday, continuing his push for Latino votes in 2012 amid concern over his record deportations of undocumented immigrants.
"I need a dance partner here, and the floor is empty," Obama said, referencing Republicans who formerly supported immigration reform and now say enforcement must be increased first. "Feel free to keep the heat on me, and keep the heat on Democrats, but here's the thing to remember: The Democrats and your president are with you. Remember who it is we need to change the laws."
But as Obama calls for immigration reform that is unlikely to pass Congress, Latinos and immigration reform supporters are becoming increasingly frustrated with the record numbers of people forced out of the country each year under his presidency.
A group of students stood during his speech to protest his deportation of young undocumented people, wearing shirts that read "Obama: Stop deporting DREAMers," a reference to the DREAM Act, a bill that would provide legal status to some undocumented young people who entered the United States as children.
HuffPost spoke to one of the students. WATCH:

Rep. Luis Gutierrez (D-Ill.), a vocal critic of the Obama administration's deportation record, plans to appear at a rally in front of the White House on Tuesday, when he will call for the president to stop deporting young people and families of American citizens.
"I know some people want me to bypass Congress and change the laws on my own," Obama said on Monday, drawing a huge applause and chants of "Yes, You Can." "And believe me, right now, dealing with Congress right now -- the idea of doing things on my own is very tempting. Not just on immigration reform. But that's not how our system works."
Overall, the president's record on immigration issues remains fairly stark, with little progress toward the comprehensive immigration reform he promised to pass in his first term. The DREAM Act failed in the Senate in December despite passing the House.
"There is still some unfinished business," National Council of La Raza President Janet Murguia said in the president's introduction, pointing out the DREAM Act students still facing deportation.
Still, the president has made some inroads for Latinos: Hilda Solis, his labor secretary, is the first Latina to serve in the Cabinet, while Supreme Court Justice Sonia Sotomayor is the first Latina justice. Obama said many of his other legislative actions, such as education reform and last year's health care law were a "huge victory for the Latino community.
"These are victories for NCLR, they are victories for America, and we did it with your help," he said. "We kept our promises."
Meanwhile, the president has made a concerted effort to court Latinos for his re-election campaign, after he won the Latino population by large margins in 2008. His speech at National Council of La Raza's yearly conference is the third immigration-related address he has given in the last three months. Obama delivered a major immigration address at the Texas-Mexico border in May, visited Puerto Rico last month, and has hosted a number of Latino celebrities and activists at the White House.
Frank Sharry, executive director of America's Voice Education Fund, wrote in a HuffPost blog post that Latinos want to hear more from Obama than a reaffirmation of his support for the DREAM Act and comprehensive immigration reform.
"They know that Republican control of the House means pro-immigrant legislative measures don't stand much of a chance in this Congress," Sharry wrote. "They want the president to use his authority to make life better in immigrant communities immediately."
Popular in the Community