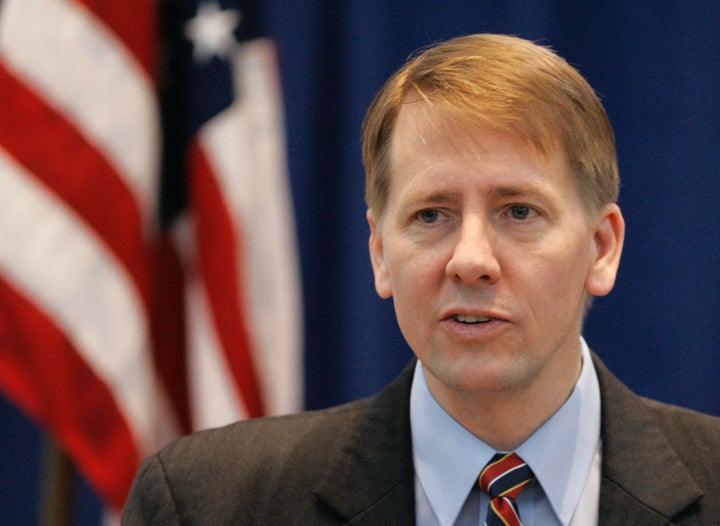 WASHINGTON -- The White House is launching an aggressive, eleventh-hour media blitz this week aimed at pressuring Senate Republicans to confirm a stalled nominee to lead the Consumer Financial Protection Bureau.
But senior Senate Republican aides are already signaling that the all-out public relations offensive planned by the White House -- one that even includes President Barack Obama's personal involvement -- won't be enough to sway Republicans to support a director for an agency that they say needs an overhaul first.
The Senate is lining up its vote on Obama's nominee, Richard Cordray, for Thursday. The president nominated the former Ohio attorney general for the slot in July, but his confirmation process has been beset by delays by Republicans, nearly all of whom signed a letter in May saying they would oppose any CFPB nominee until key changes at the agency are made. Among their demands: eliminating the director's position, creating an oversight board instead, and requiring the agency to be dependent on congressionally appropriated funds for its operating budget. Democrats have framed Republicans' criticisms as an attempt to undermine the agency's work altogether.
Cordray cleared the Senate Banking Committee in October along partisan lines, but Thursday's vote is the real test. And with just a few days left to sell its message to the public, the White House is coming out of the gate full throttle.
Administration officials kicked off their effort Sunday night with the release of a report, "Improving Americans' Financial Security: The Importance of a CFPB Director." In it, the administration outlines the kinds of bad practices that will continue to play out among nonbank institutions like payday lenders and credit reporting agencies until CFPB has a director. Filling the slot would mean, for the first time ever, someone will officially be supervising those institutions' activities and ensuring consumer protections are in place.
For example, the report states that, unlike banks, payday lenders don't currently have to comply with federal laws that relate to consumer financial protections, which means they can continue to charge fees of about $16 for a $100 two-week loan. That translates to an annual percentage rate of 400 percent for borrowers already struggling with debt. About 20 million people currently rely on payday lenders, the report states.
"The fact that the CFPB cannot currently supervise payday lenders creates a serious regulatory gap that puts consumers at substantial risk," reads the report.
In addition to releasing the report, Obama will sit down on Monday with a handful of print reporters from seven states -- Alaska, Indiana, Iowa, Maine, Nevada, Tennessee and Utah -- to discuss the impact that Cordray's nomination would have in their communities. The White House is targeting those states because they are home to Republican senators who currently oppose Cordray's nomination.
"We're making a special effort in this handful of seven states because we believe ... the citizens in these states have a lot to gain from the confirmation of Mr. Cordray," White House deputy press secretary Josh Earnest said in a Sunday conference call with reporters. "It sets up an important decision for senators who represent the families in those states: whether they will side with the financial industry and block Mr. Cordray, or side with middle-class families."
Throughout the week, senior administration officials plan to flood television markets in those states with messages about the need for a director at CFPB, the idea for which originally came from Harvard law professor and now-Massachusetts Senate candidate Elizabeth Warren. The White House will also release bipartisan letters signed by dozens of attorneys general and mayors calling for Cordray's confirmation. And on Thursday, the day the Senate is expected to vote, the president will talk to local television anchors from each of those seven states about the need for a leader at the consumer protection bureau.
Obama is also expected to press for Cordray during a previously scheduled speech on Tuesday in Kansas, though White House officials would give no details on what he will say.
The consumer protection agency was created a year and a half ago as part of the sweeping Dodd-Frank financial reform legislation that was signed into law. But while it has some operations in effect, it still lacks a director, which administration officials say has prevented the agency from fully supervising nonbank financial institutions like payday lenders, nonbank mortgage lenders, debt collectors and credit reporting agencies.
"In summary, today the CFPB is hamstrung by not having a director in place," said Brian Deese, deputy director of Obama's National Economic Council, during the same Sunday conference call.
The lack of a director at the agency means there isn't an even playing field for banks and other financial entities, which is "bad for the financial system overall," Deese said. In addition, he contended, some of the most "harmful, deceptive, unfair, predatory lending practices" will continue to take place, including those that precipitated the financial crisis that drove the economy into a recession.
Senate Republican aides dismissed the idea that any GOP senators would cave in their opposition to Cordray without changes being made at the agency first.
"You know who they're not talking to? Republican senators who raised concerns about transparency and accountability at the CFPB seven months ago," said a Senate GOP leadership aide. "Maybe instead of a PR campaign, they should work with Congress to fix the problems. But they haven't lifted a finger. They haven't talked with us about this at all. The President will talk to more reporters this week about the CFPB than he has to Republican senators."
Another senior Senate Republican aide chalked up Obama's latest push on the issue to his need for a bump in the polls.
"Another week and another White House public relations campaign ostensibly about policy but more likely related to the president's sagging poll numbers and dicey reelection prospects," said this aide. "There are serious policy concerns about the CFPB as it is currently exists, and we ought to be addressing that rather than having yet another White House media blitz."
Popular in the Community