This piece is part of a series on Obama's legacy that The Huffington Post will be publishing over the next week.
As President Barack Obama concludes his time in office, his most immediate legacy is a paradox.
Obama's approval rating, which languished in the mid-40s during much of his tenure, soared during the tumult of the 2016 presidential campaign. He will leave office with an average approval rating of just over 55 percent, according to HuffPost Pollster's aggregate.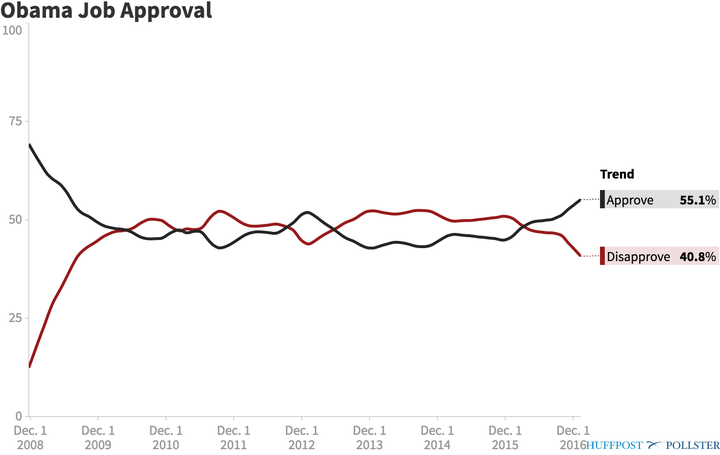 The high ratings may be a sign that, in the final months of his presidency, Obama is also finally receiving some of the credit he's long felt he deserved for his handling of the economy. Opinions of his economic policies have improved in the final months of his presidency, with his numbers on the issue back above water for the first time since 2009.
But Americans' positive opinion of the president didn't translate into an argument for electing a Democratic successor, nor does there seem to be much desire to maintain his legacy. Eight years after Obama ran for office on a slogan of "change we can believe in," the nation is still keen on trying something different, according to a new HuffPost/YouGov survey. Fewer than a third of respondents said they want to see President-elect Donald Trump continue Obama's policies. A majority of respondents said they hope their new commander in chief strikes out on a different path on everything from the nation's economy to the political atmosphere in Washington.
Forty-eight percent of Americans approve of Obama's performance as president, while 44 percent disapprove, according to the HuffPost/YouGov survey. Obama's approval rating in this survey is significantly lower than in most other polls, in which the outgoing president has enjoyed ratings well into the mid-50s since Trump's victory in November.
Respondents to the HuffPost/YouGov poll were equally likely to say Obama changed the country for the better or for the worse, at 39 percent each. And 22 percent said that he has had neither a positive nor a negative effect on the nation or that they were unsure.
Those who disapprove of Obama's legacy fall into two distinct camps: 48 percent said he did too much to change things, while 26 percent said he didn't do enough. Those who said Obama changed too much were mostly Republicans who voted for both Mitt Romney and Donald Trump. Many of the respondents who said he changed too little did not vote in 2012 or 2016 ― perhaps a reflection of disaffection with the political system.
The HuffPost/YouGov survey asked Americans to name the issues on which Obama had the greatest success as well as the issues on which they felt he had the biggest failures. In both categories, Americans singled out Obama's signature health care law.
Health care topped the list of his perceived best issues with 27 percent picking it as among the two issues on which he did the best job. The economy was the second most-cited issue, at 22 percent. Social issues and the environment took a distant third and fourth, at 15 and 12 percent, respectively, and fewer than 10 percent cited his foreign policy, immigration policy or his work to help people who are like them.
His health care law also topped the list of issues on which Americans felt he did the worst, at 26 percent. That was followed by immigration, at 25 percent.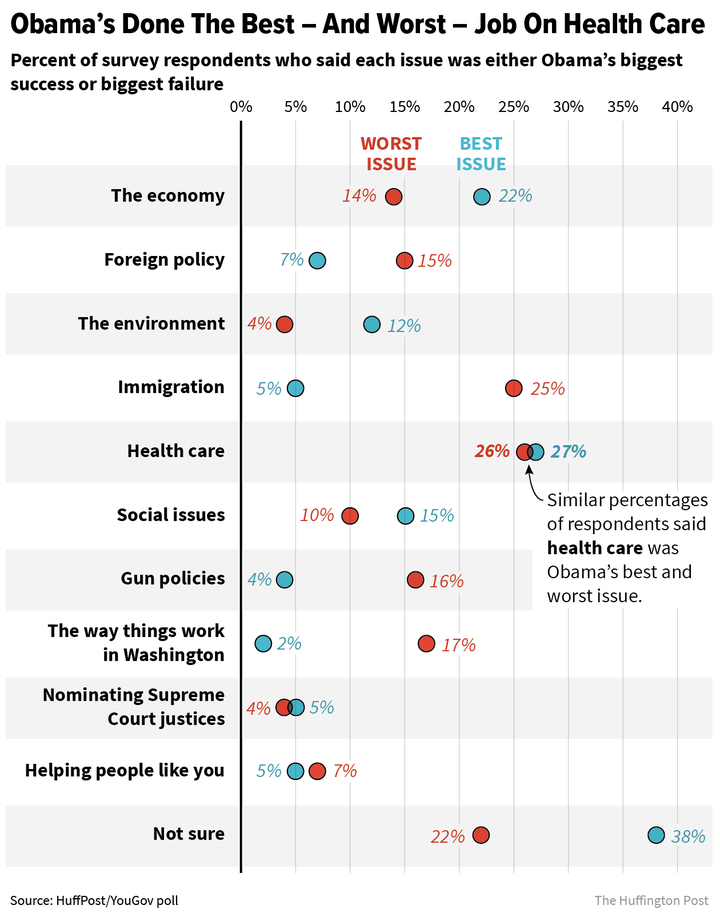 No matter how they feel about the Affordable Care Act, it strikes many Americans as among the most tangible results of Obama's presidency. In response to an open-ended question about which of Obama's policies had the greatest effect on them personally, 41 percent of the survey respondents mentioned health care in some way.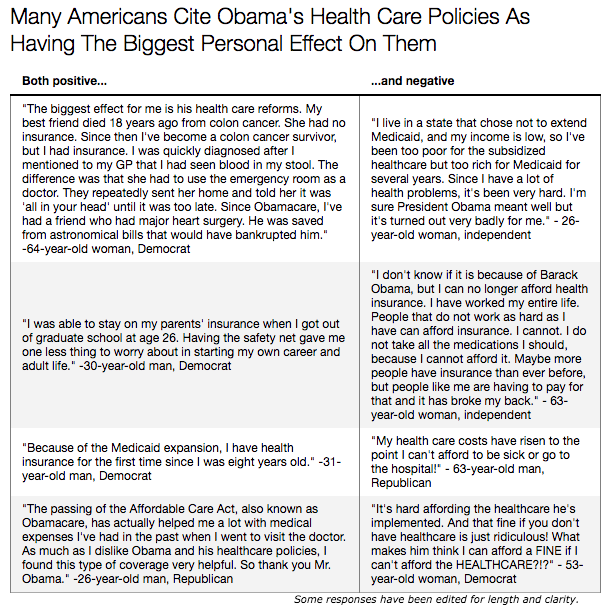 Asked to rate Obama's performance during his time as president, Americans gave him overall positive scores on the environment and the economy and on nominating Supreme Court justices, and a neutral number on social issues. He fared worst on gun policies, immigration and the way things work in Washington ― a broad topic that harks back to his 2008 promise to ease the partisan acrimony in the nation's capital.
"It's one of the few regrets of my presidency — that the rancor and suspicion between the parties has gotten worse instead of better," Obama admitted in his final State of the Union address a year ago.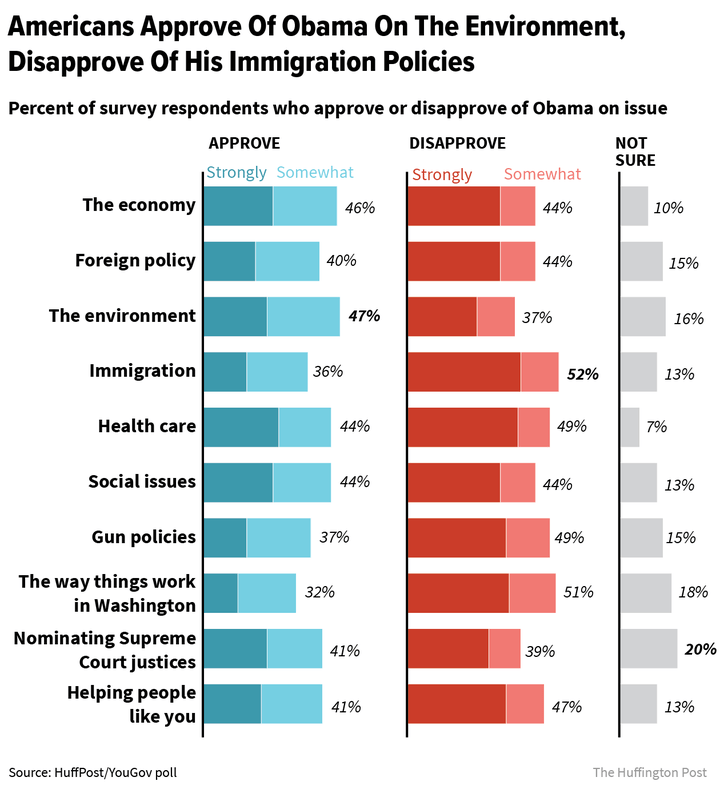 But even on the subjects on which Obama received relatively strong scores, there is less support for continuing his policies. A majority of Americans said they wanted Trump to take things in a different direction on the economy, foreign policy, immigration, health care, gun policies and the way things work in Washington. Fewer than 40 percent wanted to see Obama's direction on any of the issues polled continued, with the environment and social issues scoring highest, at 37 percent and 36 percent, respectively. Overall, just 31 percent of Americans want to see Trump generally continue Obama's policies, while 50 percent want Trump to take things in a new direction. Even among those who approve of Obama's presidency, nearly a fifth hope to see something different from Trump.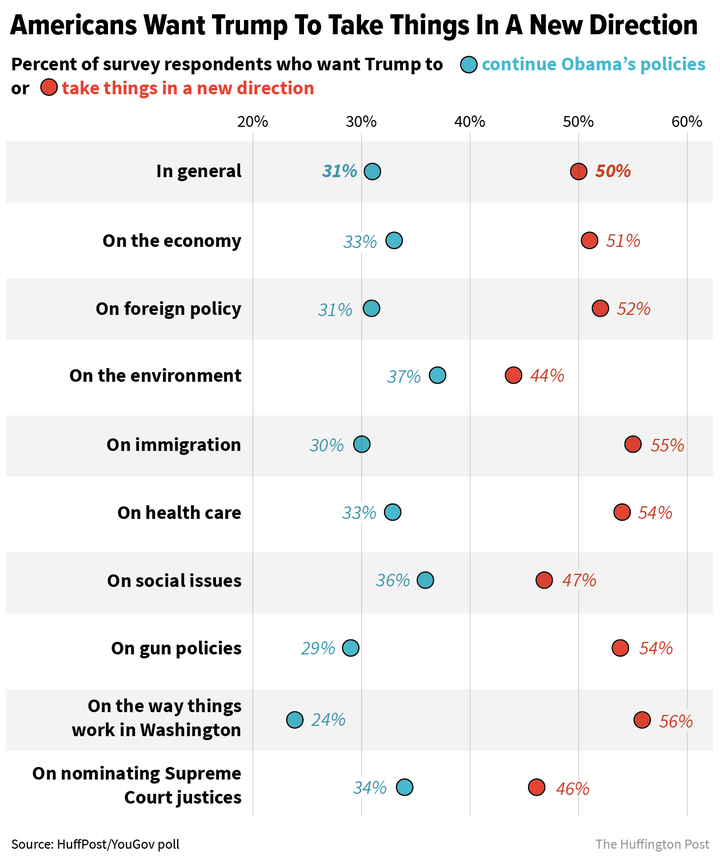 Obama's political career began with a speech decrying the separation between "liberal America" and "conservative America." But the difference in perspective on his legacy between his staunchest supporters and detractors indicates that he might as well have governed two separate countries.
Obama will leave office remarkably popular among Democrats: 87 percent approve of his performance, and 59 percent strongly approve. Seventy-nine percent said that he changed things for the better as president and 77 percent that he did the best job that he could.
By a 46-point margin, 65 percent to 19 percent, Democrats want Trump to generally continue Obama's policies rather than taking things in a different direction. A majority want to see Trump specifically follow in Obama's footsteps on every issue except "the way things work in Washington" ― which, at 48 percent, still comes close.
"I think he is just the best president we have ever had," one Democratic woman wrote in response to the survey, lamenting, "We are going from someone who gave us hope to someone who will take it all away."
Black Americans, a key part of of Obama's coalition in the 2008 and 2012 elections, remain broadly united behind him. Seventy-eight percent approve of his job performance, with just 15 percent disapproving.
"He had me feel that people of any race can become president," one man wrote in response to the survey. "[G]etting elected at all, let alone twice, gives me hope as an African-American," another said.
Millennials, who also helped power Obama's election, also approve of his presidency but by less overwhelming numbers. Fifty-three percent of Americans under age 30 approve of Obama's job performance, with just 34 percent disapproving. They're more likely than not to approve of his handling of every issue in this poll other than the way things work in Washington, and they give especially high marks to his work on the economy, the environment, social issues and his choices for the Supreme Court.
But young Americans are less likely than others to think Obama made a significant impact on the country. Just three in 10 say he changed the country "a lot," compared with a majority of those 45 and older. And by a 5-point margin, 40 percent to 35 percent, they say they'd like Trump to take things in a different direction from Obama's policies. Though they'd like to see Trump follow Obama's lead on the environment, social issues and the Supreme Court, they're looking for change on everything else.
By contrast, Obama is close to universally loathed by Republicans, 90 percent of whom want to see Trump take the country in the different direction.
Just 14 percent of Republicans said they approve of his performance as president, with 83 percent saying they disapprove and 72 percent saying they strongly disapprove. Eighty-one percent of GOP respondents said that Obama changed the country for the worse. Members of the GOP gave him his highest approval rating, at just 16 percent, for his work on the environment. Asked to choose the areas in which Obama performed best "regardless of whether you approve of him or not," a majority of Republican respondents begged off, saying they weren't sure. Republicans reserved special ire for his work on health care and immigration, which 40 percent and 36 percent, respectively, said were among his weakest issues.
In the middle were people who voted for Obama but didn't vote for Clinton, either because they switched to Trump, picked a third-party candidate or simply did not vote last year. These Americans still back Obama, with 65 percent approving of his performance. Fewer than half, however, said his presidency changed the country for the better. Although 51 percent said he did the best job that he could as president, 43 percent believed he could have done better. They also split on what Trump should do, with 39 percent wanting him to take things in a new direction and 37 percent wanting him to continue Obama's policies.
In his farewell speech Tuesday, Obama acknowledged the rifts that have left the nation with such divided views of his legacy but called for Americans to mend them.
"For too many of us, it's become safer to retreat into our own bubbles, whether in our neighborhoods or on college campuses or places of worship or especially our social media feeds, surrounded by people who look like us and share the same political outlook and never challenge our assumptions," he said, calling such a trend a "threat to our democracy."
The HuffPost/YouGov poll consisted of 2,000 completed interviews conducted Dec. 23 through Dec. 27, 2016, among U.S. adults, using a sample selected from YouGov's opt-in online panel to match the demographics and other characteristics of the adult U.S. population. Some verbatim responses to the survey have been edited for length and clarity.
The Huffington Post has teamed up with YouGov to conduct daily opinion polls. You can learn more about this project and take part in YouGov's nationally representative opinion polling. Data from all HuffPost/YouGov polls can be found here. More details on the polls' methodology are available here.
Most surveys report a margin of error that represents some, but not all, potential survey errors. YouGov's reports include a model-based margin of error, which rests on a specific set of statistical assumptions about the selected sample rather than the standard methodology for random probability sampling. If these assumptions are wrong, the model-based margin of error may also be inaccurate. Click here for a more detailed explanation of the model-based margin of error.
Use the widget below to further explore the results of HuffPost/YouGov's survey, using the menu at the top to select survey questions and the buttons at the bottom to filter the data by subgroups:
Popular in the Community