WASHINGTON ― The five candidates at Tuesday's Democratic debate talked a lot about the man they hope to replace, President Barack Obama.
When moderator Anderson Cooper asked each how their presidency would differ from an Obama third term, they had a wide range of answers.
Former Secretary of State Hillary Clinton acknowledged what she called an "obvious" difference.
"Being the first woman president would be quite a change from the presidents we've had up until this point, including President Obama," Clinton said. On a policy level, she said she hopes to "build on the successes of President Obama, but also, as I'm laying out, to go beyond."
Sen. Bernie Sanders (I-Vt.) repeated a campaign trail mantra: He respects Obama, but instead of attempting to compromise with Republicans in Congress, the next president has to spark a "political revolution" and invoke the will of the people.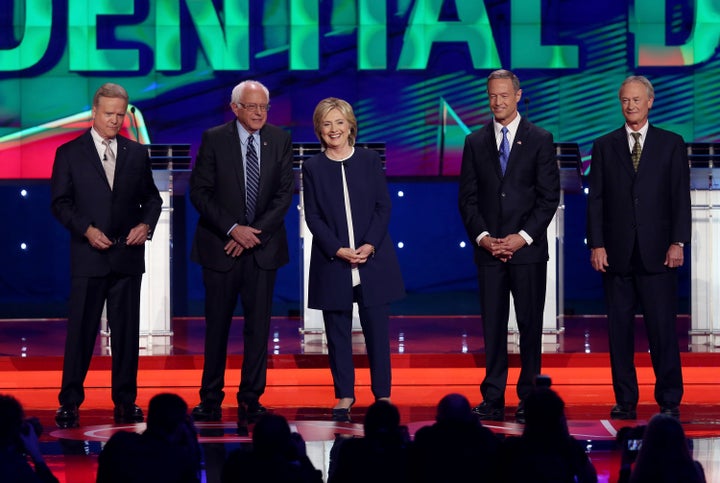 Former Maryland Gov. Martin O'Malley argued that he would be tougher on big banks and Wall Street speculation and restore the Glass-Steagall Act, the Depression-era law that separated commercial and investment banking.
Former Virginia Sen. Jim Webb said he would differ in "the use of executive authority." And former Rhode Island Gov. Lincoln Chafee was critical of Obama's foreign policy and proposed "ending the wars" and promised to "change our approach to the Middle East."
Whoever wins the Democratic nomination will have to contend with the legacy of Obama's two terms. That meant that Obama's policies loomed large in the debate, with the candidates alternating between praise and the promise of something different.
For Clinton, who spent four years as Obama's secretary of state, the president's legacy is especially pertinent, as she touts her experience in his administration while distinguishing herself from him.
Several of Clinton's answers on Tuesday drew on her willingness to serve in his administration, despite a tough primary campaign against him in 2008.
"After the election, he asked me to become secretary of state," Clinton said. "He valued my judgment, and I spent a lot of time with him in the Situation Room, going over some very difficult issues." 
Clinton also cited her work advising the military raid that killed Osama bin Laden and developing a multinational coalition to impose economic sanctions on Iran.
In defense of her prolonged unwillingness to take a stance on the Keystone XL pipeline, Clinton invoked Obama by shifting her answer to the broader topic of climate change.
"I have been on the forefront of dealing with climate change, starting in 2009, when President Obama and I crashed a meeting with the Chinese and got them to sign up to the first international agreement to combat climate change that they'd ever joined," she said.
Later, when Cooper asked about climate change, Clinton again brought up her work as secretary of state, when she helped Obama broker a deal with the Chinese government.
"When we met in Copenhagen in 2009 and, literally, President Obama and I were hunting for the Chinese, going throughout this huge convention center, because we knew we had to get them to agree to something, because there will be no effective efforts against climate change unless China and India join with the rest of the world," she recounted. "And we did come up with the first international agreement that China has signed. Thanks to President Obama's leadership, it's now gone much further."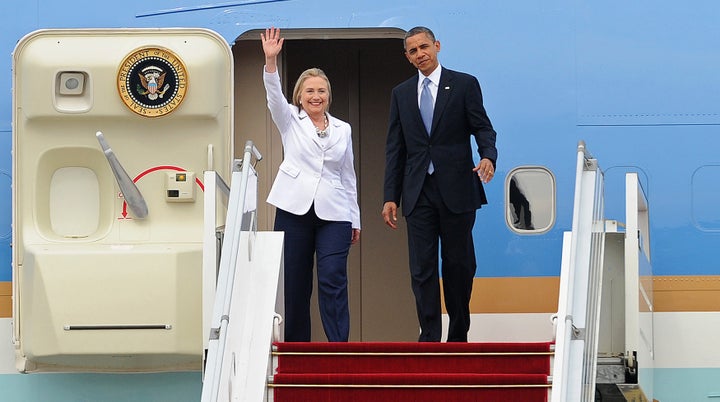 On the topic of racial justice, Clinton called Obama "a great moral leader on these issues," even though many black leaders have criticized him for not doing enough. Clinton said she would continue Obama's criminal justice reform efforts, including funding for police body cameras and reducing mass incarceration.
More broadly, Clinton and the other candidates considered how they would accomplish policy goals that Obama has failed to pass through an adversarial Congress, like gun control legislation, which Obama has deemed one of his biggest failures.
O'Malley cited his own experience passing a gun control bill as governor of Maryland, arguing that he could accomplish the same as president.
"I also had to overcome a lot of opposition in the leadership of my own party to get this done," O'Malley said. "Look, it's fine to talk about all of these things -- and I'm glad we're talking about these things -- but I've actually done them." 
But a common thread in many of the candidates' mentions of the president involved his battles with Congress. For any of the Democrats, their attempts to be different from their predecessor would likely encounter the same obstacles.
PHOTO GALLERY
Democratic Debate 2016
Calling all HuffPost superfans!
Sign up for membership to become a founding member and help shape HuffPost's next chapter