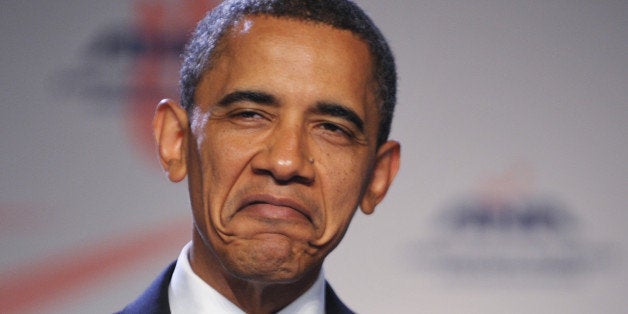 WASHINGTON -- President Barack Obama's ban on registered lobbyists serving on government advisory panels suffered a blow Friday, when a federal appeals court ordered a lower court to hear arguments that the ban is unconstitutional. In the process, the appellate judges seemed to roll their eyes at the logic behind the ban.
The lawsuit was brought by six lobbyists who wanted to be appointed or reappointed to the Industry Trade Advisory Committees, which -- as their name makes rather clear -- advise the government on trade policy from industry's point of view. The case was initially dismissed by the federal district court in 2012, but a three-judge panel of the U.S. Court of Appeals for the D.C. Circuit on Friday called that decision "premature."
Lobbying is protected under the First Amendment right to "petition the government." The plaintiffs in Autor v. Pritzker argued that by banning them from serving on the advisory panels, the administration was impinging on their exercise of that right. They further argued that the ban violated their Fifth Amendment right to equal protection, because it denied them a government benefit -- the opportunity to influence trade policy by serving on the panels -- because of their decision to exercise a First Amendment right.
The Industry Trade Advisory Committees are made up largely of representatives from private sector companies. Before Obama's ban, that meant both corporate executives and professional lobbyists.
In their Jan. 17 opinion, the D.C. Circuit judges wrote that the case raised important questions that deserved more consideration than they had received from the trial judge.
The panel had some specific instructions for the case's second go-round in the lower court. "The district court should ask the parties to focus on the justification for distinguishing, as the lobbyist ban does, between corporate employees (who may represent their employers on ITACs) and the registered lobbyists those same corporations retain (who may not)," wrote the appellate judges.
At the time they filed suit, all the plaintiffs were registered lobbyists for trade associations. Erik Autor, the lead plaintiff, was at the National Retail Federation. The others represented trade groups for the luggage, apparel, textiles and chemical manufacturing industries, among others.
The judges also had a snappy question for the Obama administration. According to the administration, the purpose of the registered lobbyist ban is to protect the "voices of ordinary Americans."
The D.C. Circuit suggested the lower court ask the government's lawyers "how banning lobbyists from committees composed of representatives of the likes of Boeing and General Electric" actually helps to accomplish that goal.
REAL LIFE. REAL NEWS. REAL VOICES.
Help us tell more of the stories that matter from voices that too often remain unheard.
BEFORE YOU GO
PHOTO GALLERY
Obama's Government Shutdown Stares