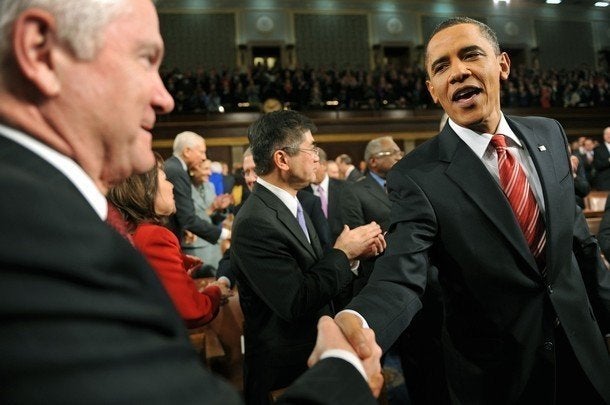 President Barack Obama used his State of the Union address to unveil a plan to get billions of dollars out of the highly unpopular TARP bank-bailout program and into the hands of small businesses.
The president said he wants to "take $30 billion of the money Wall Street banks have repaid and use it to help community banks give small businesses the credit they need to stay afloat."
Obama also called for a new small business tax credit that would help over one million small businesses "who hire new workers or raise wages"; the elimination of all capital gains taxes on small business investment; and a new tax incentive for "all businesses, large and small, to invest in new plants and equipment."
Considered together, the proposals represent a comprehensive new approach to small business growth and an implicit recognition that the administration has yet to do enough on that front.
Obama's move was also at least in part the result of pressure from Democratic senators.
Senator Maria Cantwell (D-Wash.) told HuffPost that she's been pushing the administration over the last week to move money into community banks so that they can increase lending. To get their attention, she dangled her vote on the confirmation of Federal Reserve Chairman Ben Bernanke, which is scheduled for Thursday.
"I definitely said that my concern with him and the nomination was the administration getting an understanding of this particular issue," Cantwell said after the speech. "I have no idea if that's why they" announced the policy shift.
"I suggested that they figure out a way that they put money into community banks, that there wasn't enough access to capital, that either Bernanke should do something through the Fed or they should do something through TARP, that they should get the same kind of help and support that the banks got," Cantwell said. She added that she was pushing for $50 billion rather than the promised amount and had other concerns about Bernanke that still may lead her to oppose his confirmation.
Sen. Jeff Merkley (D-Oregon) has also been pushing the White House to invest more in community banks. "I called for funds to be invested in [community] banks so they could then in turn lend more," he said, noting that the idea sprang from his Bank on Our Communities Act, which was introduced with Sen. Barbara Boxer (D-Calif.) in October. Administration officials told him on Tuesday, he said, that the idea would be reflected in the speech.
Sen. Mark Warner (D-Va.) has been arguing for raiding TARP to the tune of $40 for small-business lending.

Popular in the Community