 In perhaps the biggest pivot of the presidential debate Tuesday night, President Barack Obama turned a question about gun violence into an answer about education. The twist is especially notable in a campaign year when schools have gotten little play.
After saying "we haven't had a chance to talk about education much," Obama pointed to a wiggly point in education policy, while not directly naming it: the Common Core State Standards. "It is very important to understand that the reforms we've put in place, working with 46 governors around the country, are seeing schools … starting to succeed."
While it's true that 46 governors have agreed to adopt (mostly) higher common educational standards, known as the Common Core, the Obama campaign is trying to have it both ways on this point. Mitt Romney has said that he wouldn't fund the Common Core, and that the Obama administration's funding and incentivizing of the standards overly prescriptive. At an education debate Tuesday at the American Enterprise Institute, Romney education advisor Martin West made that case. But Obama advisor Jon Schnur said while the White House has stressed "college and career-ready standards," it hasn't forced states' hands on the Common Core.
Indeed, the administration's Race to the Top competition and applications for waivers from No Child Left Behind only said states needed to agree to rigorous standards -- not specifically the Common Core. West struck back, saying that the Democratic National Committee's platform gives Obama credit for getting states to adopt the standards, and that the administration's No Child Left Behind rewrite blueprint refers to the need for "college- and career-ready
standards that are common to a significant number of states." (Schnur notes that the blueprint does mention this, but as one of two options -- the other would allow states to update their standards with their public university systems to ensure that high school graduates won't need remedial coursework.) In other words, West argued, Obama was "politicizing it."
So Obama taking credit for the Common Core so prominently is likely to attract Romney's criticism in the coming days.
Obama then said, "We're starting to see gains in math and science" in "some of the ones [schools] that are the toughest for kids." Obama has boasted about early gains in the country's toughest schools before, likely referring to the School Improvement Grant program, which gives money to failing schools to sponsor different "turnaround" strategies in varying severity. Most involve staffing shakeups.
The U.S. Education Department has not released specific data on the School Improvement Grant program (besides a drop on California, but in March, it did issue a statement saying that it showed early signs of success, saying 25 percent of schools saw "double-digit gains in math proficiency" and overall improvement in 60 percent of schools. While Obama is not technically wrong here, education researchers widely caution against making implications from year-over-year score gains over a short period of time -- especially because such increases or decreases in test scores often reflect population changes. These numbers tend to stabilize over time, and only then can be used to justify a policy.
After Obama touted his community college initiatives, he sparred with Crowley:
Crowley: Now Mr. President, I have -- I have to move you along here. You said you wanted to finish the question. We need to dama: Just one second because this is important. This is part of the choice in this election. When Governor Romney was asked whether teachers -- hiring more teachers was important to growing our economy, Governor Romney said that doesn't grow our economy

Crowley: The question, Mr. President, was guns, here, so i need to move us along. You know, the question was guns.

Obama: I understand -- but this will make a difference in terms of whether or not we can move this economy forward for these young people and reduce our violence.

Crowley: I understand. Thank you so much.
Throughout the debate, Obama tied education to the economy several times. Romney also addressed education, mentioning more than once that Massachusetts topped state education rankings during his tenure as governor there. Romney opened the presidential debate tonight by touting the John and Abigail Adams Scholarship, an education initiative he has proven fond of, despite studies that show it doesn't quite work.
Jeremy Epstein, a 20-year-old student, asked the first question of the evening about his job prospects as a college graduate. "What can you say to reassure me -- but more importantly, my parents -- that I will be able to sufficiently support myself after I graduate?"
Romney responded, in part, by mentioning the scholarship. "When I was governor of Massachusetts, to get a high school degree, you had to pass an exam," Romney said. "If you graduated in the top quarter of your class, we gave you a John and Abigail Adams Scholarship -- four years, tuition-free to the college of your choice in Massachusetts. It's a public institution."
The scholarship, which promised free college tuition at in state universities for top-performing students, is an initiative Romney was indeed involved in personally. David Driscoll, who served as Massachusetts education commissioner under Romney, told The Huffington Post in August. "He would join me in going around to certain high schools," Driscoll said. "He certainly put the bully pulpit behind it."
It's a program the former governor still promotes on the campaign trail, saying in May that he "put in place a scholarship program, where if you graduate among the top 25 percent of those who take our graduation exam, you get a four-year, tuition-free ride at a Massachusetts public institution of higher learning."
There was only one problem: due to the structure of university costs in Massachusetts, free tuition meant little because non-tuition fees are egregiously high. For example, the scholarship covered only 7 percent of total costs at the University of Massachusetts, Amherst, according to the Boston Globe. And while tuition leveled out, other college costs grew by 63 percent during Romney's tenure.

"The issue was free tuition, but it turns out in Massachusetts the tuition goes into a state pool ... which is why universities draft fees that can stay on campus," Driscoll told The Huffington Post. "Over time, institutions were charging more and more on fees but leaving tuition alone." (Driscoll added that the money did help somewhat, and Romney made some improvements to the program regarding eligibility.)

Eventually, parents became agitated about the Adams Scholarship's misleading promise. As the Patriot Ledger reported in 2009, Emily Schmarsow -- a single mother of two who said she was "dancing a jig in the kitchen" when her son won the scholarship -- "was really upset" when she received an activities bill from Amherst totaling $7,881, four times the cost of the waived tuition.
In fact, just Tuesday, The Hechinger Report reported in Slate on a Harvard study released this summer that found that Adams scholarship recipients actually took longer to graduate than peers.
"This is a very unusual example of a situation in which we make money available to students, and they actually end up worse off," sreport co-author Joshua Goodman told The Hechinger Report.
Overall, as Education Week's Politics K-12 blog noted, the candidates made little news on education. "The debate offered little new in the way of insights into both candidates' education platforms," Michele McNeil wrote on the blog. "But it came on the heels of three other substantive debates in which education played a prominent role -- including the first meeting between the two presidential candidates, and subsequent debates between advisers for the two."
UPDATE 9:30 a.m.:This story was updated to include the second option the Obama administration's No Child Left Behind blueprint would provide states regarding academic standards.
Before You Go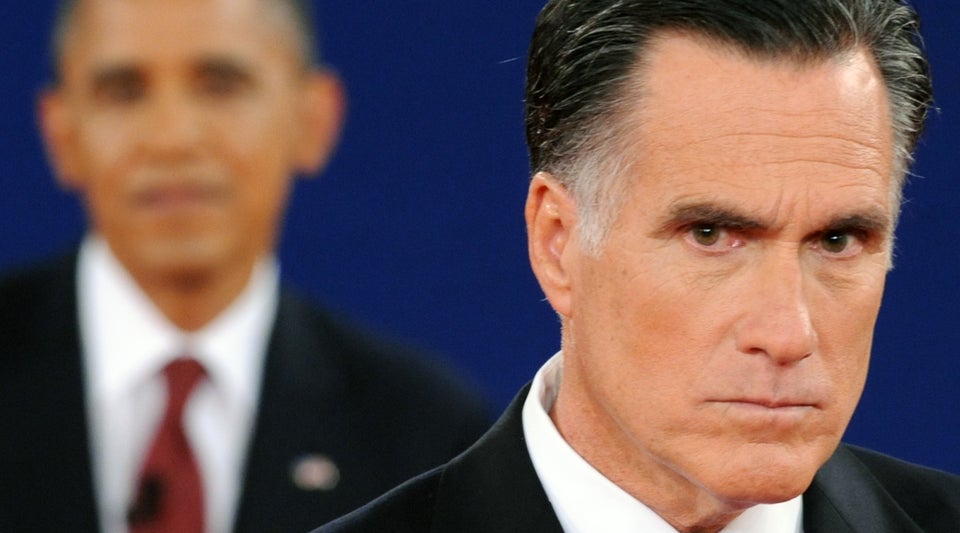 Second Presidential Debate Photos
Popular in the Community